Tag Archive
activity
art
artist
Austria
Canada
children
city
CostSaver
display
Drivei-95
drive i-95
entertainment
Europe
event
exhibit
family
festival
Florida
food
France
free
fun
historic
History
landmark
live
local
London
Museum
music
performance
Restaurant
roadtrip
shop
show
sights
sightseeing
tour
tourist
Trafalgar
travel
travelblogger
USA
view
world
William Wegman (American, b. 1943) is an internationally-renowned artist with a prolific career spanning five decades. He is well known for his photographs of his beloved Weimaraners, a collaboration that began with his dog, Man Ray, in Los Angeles in 1970.
The exhibition of William Wegman: Improved Photographs at Telfair Museums – Jepson Center for the Arts highlights his use of humor to find unexpected and surprising ideas within everyday objects and scenarios. So much fun to see the dogs all dressed up or in unusual poses all done with incredible artistry.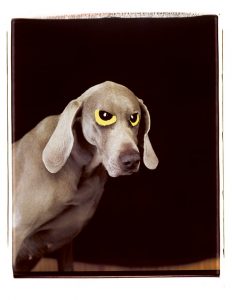 Included in the exhibition are drawings, paintings, altered photographs, 20 x 24 inch Polaroids and a selection of early videos from the 1970s to present day.  Across all these media, Wegman demonstrates a continual interest in working and reworking his imagery, thus "improving" it with his particular sense of logic and play.
On August 5th,  1 – 4pm,  is William Wegman Free Family Day at the gallery.  Say goodbye to the "dog days" of summer and kick off the start of the school year with a family day devoted to the art of William Wegman. Participate in gallery activities, make your own altered photos and postcards, and find out more about Savannah dogs available for adoption.
Photo Credit: William Wegman Eye-on, 1997 Color Polaroid 24 x 20 inches
Location: Jepson Center for the Arts, 207 West York St., Savannah, 31401
Date: Until Aug 13, 2017
Hours: Sun -Mon 12-5pm. Tues-Sat 10 – 5pm
Tel: 912-790-8800
telfair.org/wegman
For Regional Accommodations, Restaurants & Attractions: visitsavannah.com
The ancient art of Chinese Acrobatics is an old and long running tradition that began in China well over two thousand years ago. Over its long and rich history it has developed as one of the most popular art forms among the Chinese people.
The Golden Dragon Acrobats represent the best of a time-honored custom that combines award-winning acrobatics, ancestral dance, spectacular costumes, ancient and contemporary music and theatrical techniques to create an unforgettable experience of breathtaking skill and spellbinding beauty.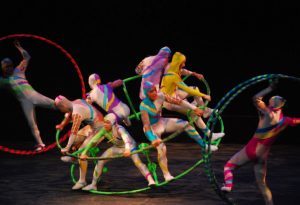 The legendary Golden Dragon Acrobats performs at Cary Hall with their amazing feats of athleticism, daring, heart-stopping stunts and the finesse of the centuries-old art form.This unique cirque spectacular showcases a tour de force of traditional Chinese acrobats highlighting their remarkable skills and physicality.
Boasting the best in gasp-inducing juggling with props as varied as ladders and giant spinning wheels, tumbling and balancing acts, the performers show just why they're world renowned. Their spectacular artistry and colorful accoutrements are combined with cirque-style acts. The traditional and contemporary musical score and explosive choreography creates an exciting  show of mesmerizing mastery showmanship and breathtaking, magical stunts that is nothing short of phenomenal.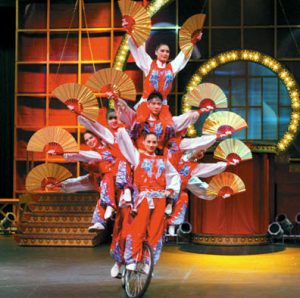 Location: Cary Hall, 1605 Massachusetts Ave, Lexington, MA 02420
Date: Sat, April 8, 2017
Time: 3 -5pm
Tel: 617-531-1257
caryhalllexington.com/wordpress1/?projects=the-golden-dragon-acrobats-april-8
For Regional Accommodations, Restaurants & Attractions: merrimackvalley.org