Tag Archive
activity
architecture
art
artist
building
Canada
children
city
CostSaver
downtown
drive i-95
entertainment
Europe
event
exhibit
family
festival
Florida
food
fun
historic
History
landmark
local
Museum
music
Nature
New Zealand
Ontario
roadtrip
sculpture
Seattle
show
sights
sightseeing
tour
tourist
Trafalgar
travel
travelblogger
view
Washington
Washington State
water
world
Tupuna Whare, the Meeting House, is the center of the Maori community. Gatherings of all kinds including entertainment, teaching, meetings, and funerals all took place (and still take place) here. 
During this year's holiday season, families will be able to enjoy a festive drive through experience at Daytona International Speedway. The "World Center of Racing" will be transformed with hundreds of light displays into a holiday spectacle, a 1.5 mile long Magic of Lights, using the latest in LED and digital animation technologies specifically designed for this iconic venue.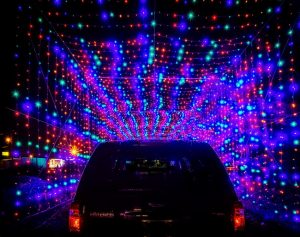 Experience the holiday spirit drive-through from the comfort of your own car. At every turn, and in every direction, the magical route is overflowing with spectacular light displays and animations. Be transfixed when Santa's team of reindeer cross in flight above your vehicle, see the sweetest 200-foot long Candy Cane Lane, a delightful Snowflake Forest and even more festivities.
Magic of Lights is a fun and memorable family entertainment. To commemorate the season of giving a portion of every ticket to Magic of Lights benefits the Florida Hospital Foundation.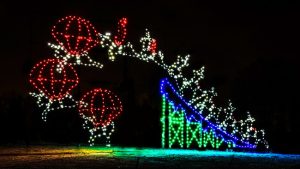 Location: Daytona International Speedway, 1801 West International Speedway Blvd, Daytona Beach, FL 32114
Dates: until Dec 31st, 2018
Hours: every night from dusk – 10 pm
Tel: 330-441-4255
magicoflights.com/daytona
For Regional Accommodations, Restaurants & Attractions: daytonabeach.com
Odysseo, the horse centric show, is awesome family entertainment which will WOW every member. If you can imagine taking Cirque du Soleil up a notch by marrying it with a team of gifted equestrians, this would be their offspring.
The show has acrobats, blade-running acrobats and horse acrobats – each team outdoing the other in their antics. There are raucous horses racing through jumps and quiet ballet-like riderless horses dancing to the whims of their female horse whisperer, Sylvia Zerbini.
Then why not throw in some African drumming, singing and dancing – for peace. When you combine 70 horses with 50 performers and all the high technology, multimedia and special effects, you create magic on stage.
The carousel pole acrobatics is  a charming setting for the melange of horse and rider/acrobats, but the white fabric/rope acrobatic act is the perfect "10" for each of the costume designer, set designer, lighting, artistic director and the acrobats themselves.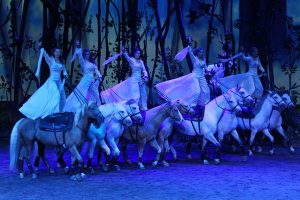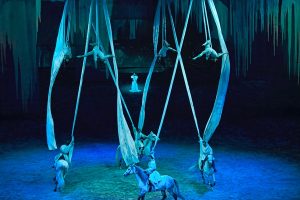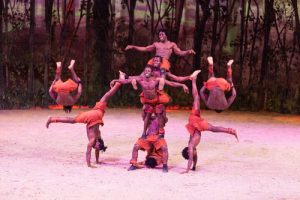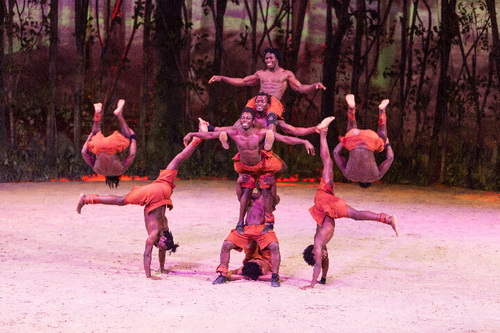 It's hard to imagine it fitting into a tent setting, but horses appear on mountaintops, in an ice-scape, the woods, walking down hills, in rain storms, galloping as fast as the wind and even and splashing in a waterfront finale.
This time we attended with a youngster who had enjoyed horse camp this summer. She loved figuring out the equine trivia questions before the show started. In her child-like mind she imagined "horses dancing like people at a party". We glanced occasionally at her face as she sat in awe, riveted to the stage watching instead a seamless ballet of people and horses.  And she was really hoping to get splashed by the playful horses.
Don't wait – book tickets now as the run has been extended to Oct 21 and the price reduced to $60.  If you can afford it, the Rendez-vous VIP package, including dinner (roast beef and shrimp options) with an open bar, popcorn and drinks to take in to the show, a dessert buffet at intermission
(so Quebec-like with cheese there too), a stable visit, and a souvenir, really makes the evening special. This is a great idea for a do-ahead holiday gift for anyone – take the family, join co-workers or have fun with friends.
Location: Odysseo White Big Top at the corner of the boul. Rene-Levesque and De Lorimier
Tel: 866-999-8111
Dates: til Oct 21
www.cavalia.com
www.facebook.com/cavalia
The first annual Oinktoberfest will be held at the American Legion Grounds in Roanoke Rapids, NC. The gates will open at 2pm and live music starts at 3pm and the live music won't disappoint.
Included in the price of the ticket is the entertainment, which includes four bands playing live for you plus all you can eat of some of the finest BBQ and Sides  served by FoSho from Emporia, VA. Food will include BBQ Pork & Chicken along with the sides and sweet and unsweet tea.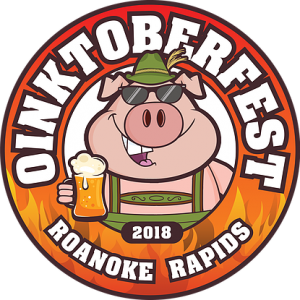 The reason for this event is to help their local Sheriff, Wes Tripp, and his program raise money to buy bicycles benefiting the Kids of Halifax County, NC. This event will also benefit the American Legion and the Veterans Museum of Roanoke Rapids, NC.
Live Music, BBQ, and Good Times – go out and join an afternoon of fun and help out a great cause. Please note: No Tickets Will Be Sold At The Gates and this event has limited tickets, Get Your Tickets Here ...Get Tickets
SCHEDULE OF EVENTS…
3 – 4pm: The 7100 Band (Rock and Country)
4:30 – 5:30pm: Tommy McCoy (Blues)
6 – 7:30pm: Sidewinder Reunion (Rock)
8 – 9:30pm: Colt Ford
Event Will Be Held Rain or Shine.
Location: 717 American Legion Rd , Roanoke Rapids, NC 27870
Date: Sat, Oct 6, 2018
Time: 3pm-9:30pm (Gates open at 2 pm)
Tel: 252-536-3115
oinktoberfestnc.com
For Regional Accommodations, Restaurants & Attractions: visithalifax.com
The Ormond Beach Community Day is a fun filled event for the whole family. All the fun takes place on Saturday, September 29th from 11am to 4pm at Destination Daytona.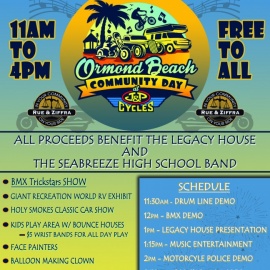 This free community non-profit charity event features outstanding food, live music, vendors and entertainment including a professional  BMX Trickstars shows, classic car show, RV exhibit with Giant Recreation World, Motorcycle Police Demos,  drum line performance, a visit from the National Guard, top 40 hand picked Hot Rod show, kids play area with face painting, balloons, bounce house, and all full day of live music.
Location: Destination Daytona, 253 Destination Daytona, Ormond Beach, FL 32174
Date: Sat, Sept 29, 2018
Time: 11am – 4pm
Tel: 386-868-8484
For Regional Accommodations, Restaurants & Attractions: daytonabeach.com
Whom better to honor than your grandparents? There is a special bond that is shared between grandchildren and their grandparents. National Grandparents Day was declared in 1978 to be celebrated in the US on the first Sunday of September after Labor Day; It was signed into law by President Jimmy Carter.
National Grandparents Day gives grandchildren the opportunity to show love and appreciation to their grandparents. Why not treat them to a special Grandparents Day celebration on the grounds of the glorious Flagler Museum?
The Gilded Age estate was a 75-room winter retreat built in 1902 as a wedding present for Henry Flagler's wife Mary Lily Kenan Flagler  and is open to the public as the Flagler Museum, featuring guided tours, changing exhibits, and special programs.
Family played an important role in the history of the Flagler Museum. The Museum's founder, Jean Flagler Matthews, a granddaughter of Henry Flagler  preserved Whitehall and its collections to honor her grandfather.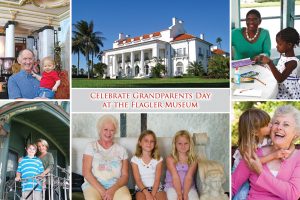 Visit the Flagler Kenan Pavilion to enjoy the family-friendly activities including: Working together to create your family tree, Being interviewed by your grandchildren, helping your grandchildren write a postcard to their family, commemorating the day by making a scrapbook page together having a family photo taken in front of Henry Flagler's Railcar No. 91. all while bonding, sharing, and making timeless memories.
No matter what, the best Grandparents Day activity involves you and your grandparents together, celebrating your family and each other. They play a vital role in families, and this is a day that we can appreciate all the joy and wisdom that grandparents bring to our lives.
Location: Location: The Flagler Museum, One Whitehall Way, Palm Beach, FL 33480
Date: Sun, Sept 9, 2018
Time: 3 – 5pm
Tel: 561-655-2833
flaglermuseum.us
For Regional Accommodations, Restaurants & Attractions: thepalmbeaches.com

Join the excitement of the 14th Annual Darlington Car Hauler Parade and Racefest featuring NASCAR Monster Energy Cup Teams transporters making their way through cheering fans from the Florence Civic Center to the Darlington Square and into the track that's "Too Tough to Tame" – Darlington Raceway.
There is plenty of FUN for the whole family, beginning at the Florence Civic Center with entertainment and live music. Kids play all afternoon for FREE on the KidsZone inflatable ride and games. The Game Truck will bring a wide selection of games for Xbox360, Wii and PS3 and can accommodate up to 16 players at one time. There will be refreshments for purchase with the proceeds  supporting Camp Pee Dee Pride.
The main attraction continues to be the NASCAR transporters, which fans can take photos with with their favorite team's hauler and driver before the haulers take off. This year famous former drivers are back such as Hut Stricklin, former champ of NASCAR's Dash Series, and Donnie Allison, who won ten races in the Cup Series.
Fans will enjoy the exciting silent auction full of great NASCAR items and race memorabilia. Proceeds benefit local charities.
At 7 p.m. the parade of NASCAR haulers leave the Florence Civic Center and make the 12-mile trek to RaceFest on the Darlington Square, where there will be more entertainment, food, a car show and an incredible fireworks display. The transports will continue through Darlington until they reach the track Darlington Raceway where they can park, unload and begin preparation for the Bojangles' Southern 500 race taking place on on September 2nd.
As if it could not get any better, admission to the Darlington Car Hauler Parade is FREE.
Location: Florence Center, 3300 W Radio Dr , Florence, SC 29501
Date: Thurs, Aug 30, 2018
Time: 4pm – 7pm
Tel: 800-325-9005
darlingtoncarhaulerparade.com
For Regional Accommodations, Restaurants & Attractions: visitflo.com
 For some good wholesome family fun you aren't going to want to miss the 73rd Annual Howard County Fair. An American tradition,  the fair is a celebration of Howard County's farming past and present.
The Howard County Fair offers something for all ages including: interactive exhibits, livestock exhibits, agricultural displays, petting zoo, contests, entertainment, amusement rides and games, food and loads of family-oriented fun.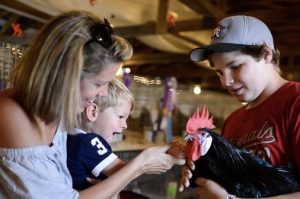 Featured events at the fair are: horse shows, pony rides, Antique tractor pulls, and livestock competitions, 4-H shows/exhibits, Demo Derby, Rodeo, Horse-Pulling Contest, Antique Automobile Show, Pie Eating Contest, Pig Races, Bingo, AG Displays and Farm produce. Enjoy some of the area's best live music, from rock and country, to bluegrass.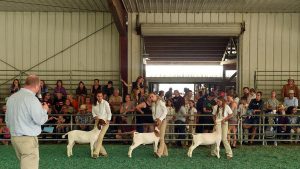 Schedule of Some Featured Events:
Pig Races – 12pm, 3pm, 6pm, & 8pm
Bingo Hall – Opens Daily at 6pm
Pony Rides – 10am – 10pm
AG Displays – Daily
Farm Produce – Daily
Mule Pulling Contest First Sat @ 9am
Coon Mule Jump – immediately after the Mule Pulling Contest
Horse Pulling Contest – First Sat- @ 10am
Antique Tractor Pull – First Sat @ 4pm
Draft Horse & Mule Show – Sun @ 8:30 am
Pretty Animal Contest – Sun @ 11am
Pie Eating Contest-Sun @ 12:30
Sheep Dog Demonstrations – Sun – 4, 6, & 8pm.
Kids and Critters – Barn Hours @ 10:30 am – 2pm & 4pm – 8:30pm
Parade of Floats -Sat, Aug 11 @ 5pm
Auto Demolition Derby#1– Wed, Aug 8 @ 7pm
Auto Demolition Derby#2 – Sat, Aug 11@ 6pm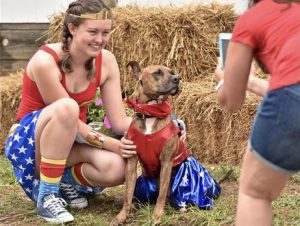 For a complete schedule of events: HowardCountyFair.org
Family time that's  so much fun and affordable. Parking for the Howard County Fair is always FREE!
Location: Howard County Fairgrounds, 2210 Fairgrounds Rd, West Friendship, MD 21794
Date: Aug 4th – 11th, 2018
Time: daily from 8am – 11pm
Tel: 410-442-1022
howardcountyfair.com
For Regional Accommodations, Restaurants & Attractions: visithowardcounty.com
Professional and amateur anglers and those looking for a fun, family event gather for The Greater Jacksonville Kingfish Tournament (GJKT), a contest fishing for king mackerel that spans six days every July in Jacksonville, Florida.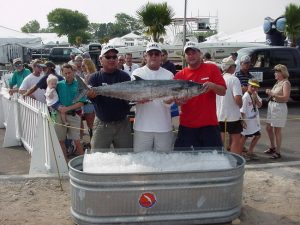 The Greater Jacksonville Kingfish Tournament, known as one of the largest kingfish tournaments in the Southeast,  is now entering its 38th year and goes way beyond the tournament itself. In addition to the General Tournament, this fishing extravaganza also includes a Junior Angler Offshore Tournament,  live entertainment, food festival, and more.
The event benefits Jacksonville Marine Charities, an organization that has proudly made an impact over the years for the local community and its economy. The grand tournament prizing structure grants cash prizes for 10 places with 1st Place Big Fish prize valued at over $86,000.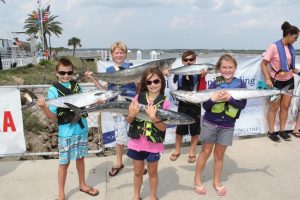 Location: Jim King Park & Boat Ramp at Sister Creek, Jacksonville, 32226
Dates: Jul 16 – 21, 2018
Time: Various – see schedule above
Tel: 904-251-3011
kingfishtournament.com
For Regional Accommodations, Rstaurants & Attractions: visitjacksonville.com