Tag Archive
activity
annual
art
artist
Canada
children
city
community
contest
country
craft
display
downtown
drive i-95
Drivei-95
drivei95
entertainment
event
family
festival
Florida
food
free
fun
game
historic
History
house
Island
live
local
Museum
music
national
North Carolina
prize
Restaurant
roadtrip
shop
show
tour
travel
travelblogger
USA
world
Every winter, throughout the months of January and February, the Jekyll Island Authority hosts a beach treasure hunt known as Island Treasures.

The origin of the event dates back to the early 1900s, when fishermen used glass floats as markers on their nets. Occasionally, the floats would break loose and wash ashore for lucky beachcombers to find and keep. Collecting the rare, highly sought-after glass floats became a hobby in the 1950s.
On Jekyll Island, the tradition continues with the annual Island Treasures event. Artists from across the country are selected to create one-of-a-kind glass floats. Colorful hand-crafted glass floats or globes, similar to the ones once used on fishing nets, are created by glass artisans from across the country.  New for this year, treasure hunters will now hunt for clear, plastic globes that can be exchanged for a handmade glass float at the Jekyll Island Guest Information Center.
Island Treasures are hidden daily, always  in plain view and public spaces. The treasures will never be placed in the dunes, marshes, animal habitats or private property. And, each weekend, double the number of globes hidden around the island.
Inside each plastic globe,  lucky treasure hunters will find a card with instructions to take the globe to the Jekyll Island Guest Information Center. Each card will have a number that corresponds to a real, handcrafted Island Treasure. Hunters will be limited to one glass float per household per year, increasing everyone's chance to find a glass float. Hunters will also receive a certificate of authenticity and artist biography for their one-of-a-kind float. The Guest Information Center will be open daily, 9 a.m. – 6 p.m.
This Island Treasures event is FREE and lots of fun for all ages and as a bonus you get to explore this beautiful island.
Location: Jekyll Island Guest Information Center, 901 Downing Musgrove Causeway
Jekyll Island, GA 31527
Date: until Feb 28, 2018
Time: Open daily, 9 -6pm
Tel: 912- 635-3636 or 1-877-4-Jekyll
jekyllisland.com/signatureevents/island-treasures
For Regional accommodations, Restaurants & Attractions: jekyllisland.com, goldenisles.com
As you enter the side door of the Surratt House Museum you are walking in the path of John Wilkes Booth the night he killed President Lincoln, since he came here to retrieve a rifle, field glasses and supplies for his run from the law.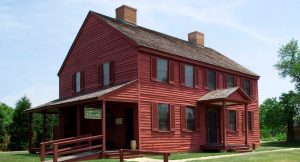 Built in 1852, this was a tavern, an inn, a post office and a polling place. It was a safe house for the Confederate underground. The massive search for Booth led them here to Mary Surratt's house, and as a result she was tried in a military court and convicted of conspiracy to assassinate the President. On July 7, 1865 Mary Surratt was the first woman to be executed by the federal government.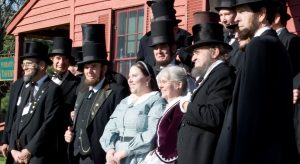 In your visit to this famous house, a docent in 1860's period clothing walks you through the typical middle class home.  History buffs can make reservations for the 12-hour "Escape Route" bus tour. Many of the same roads and houses used by Booth are still in existence and are visited on this excursion which is narrated by nationally-recognized authorities on the Lincoln assassination and John Wilkes Booth's flight.  Tour Dates for 2018: Apr 14, 21, 28 and Sept 8, 15, 22.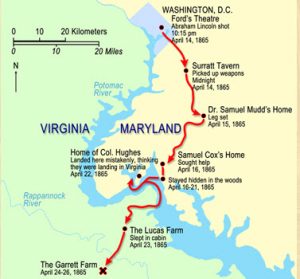 If you're in the Clinton area Sat, Dec 2 – Sun, Dec 10, stop by the Surratt House Museum for their special Christmas program- An Old Fashioned Holiday: Bringing Christmas Past to Christmas Present, celebrating the Christmas of yesteryear amid period decorations, special exhibits and seasonal histories. On the weekend of December 9 and 10, return to enjoy special activities for all ages, cookies, cider, and holiday discounts in the museum's gift shop.
Location: Surratt House Museum, 9118 Brandywine Road, Clinton, MD 20735
Hours: Wed – Fri 11am – 3pm, Sat -Sun 12 – 4pm
The Surratt House Museum is closed from Dec 12th to Jan 17th.
Tel: 301-868-1121
surrattmuseum.org
For Regional Accommodations, Restaurants & Attractions: visitprincegeorgescounty.com
Nature enthusiasts will relish the natural unspoiled and virtually unmarked by man Okefenokee National Wildlife Refuge that was established in 1937 to preserve the Okefenokee Swamp. The refuge encompasses over 400,000 acres of canals, moss draped cypress trees and lily pads which provide sanctuaries for hundreds of species of birds and wildlife.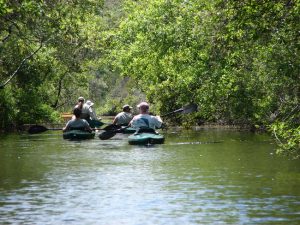 Okefenokee has the great distinction of not only being a part of the National Wildlife Refuge System, but also the National Wilderness Preservation System. Swamp habitats comprise open wet "prairies," cypress forests, scrub-shrub vegetation, upland islands, and open lakes. Wildlife species include wading birds, ducks, alligators and other reptiles, a variety of amphibians, bobcats, raptors, white-tailed deer, black bears, and songbirds.
To assist you on your exploration, Okefenokee Adventures offers a full range of tour options and is located inside the refuge on the historic Suwannee Canal.  Canoe, kayak, or boat the mirrored black waters of the Okefenokee Swamp: You can join a regularly scheduled 90 minute guided boat tours, or reserve a 2 hour sunset tour or arrange a half or full day private excursion with an expert, professional guide. Their staff includes well-known authorities on alligator biology, wetland ecology, and Okefenokee cultural history.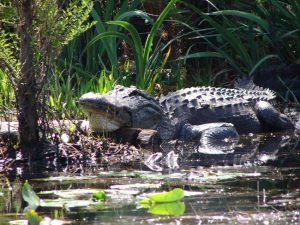 Experience canoe camping in the back-country wilderness of the Swamp interior, or head out on your own in a canoe or kayak. You can bike or drive the Swamp Island Drive, visit an authentic Swamp homestead or walk the nature trails and boardwalk and  get bird's eye views of the swamp from atop the observation tower.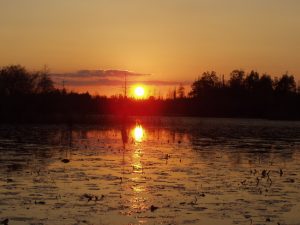 Location: Okefenokee National Wildlife Refuge, 2700 Suwanee Canal Rd, Folkston, GA 31537 , Tel: 912-496-7836 or 877-860-6787
Location: Okefenokee Adventures, 4159 Suwannee Canal Rd., Folkston, GA 31537
Hours: Open: ½-hour before sunrise every day,
Closed: 7:30pm – March 1 through Oct 31, Closed: 5:30pm – Nov 1 through end of Feb
Tel: 912-496-7156, 866-843-7926
okefenokeeadventures.com
For Regional Accommodations, Restaurants & Attractions: visitkingsland.com