Tag Archive
activity
art
artist
Canada
children
city
community
contest
country
craft
display
downtown
drive i-95
Drivei-95
drivei95
entertainment
event
family
festival
Florida
food
free
fun
game
historic
History
house
Island
live
local
Museum
music
national
North Carolina
performance
prize
Restaurant
roadtrip
shop
show
tour
travel
travelblogger
USA
world
The 10th Annual Eastern Carolina BBQ Throwdown is a professional cooking competition based on KCBS categories (chicken, pork ribs, pork & beef brisket). Awards include Grand Champion, Reserved Grand Champion, and People's Choice Award. Cash awards, trophies and plaques awarded up to 10th place in each category. There will be 58 opportunities to win.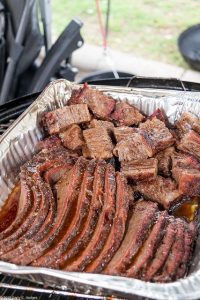 The Friday night Kick Off Party includes a Kick Off Concert featuring Who's Bad- The Ultimate Michael Jackson tribute band  held in downtown Rocky Mount. KCBS representatives will be present and competition judging starts at noon on Saturday, October 14, using the blind judging technique. This is a party you don't want to miss, with plenty of delicious food, beverages, and great entertainment. Bring your lawn chairs or blankets and come have some fun.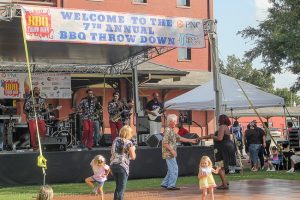 Schedule of Events:

Friday & Saturday, October 13-14, 2017
10th annual Eastern Carolina BBQ Throw Down (Competition)
Includes: People Choice
Friday, October 13th (12pm – 8:30 pm)
BBQ Kick Off Party (Train Station Lawn) 5:00 pm – 8:30 pm
Who's Bad Michael Jackson tribute band 6:30 pm (Train Station Lawn)
Saturday, October 14th (10:00 am – 6 pm)
Food Vendors, Commercial Vendors, Exhibitors, Live Music
Location: 101 Coastline St, Downtown Rocky Mount,NC  27804 – in front of the Helen P. Gay Historic Rocky Mount Train Station
Date & Time: Fri, Oct. 13 – Sat, Oct. 14, 2017
Time: Fri 12 pm – 8 pm, Sat 10 am – 6 pm
Tel: 252-972-1159
downtownrockymount.com/events/eastern-carolina-bbq-throwdown
For Regional Accommodations, Restaurants & Attractions: rockymounttravel.com
The first included meal in the Cosmos: Prague Vienna Budapest tour was an entree into the hearty meals to come. It started off with a beef broth with thin noodles and small tidbits of beef.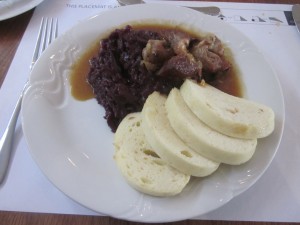 The main course was roasted pork  in a flavorful beer gravy with a side of  red cabbage and bread "dumplings". These were new to most of the travelers. Rather than a round doughy ball which we expected, these were more like slices of rye bread sitting in the gravy – so easy to lap it up.
Dessert was a light tiramisu served in a tumbler. Good start!
Michelin listed Ghent restaurant t'Pakhuis (www.pakhuis.be) takes the concept of farm right to table so seriously that they bought the farm – in Bresse, France. So now they breed and serve famous and flavourful Bresse chickens, guinea fowl, Hampshire down lambs, and Bayeux pigs. From home in Belgium, they get special tomatoes, their herbs, and even "lost and forgotten" vegetables
Located in a former ironworks factory with painted cast-iron pillars and a soaring wrought-iron balcony now filled with light from the huge roof skylight, the noisy chattering happy diners, both inside and out might be enjoying the beers and fancy cocktails at the bar or on the large terrace. In keeping with it's slick metallic theme, it has the coolest bathroom lock I've ever encountered and I challenge you to try to turn on the tap without having to ask!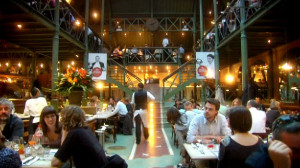 And the food – my liver screamed for mercy but my mouth was bathed in smiles. Though you could start with  a lighter lobster soup or beef carpaccio, if you dare, the foie gras plate had the most generous hunk of silky foie we have ever encountered accompanied by sage apple cream and dates. Had I stopped there, it would have been a perfect dinner.
But yet we ventured on to the grilled duck breast in pea cream with baby veggies and mashies that were so smoothly whipped that they could have been served for a dessert sorbet. The asparagus risotto with lemon butter was so yummy, it alone could turn me into a vegetarian.
We could have ended the meal with a locally favorite flavor, gingerbread, in cheesecake with vanilla sauce or gone lightly with some sorbets, but we took it to the max with a silky creme brûlée. Sigh.