Tag Archive
activity
art
artist
Austria
Canada
children
city
CostSaver
display
drive i-95
Drivei-95
entertainment
Europe
event
exhibit
family
festival
Florida
food
France
free
fun
historic
History
landmark
live
local
London
Museum
music
performance
Restaurant
roadtrip
shop
show
sights
sightseeing
tour
tourist
Trafalgar
travel
travelblogger
USA
view
world
Bring your dog to Pet Source in Concord or Marlboro and make him a true artist. The special event is called Paws in Bloom and featured artist of the day is your pet.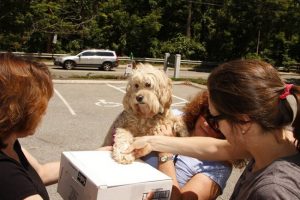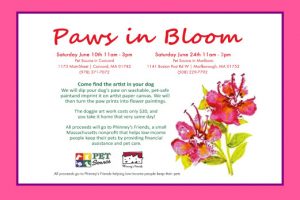 They will dip your dog's paw in washable, pet-safe paint and imprint it on a canvas. Then  they will turn the paw prints into a flower paintings. The doggie artwork will cost only $20 and you get to take it home with you the very same day.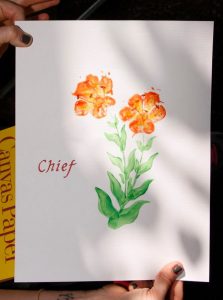 See how your dog's paw print is transformed into a beautiful painting, and best of all, you have a piece of artwork to treasure forever. No reservations needed.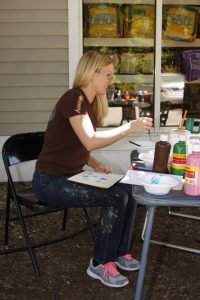 There are 2 Dates scheduled for this special  event:
June 10, 2017: 11 am – 3 pm – Pet Source -1173 Main St, Concord, MA 01742
June 24, 2017: 11 am – 3 pm – Pet Source – 1141 Boston Post Rd W, Marlboro, MA 01752
All proceeds will go to Phinney's Friends, a small Massachusetts nonprofit that helps low-income people keep their pets by providing financial assistance and pet care. Read more about this incredible organization at: phinneysfriends.org/about
Location: Pet Source, 1173 Main St, Concord, MA 01742 – June 10th,
Pet Source- 1141 Boston Post Rd W, Marlboro, MA 01752 – June 24th
Dates: June 10th, June 24th, 2017
Hours: 11 am – 3 pm
Tel: Main Street 978-371-7072, Boston Post Rd. 508-229-7792
phinneysfriends.org/events/
patch.com/massachusetts/concord/calendar/event/20170706/157136/paws-in-bloom
For Regional Accommodations, Restaurants & Attractions: concordchamberofcommerce.org
 Four centuries of dollhouses are on display in Concord at The Art & Mystery of the Dollhouse exhibit featuring many of the finest representations in both public and private collections. Admirers young and old will appreciate the chance to step into that intriguing miniature universe at the new presentation at the Concord Museum, on view until Jan. 15.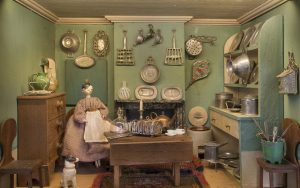 Explore tiny worlds that capture life's detail and the imagination through dollhouses and miniatures from the 17th through early 20th centuries show the evolution of dollhouses from treasures for wealthy adults to colorful playthings for children. This captivating exhibition explores the tiny worlds that capture life's detail and stimulate the imagination.
Highlights include an extremely rare dollhouse from 1695, and an array of 19th- and 20th-century doll homes from The Strong National Museum of Play,  View "room dollhouses" that celebrate interior design history and play with a hands-on Hape dollhouse. There is even a celebrity doll in attendance — Melissa Shakespeare, the doll of children's author and illustrator Tasha Tudor.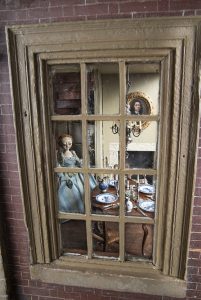 The Concord Museum will be hosting an array of special programs throughout the exhibition months includes a hands-on room box building workshop, story times with dollhouse-inspired crafts and gallery talks led by specialists in the world of miniatures.
Location: Concord Museum, 200 Lexington Road, Concord, MA 01742
Dates: Until  January 15, 2017
Hours: til December Mon–Sat, 9–5pm; Sun., 12–5pm
January Mon–Sat 11–4pm, Sun. 1–4pm                         Tel: 978-369-9763
concordmuseum.org/art-and-mystery-of-the- dollhouse.php
For Regional Accommodations, Restaurants & Attractions:
concordchamberofcommerce.org/visitor-information
Photo Credit: Photos by Gavin Ashworth
picture 1 – Camden House; England, dated 1838; Private Collection: This house includes all its original furnishings, including a copy of T. Goode's miniature edition of The History of England (1837). Camden, now part of London proper, was in 1838 a suburb with housing developed for working people. The Cratchet family of Charles Dickens' Christmas Carol (1843) lived in Camden. The house first came to America in 1964.
picture 2 -Georgian House; England, 1720-1730; Private Collection: This oak dollhouse on stand is in the form of an early Georgian country house. When it was owned by pioneering dollhouse collector Vivien Greene, the house included a clockwork (wind-up) ghost. The ghost intrigued the young Prince Charles when he saw the house in the first (1955) major exhibition on the subject of early dollhouses.