Tag Archive
activity
art
artist
Canada
children
city
community
contest
country
craft
display
downtown
drive i-95
Drivei-95
drivei95
entertainment
event
family
festival
Florida
food
free
fun
game
historic
History
house
Island
live
local
Museum
music
national
North Carolina
performance
prize
Restaurant
roadtrip
shop
show
tour
travel
travelblogger
USA
world
Join the excitement of the 14th Annual Darlington Car Hauler Parade and Racefest featuring NASCAR Monster Energy Cup Teams transporters making their way through cheering fans from the Florence Civic Center to the Darlington Square and into the track that's "Too Tough to Tame" – Darlington Raceway.
There is plenty of FUN for the whole family, beginning at the Florence Civic Center with entertainment and live music. Kids play all afternoon for FREE on the KidsZone inflatable ride and games. The Game Truck will bring a wide selection of games for Xbox360, Wii and PS3 and can accommodate up to 16 players at one time. There will be refreshments for purchase with the proceeds  supporting Camp Pee Dee Pride.
The main attraction continues to be the NASCAR transporters, which fans can take photos with with their favorite team's hauler and driver before the haulers take off. This year famous former drivers are back such as Hut Stricklin, former champ of NASCAR's Dash Series, and Donnie Allison, who won ten races in the Cup Series.
Fans will enjoy the exciting silent auction full of great NASCAR items and race memorabilia. Proceeds benefit local charities.
At 7 p.m. the parade of NASCAR haulers leave the Florence Civic Center and make the 12-mile trek to RaceFest on the Darlington Square, where there will be more entertainment, food, a car show and an incredible fireworks display. The transports will continue through Darlington until they reach the track Darlington Raceway where they can park, unload and begin preparation for the Bojangles' Southern 500 race taking place on on September 2nd.
As if it could not get any better, admission to the Darlington Car Hauler Parade is FREE.
Location: Florence Center, 3300 W Radio Dr , Florence, SC 29501
Date: Thurs, Aug 30, 2018
Time: 4pm – 7pm
Tel: 800-325-9005
darlingtoncarhaulerparade.com
For Regional Accommodations, Restaurants & Attractions: visitflo.com
Venice Of America Lesson and Tour is a fun and easy way to learn how to stand up paddle board and experience a relaxing journey from Fort Lauderdale's Barrier Island to the Riverfront in Las Olas with professional and friendly guide.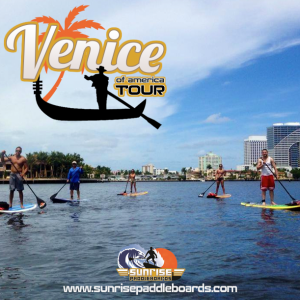 Look out for manatees as you paddle through  navigable inland waterways that make up New River, winding past the palatial estates, multi-million dollar luxury yachts, and natural areas of Fort Lauderdale's intracoastal and river system.
The canals house mega yachts of the rich and famous which are docked at luxurious homes that can only be seen by river as many are inside gated communities.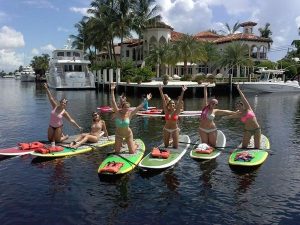 These inland waterways with their waterfront homes earned Fort Lauderdale its reputation as the "Venice of America."Glide your board from small wakes as yachts and boats pass, all while enjoying the beautiful Intracoastal Waterway system that stretches from Maine to Miami.
The Fort Lauderdale port hosts as many as 18 cruise ships a day, sailing from Port Everglades in Fort Lauderdale to marquee destinations throughout the Caribbean.
Paddling tours navigate different routes daily based upon current, wind conditions, and other variables to make the tour safe, fun, and inviting  for all ages. Along the tour their knowledgeable tour guide will answer questions while making your experience as easy and fun as possible.
Images Courtesy of Sunrise Paddleboards
Location: 2520 N. Federal Hwy., Ft Lauderdale, FL 33305
Dates & Time: Every Saturday at 10 AM
Tel: 954-440-4562
sunrisepaddleboards.com
For Regional accommodations, Restaurants & Attractions: sunny.org
College students know pizza; a staple for them while living on or off campus. Over the years, this landmark for pizza in Maine, Pat's Pizza,  has become a favorite of University of Maine students offering delicious and affordable pizzas that won't disappoint. In fact, with deep roots in the community, it has been said that an education at the University is not complete without a Pat's Pizza.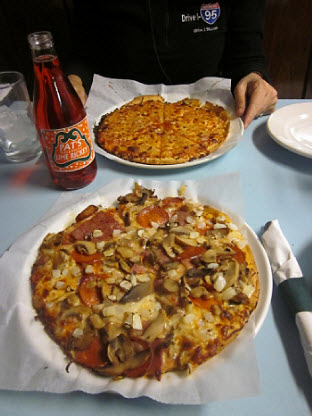 Opened in 1931, and still churning out 700 pizzas a night, this 2nd generation family business (now with 19 locations) is famous in Maine. Step into over 50 years of history with this old time pizzeria, at their original location, with its original Formica counters and slate foot rests.
The thin, soft, light crust melts in your mouth, and the toppings are put on evenly so that there's a taste in every bite. Made with freshest ingredients, 35 toppings like: specially made pepperoni, pine nuts, hot dog, kielbasa, zesty olives or eggplant, there is a pizza just for you! They even make gluten-free pizzas or double -dough pizzas.
The Pat's Combo is the most popular pizza with pepperoni, mushrooms, and Cotto salami on it. Not to mention the mouth-watering calzones, spaghetti and meatballs, sub sandwiches, wraps, salads and a Maine favorite red skin hot dogs too. Wash it down with Pat's own brand of sodas: strawberry, root beer, orange, grape, cream or Stan and Sandra's favorite – raspberry Lime Rickey, or try the local Moxie brand, made in Maine.
Buon appetito!
Location: 11 Mill Street, Orono, ME 04473
Hours: Mon-Fri 7am – 12am, Sat-Sun 7am – 1am
Tel: 207-866-2111
patspizzaorono.com/
For Regional Accommodations, Restaurants & Attractions: visitbangormaine.com
As you enter the side door of the Surratt House Museum you are walking in the path of John Wilkes Booth the night he killed President Lincoln, since he came here to retrieve a rifle, field glasses and supplies for his run from the law.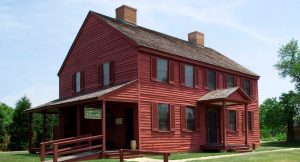 Built in 1852, this was a tavern, an inn, a post office and a polling place. It was a safe house for the Confederate underground. The massive search for Booth led them here to Mary Surratt's house, and as a result she was tried in a military court and convicted of conspiracy to assassinate the President. On July 7, 1865 Mary Surratt was the first woman to be executed by the federal government.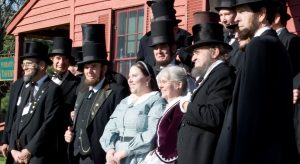 In your visit to this famous house, a docent in 1860's period clothing walks you through the typical middle class home.  History buffs can make reservations for the 12-hour "Escape Route" bus tour. Many of the same roads and houses used by Booth are still in existence and are visited on this excursion which is narrated by nationally-recognized authorities on the Lincoln assassination and John Wilkes Booth's flight.  Tour Dates for 2018: Apr 14, 21, 28 and Sept 8, 15, 22.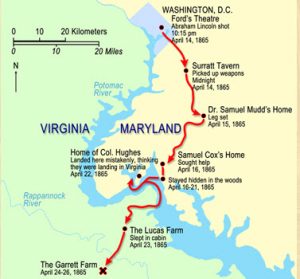 If you're in the Clinton area Sat, Dec 2 – Sun, Dec 10, stop by the Surratt House Museum for their special Christmas program- An Old Fashioned Holiday: Bringing Christmas Past to Christmas Present, celebrating the Christmas of yesteryear amid period decorations, special exhibits and seasonal histories. On the weekend of December 9 and 10, return to enjoy special activities for all ages, cookies, cider, and holiday discounts in the museum's gift shop.
Location: Surratt House Museum, 9118 Brandywine Road, Clinton, MD 20735
Hours: Wed – Fri 11am – 3pm, Sat -Sun 12 – 4pm
The Surratt House Museum is closed from Dec 12th to Jan 17th.
Tel: 301-868-1121
surrattmuseum.org
For Regional Accommodations, Restaurants & Attractions: visitprincegeorgescounty.com
Turn Baltimore's Inner Harbor into a giant game board with this fun scavenger hunt adventure. What a fabulous, unique and entertaining way for the whole family to see the city.  This amazing Scavenger Hunt Adventure combines the excitement of the Amazing Race with a three-hour city tour.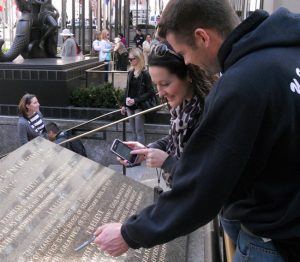 Guided from any smart phone, teams make their way among well known and overlooked gems of the city, solving clues and completing challenges while learning local history. The adventure begins in the Historic Inner Harbor and will take you on a journey along the water front, among museums and other historic buildings. You'll explore interesting parts of Little Italy and see the location where the Star-Spangled Banner Flag was created.
This is an interactive tour, where your Smart Phone leads you on a fun and engaging walking tour of the city to complete challenges,  solve clues all while working together to unravel secrets of the city. Optional hints make sure that all teams can find a location or solve a challenge to move forward and earn points for correct answers.  See famous sights and hidden gems of the city while learning interesting facts and discovering unique history.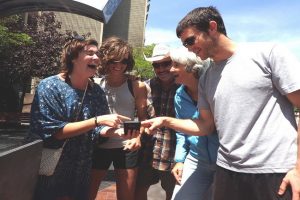 Mention promo code – Drivei95Blog to receive a 20% off discount.
Start: Outside the Maryland Science Center (Harbor side)
End: Star-Spangled Banner Flag House
Distance: 1.5 miles
Time: 2.5 – 3 hours
Challenges: 20
Bonuses: 4
Points of Interest: Inner Harbor, Maryland Science Center, USS Constellation , Baltimore WTC, Power Plant and Little Italy
Available 365 days a year, sunrise to sunset. Start when you want and play at your pace.
Start Location: Outside the Maryland Science Center (Harbor side), 601 Light Street, Baltimore, MD 21230
Date and Time: Daily, 10am – 7pm
Tel: 805-603-5620
urbanadventurequest.com
For Regional Accommodations, Restaurants & Attractions: baltimore.org
Grab your ghosts and goblins and head to the wildest Halloween celebration in Palm Beach County. Palm Beach Zoo's not-so-scary Halloween tradition Boo at the Zoo returns for it's 19th year. Enjoy trick-or-treating all around Palm Beach Zoo, little kids costume contests, strolling famous costume characters, DJ, and more.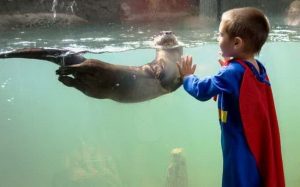 There's also an important conservation message at Boo at the Zoo. The candy given away at the zoo comes from manufacturers who belong to the Roundtable on Sustainable Palm Oil (RSPO) or follow comparable sustainability practices.  The harvesting of palm oil in Southeast Asia is one of the biggest threats to animals like the zoo's Malayan tigers, and numerous other endangered species in SE Asia and Indonesia.
Most Boo at the Zoo activities are included in admission.
Location: Palm Beach Zoo, 1301 Summit Blvd, West Palm Beach, Florida 33405-3035
Date & Time – Days: Oct 20 – 22, Oct 27-29 10am – 4pm
Evenings: Oct 20 – 21, Oct 27-28
5pm – 9pm
Tel: 561-547-9453 (WILD)
palmbeachzoo.org
For Regional Accommodations, Restaurants & Attractions: thepalmbeaches.com
Dates/Hours:
10/20
10am-4pm
5-9pm
10/21
10am-4pm
5-9pm
10/22
10am-4pm
10/27
10am-4pm
5-9pm
10/28
10am-4pm
5-9pm
10/29
10am-4pm
Daniel Boone first came to the mountains of NC in 1752, and he roamed around the area of Grandfather Mountain, which is today one of NC's top scenic attractions. This is a replica of his famous carving on a Beech tree that reads "D. Boon killed a bar o this tree 1775" which you will find in The Grandfather Mountain Nature Museum. The tree was actually in Kingsport, TN.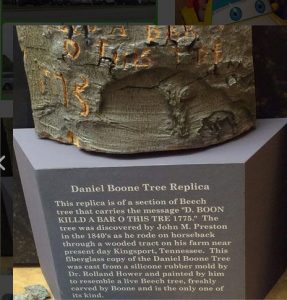 Only in Montreal will you find this flavor of potato chips! Montreal Steak Spice is a famous blend of spices that takes steak to a new level, but can also be sprinkled on chicken, pork, hamburgers and now even potato chips. We found this bag at Le Panier, the fabulous gift shop at 300 Bord du Lac (Lakeshore Rd) in Pointe Claire.