Tag Archive
activity
art
artist
Austria
Canada
children
city
CostSaver
display
Drivei-95
drive i-95
entertainment
Europe
event
exhibit
family
festival
Florida
food
France
free
fun
historic
History
landmark
live
local
London
Museum
music
performance
Restaurant
roadtrip
shop
show
sights
sightseeing
tour
tourist
Trafalgar
travel
travelblogger
USA
view
world
.
Wolfgang Amadeus Mozart was born in Salzburg, Austria on January 27, 1756. His family lived there from 1747 to 1773. Mozart was the 7th child of Leopold Mozart, who himself was a musician of the Salzburg Royal Chamber.
.
The Goldenes Dachl or Golden Roof (built around 1500) is a landmark and famous symbol in Old Town (Altstadt) Innsbruck, Austria. The edifice was built for Emperor Maximilian I to mark his wedding to Bianca Maria Sforza of Milan.  It served as a royal box where the Emperor and his imperial entourage could sit and enjoy festivals, tournaments, and other events that took place in the square below. Since he did not wish to alienate the allies gained by his first marriage, to Maria of Burgundy, he had an image painted of himself on the balcony between the two women.The roof was decorated with 2,657 fire-gilded copper tiles.
.
Gletschergarten Lowendenkmal is massive heartrending stone relief which was carved to remember the Swiss Guards who were massacred in 1792 during the French Revolution when defending Louis XVI. Swiss Guards were and are famous as brave sentries. Today, they still surround the Pope. When the revolutionaries stormed the Tuileries Palace in Paris, more than 800 were killed during the fighting, after surrender, or died in prison of their wounds. 300 lucky survived because they were with the detachment which King Louis XVI had sent to Normandy to escort grain convoys. Two surviving Swiss officers went on to become senior ranked guards for Napoleon.
In 1880, Mark Twain had this to say about it " His size is colossal, his attitude is noble. His head is bowed, the broken spear is sticking in his shoulder, his protecting paw rests upon the lilies of France. Vines hang down the cliff and wave in the wind, and a clear stream trickles from above and empties into a pond at the base, and in the smooth surface of the pond the lion is mirrored, among the water-lilies.
Around about are green trees and grass. The place is a sheltered, reposeful woodland nook, remote from noise and stir and confusion ­and all this is fitting, for lions do die in such places, and not on granite pedestals in public squares fenced with fancy iron railings. The Lion of Lucerne would be impressive anywhere, but nowhere so impressive as where he is."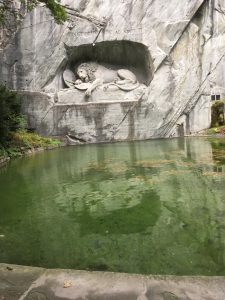 .
Gustave Eiffel had an apartment in the tower to entertain guests. And you too can be wined and dined there. There are 2 restaurants and then a champagne bar at the top. We totally enjoyed our entire dining and viewing experience at Alain Ducasse's Jules Verne, which garnered one Michelin star. Though a set menu, it allows tourists to experience a "starred" moment in this famous city with less than sky high prices (but still expensive). Starting May 2019, it will be managed by three-star chef  Frédéric Anton. Guess we'll have to go again!
.
First visit to the Eiffel Tower.
.
Now surrounded by security fences, and an airport-like clearance entrance, some of the freedom, joy, or innocence of the her majesty is lost.
.
World over it's known as the Opera de Paris however it does have a real name, the Palais Garnier named for its architect, Charles Garnier, and was built from 1861 to 1875. It became even more famous because of Gaston Leroux's 1910 novel The Phantom of the Opera and, especially because of the later adaptations in films and the popular 1986 Broadway musical. It is as much a symbol of Paris as Notre Dame Cathedral, the Louvre, or the Sacré-Cœur Basilica.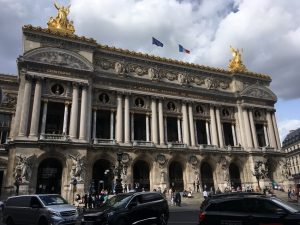 .
Notre-Dame Cathedral is a architectural masterpiece and you really need to walk around the outside of it to appreciate it all. It was begun in 1160 and completed by 1260. Just think about how long ago that was and here it still stands so magnificently; What are we building today that will last that long? This medieval Catholic cathedral on the Île de la Cité in Paris is still widely considered to be one of the finest examples of French Gothic architecture with its innovative use of the rib vault and flying buttress, the gargoyles and the enormous and colorful rose windows.
.
France is celebrating 160th anniversary of diplomatic ties between France and Japan. Japonismes 2018: Les Ames en Resonance, will run through February 2019 involving exhibitions and events promoting Japanese art and design. Visual artist Kohei Nawa's monumental sculpture "Throne" has one of the most prestigious spots in Paris: the Louvre. "I see the location as a connecting portal of modern lifestyles and the past, says Nawa, the Kyoto-based artist whose 10.4-meter-tall work is installed under I.M. Pei's 1989 glass pyramid in the Louvre's main courtyard.
The making of the throne itself involved both the past and the present. It was designed using state-of-the-art 3D modeling software and carved by robotic arms, however its gleaming gold leaf exterior was hand-applied by Japanese traditional craftspeople.
"The maximum capacity the pyramid can hold is 3 tons, so I told the museum I would ship a sculpture weighing exactly 3 tons," says Nawa about the work's creation. "I think they were bit worried, but after it went up, the Louvre's curator, Martin Kiefer, told me the sculpture looks like it's been at the pyramid all along."
It's not Nawa's first "Throne" and it is different in that in previous iterations there was usually a small child seated within Nawa's unique abstract shapes and geometric forms. For the Louvre, the seat is strikingly empty.
"Thrones are for kings. Here, the seat is for the authority that will eventually take over the control in the future. I left the seat empty to emphasize the invisibility," says Nawa.
It sounds ominous, but Nawa goes on to explain that he foresees the type of power we see controlling today's politics, economy and lifestyles as disappearing in the future, and in its place will be a very different form of authority. It could be artificial intelligence and advanced computer technology that will "take the throne," he suggests, while we blindly follow, something that history has shown us that humans have had the tendency to do.
To us it is interesting that he chose a throne to be placed in this, the Palace of the Louvre, where French Kings sat on their thrones. Francis I chose this edifice as the residence for French kings and where it remained thus until good old King Louis XIV decided to move to Versailles and this building was then used to store his pretty things.