Tag Archive
activity
art
artist
Austria
Canada
children
city
CostSaver
display
Drivei-95
drive i-95
entertainment
Europe
event
exhibit
family
festival
Florida
food
France
free
fun
historic
History
landmark
live
local
London
Museum
music
performance
Restaurant
roadtrip
shop
show
sights
sightseeing
tour
tourist
Trafalgar
travel
travelblogger
USA
view
world
Join The Maggie Society on May 5th for Cinco de Barko, a family friendly, dog friendly afternoon of fun, food and music all to support a worthy cause.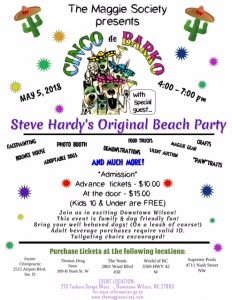 If you're an animal lover, grab a tailgating chair, the kids and the dog's leash and get ready to PAWTY!
Along with the amazing Steve Hardy providing the tunes, food trucks will be on site so make sure to show up hungry. (Valid ID required for adult beverage purchases)
Other event activities include: bounce house, crafts (for children), PAWtraits (for the furry guests), silent auction, demonstrations, photo booth, Maggie Gear and adoptable dogs.
Kids 10 and under Free Admission.
Proceeds will go to: The Maggie SocietyCanine Rescue, Rehabilitation, & Education
Location: 210 Tarboro St. West, Wilson, NC 27893 (The "Grassy Lot")
Date: Sat,  May 5, 2018
Time: 4 – 7pm
themaggiesociety.com/current-events.html
For Regional Accommodations, Restaurants & Attractions: wilson-nc.com
The Lewis Ginter Botanical Garden is an oasis on a driving trip – 82 magnificent acres which started life as Powhatanhuntinggrounds and was at one time owned by patriot Patrick Henry.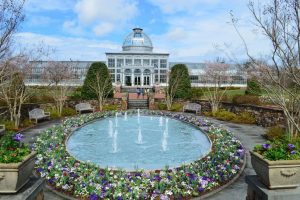 In 1884, Lewis Ginter, who was orphaned at 17 and later became a millionaire from tobacco and real estate, developed a Wheel Club House here for Richmond bicyclists (now Bloemendaal House). His niece, Grace Arents, developed the gardens, and her original design is still here.
There are more kinds of gardens than we ever knew existed: four seasons, healing, Asian, rose, wetland, azalea and a community kitchen one where they grow food for the hungry. The children's garden offers up a tree house and an activity center; there's sidewalk chalk, hula hooping, digging and watering opportunities.  They love the Kids Quest treasure hunt. For walkers, there's a "walk on the wild side" and a bird trail, and as if all that wasn't enough, there's a lush indoor conservatory with exotic plants from around the world.
Featured Events:
Location: Lewis Ginter Botanical Garden, 1800 Lakeside Ave, Richmond, VA 23228
Hours: Daily 9am – 5pm
Tel: 804-262-9887
lewisginter.org
For Regional Accommodations, Restaurants & Attractions: visitrichmondva.com
The former Jewish Ghetto (now called Josefov) in Prague goes back to the 12th century. In fact, the oldest synagogue in Europe, the Old-New Synagogue, is still there and it is still used for its purpose, as there are regular services. An old legend says it was built of stones from the Second Temple in Jerusalem. This quarter was demolished in 1897. Today, there are 6 synagogues, the Jewish City Hall and the Old Jewish Cemetery from the 15th century. Notice the Rabbi's house has gold decorations and the clock with hebrew letters which dates to 1674.
In 1389 the biggest anti-Jewish pogrom in the Middle Ages took place here, when about 3,000 citizens of the Jewish Quarter were killed, turning the walls of the Old–New Synagogue dark with blood. Their homes were plundered and burned.
However, in the 16th century, this quarter was thriving. Some of the synagogues we can still see were built then. The Maisel Synagogue houses an exhibition of the Jewish Museum in Prague. In the 1950's, the Pinkas Synagogue became a Memorial to victims of the Holocaust. The walls of the nave, gallery and vestibule were covered with names of about 80,000 Bohemian and Moravian Jews. You can also see drawings of Jewish children made in the Terezin concentration camp between 1942 and 1944. There were more than 10,000 children under the age of 15 there. In 1577, the High Synagogue was built as a part of the Jewish City Hall, and the original vault with some Gothic features and stucco decoration still can be seen.
Nowadays, Paris St. in this area is one of the most popular places to live in Prague. If you get hungry, you can eat at the King Solomon kosher restaurant. Michelle Obama ate there when she was in town.
www.cosmos.com/Product.aspx?trip=46050