Tag Archive
activity
art
artist
Austria
Canada
children
city
CostSaver
display
Drivei-95
drive i-95
entertainment
Europe
event
exhibit
family
festival
Florida
food
France
free
fun
historic
History
landmark
live
local
London
Museum
music
performance
Restaurant
roadtrip
shop
show
sights
sightseeing
tour
tourist
Trafalgar
travel
travelblogger
USA
view
world
.
France is celebrating 160th anniversary of diplomatic ties between France and Japan. Japonismes 2018: Les Ames en Resonance, will run through February 2019 involving exhibitions and events promoting Japanese art and design. Visual artist Kohei Nawa's monumental sculpture "Throne" has one of the most prestigious spots in Paris: the Louvre. "I see the location as a connecting portal of modern lifestyles and the past, says Nawa, the Kyoto-based artist whose 10.4-meter-tall work is installed under I.M. Pei's 1989 glass pyramid in the Louvre's main courtyard.
The making of the throne itself involved both the past and the present. It was designed using state-of-the-art 3D modeling software and carved by robotic arms, however its gleaming gold leaf exterior was hand-applied by Japanese traditional craftspeople.
"The maximum capacity the pyramid can hold is 3 tons, so I told the museum I would ship a sculpture weighing exactly 3 tons," says Nawa about the work's creation. "I think they were bit worried, but after it went up, the Louvre's curator, Martin Kiefer, told me the sculpture looks like it's been at the pyramid all along."
It's not Nawa's first "Throne" and it is different in that in previous iterations there was usually a small child seated within Nawa's unique abstract shapes and geometric forms. For the Louvre, the seat is strikingly empty.
"Thrones are for kings. Here, the seat is for the authority that will eventually take over the control in the future. I left the seat empty to emphasize the invisibility," says Nawa.
It sounds ominous, but Nawa goes on to explain that he foresees the type of power we see controlling today's politics, economy and lifestyles as disappearing in the future, and in its place will be a very different form of authority. It could be artificial intelligence and advanced computer technology that will "take the throne," he suggests, while we blindly follow, something that history has shown us that humans have had the tendency to do.
To us it is interesting that he chose a throne to be placed in this, the Palace of the Louvre, where French Kings sat on their thrones. Francis I chose this edifice as the residence for French kings and where it remained thus until good old King Louis XIV decided to move to Versailles and this building was then used to store his pretty things.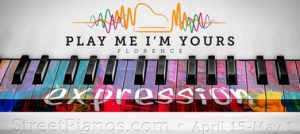 Florence, SC Exit 160: No, you're not seeing things, those randomly placed pianos throughout Florence are part of Play Me, I'm Yours, an initiative of a worldwide street piano project, geared to interconnect people in the community by "expressing themselves"  by bringing pianos to the people and music to the streets.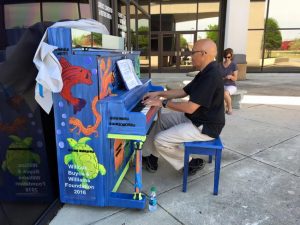 Dozens of Pianos will be located all over Florence and Lake City, and will remain available until May 7, positioned for everyone to play and enjoy on streets, in parks, squares, markets and other public places. Play Me, I'm Yours invites the public to engage with, participate and take ownership of their urban environment. Decorated and personalized by local artists and community groups, the street pianos create a place of exchange and an opportunity for people to connect.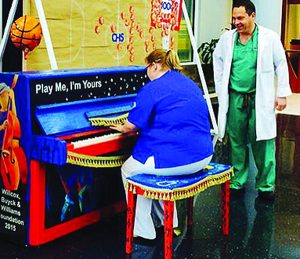 Touring internationally since 2008, Play Me, I'm Yours was created by British artist Luke Jerram. More than 1500 pianos have now been installed in over 50 cities across the globe, from London to Lima, bearing the simple invitation Play Me, I'm Yours. The project has already reached more than ten million people worldwide.
An opening-night festival will be held April 21 in the Willcox Plaza on West Evans Street. The event will include a dueling pianist team and a "Paint a Piano" tent for young artists. Don't miss the featured noon concerts on various instruments by local pianists.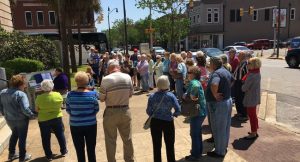 Location: Florence, SC
Date: Fri, April 21 – Sun, May 7, 2017
Tel: 843-260-6210
streetpianos.com/florence2017
For Regional accommodations, Restaurants & Attractions: visitflo.com