Tag Archive
activity
art
artist
Austria
Canada
children
city
CostSaver
display
Drivei-95
drive i-95
entertainment
Europe
event
exhibit
family
festival
Florida
food
France
free
fun
historic
History
landmark
live
local
London
Museum
music
performance
Restaurant
roadtrip
shop
show
sights
sightseeing
tour
tourist
Trafalgar
travel
travelblogger
USA
view
world
Ahoy Mateys! For over 300 years, people of all ages have searched for Captain Kidd's treasure.  Sunday, June 11th, 2017 is Pirates Day in Milford.  Join Captain Kidd and his crew as they sail into Milford Harbor, 'kidnap' Mayor Blake and "take over" downtown Milford.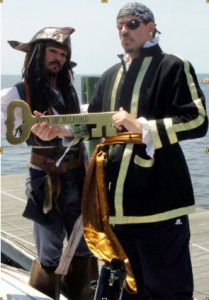 For the 13th annual Cap'n Kidd Treasure Hunt, participants will pick up a downtown treasure map, a strand of pirate beads, and a booty bag at Lisman Landing or by the Gazebo on the Green. Take part in the scavenger hunt by following the clues listed on the map, decipher the clue that matches the stop, and fill up your booty bags with treasures galore at the participating Pirate Stops.  Don't forget to get your map stamped for a chance to win a treasure chest of prizes. Here's a clue…Only the places displaying Pirate Flags will have the loot you seek.
There will be pirate-themed activities for children on the Green by the Gazebo, and  live, local bands for everyone to enjoy. Be sure to keep a look out for more crew members for great photo ops and  join Cap'n Kidd and his motley crew for a spectacular pirate parade.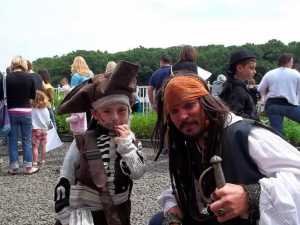 So put on your best pirate garb, learn how to talk like a pirate, and search for Cap'n Kidd's treasure. Matey, don't miss this fun, family-friendly adventure, brimming with special treasures and pirate bustle all day long … or be prepared to walk the Plank!  AAARRRGGGG…
Cap'n Kidd Pirates Day Treasure Hunt:
SUNDAY, JUNE 11th, 2017 Noon to 5:00 PM (subject to change)
Pirates Day

11:30 AM – 1:00 PM Map Distribution Lisman Landing (can also be picked up at the Gazebo – after 1 pm pick up at Gazebo on the Green only)
11:00 AM – 1:00 PM  Tim Payson & Friends
12:00 PM  Cap'n Kidd, Captain Jack, colorful pirates and pirate ship arrive at Harbor/Lisman Landing
12:15 PM   Mayor Benjamin G. Blake greets crowd, kicks off event
12:00 PM –  2:00 PM  Map Distribution continues by the Gazebo on the Green
12:30 – 2:00 PM  Pirate Rock Painting with Rock On Pirate Girls By the Gazebo on the Green  * Proceeds benefit the Get In Touch Foundation
1:00 PM  Milford Volunteers Ancient Fife and Drum Corps – Park by Café Atlantique
1:30 – 2:00 PM  Katie Gillick, musician/composer – Gazebo on the Green
2:30 – 3:00 PM  Pirates Parade on the Green by the Gazebo – everyone invited to join in
2:00 – 3:00 PM  The Elwoods (Classic Rock/Blues) Gazebo on the Green
2:30 – 3:30 PM  Pirate-related Kiddie Activities by the Gazebo on the Green and story-time by Friends of the Milford Library
3:00 – 4:00 PM  The Elwoods (Classic Rock/Blues) Gazebo on the Green
4:00 – 5:00 PM  Drop off completed maps at the DMBA Exhibit by the Gazebo on the Green, for a chance to win a Treasure Chest of prizes (one adult winner & one child winner will be chosen); event closes promptly at 5:00 PM
Location: Lisman Landing or Gazebo on the Green, Downtown Milford, CT 06460
Date: Sun, June 11th, 2017
Hours: noon – 5pm
Tel:  203-745-4946
downtownmilfordct.com/copy-of-wine-trail
For Regional Accommodation, Restaurants & Attractions: milfordct.com
VA Exit 177B: The movie, "12 Years a Slave"  has a connection to a slave site, now a Virginia museum, called Freedom House Museum. In 1808, a US law outlawed the importation of slaves. Still so necessary for plantation life, clever entrepreneurs did not let this stop the sale of slaves – they simply bred them! The slaves were encouraged to have as many children as possible so they could be auctioned off.
The last slave trader at this site, James H. Birch, was the same dealer who, in the movie,  paid kidnappers $250 for Solomon Northup of Saratoga Springs, NY; They then sold him into slavery in Louisiana. "What is unique about this building is it's one of the few remaining buildings that the slave trade actually took place in." said curator Julian Kiganda" who designed the exhibits here.
This building was once headquarters for the Franklin and Armfield Slave Pen, the largest and most successful domestic slave trading firm in America. "We will give Cash for one hundred likely YOUNG NEGROES", read one of their ads in the Alexandria Gazette in 1828. "Persons who wish to sell, would do well to give us a call, as the negroes are wanted immediately. We will give more than any other purchasers that are in the market or may hereafter come into the market."
Between the 1830's and 1860's Virginia exported more than 10,000 slaves a year to the Deep South, and the total may have reached 300,000, tearing families apart forever. The FREE museum is a must to absorb the personal stories of this black mark on the country's history. "Everyone who comes through there, they feel moved." says Kiganda.
Location: . 1315 Duke St., Alexandria, VA
Tel:  703-836-2858
www.freedomhousemuseum.org