Tag Archive
activity
architecture
art
artist
Austria
Canada
children
city
CostSaver
display
downtown
drive i-95
Drivei-95
entertainment
Europe
event
exhibit
family
festival
Florida
food
free
fun
historic
History
landmark
live
local
London
Museum
music
Ontario
roadtrip
shop
show
sights
sightseeing
tour
tourist
Trafalgar
travel
travelblogger
USA
view
world
Experience four days and nights of Latin dance lessons, meeting new people, enjoying dance performances and social dancing with world renown instructors at DC's 3rd Annual Fall Salsa and Bachata Dance Festival.
Four Days of Non-Stop Dancing with 5 Nights of Theme Parties, Over 50 Salsa, Bachata, Kizomba, and Zouk Workshops, amazing talent from around the world and dance performances and social dancing with world renown instructors.
Experience this Latin Dance Fest and hangout with new people, learn to dance and even ask one of the artists to dance with you.

Event Schedule: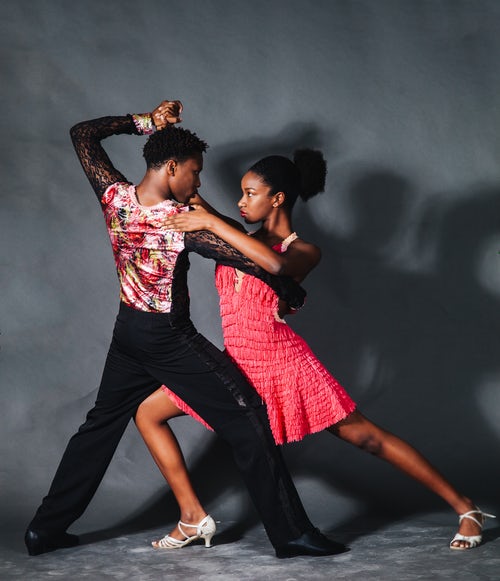 Workshops:
Thursday – 8pm until 10pm
Friday – 2pm until 9pm
Saturday – 10am – 9pm
Sunday – 11am – 9pm
Performances:
Friday – Sunday – Starting at 9pm
Social Dancing:
Thursday -starting at 10pm
Friday – 10:30pm – 6am
Saturday – 10:30pm – 6am
Sunday – 10:30pm – 6am
Location: Westin Alexandria Hotel, 400 Courthouse Square, Alexandria, VA 22314
Dates: Sept 27 – 30, 2018
Time: Various- See Schedule Above
Tel: 703-409-0443
dcsalsabachatafest.com
For Regional Accommodations, Restaurants & Attractions: visitalexandriava.com
Venice Of America Lesson and Tour is a fun and easy way to learn how to stand up paddle board and experience a relaxing journey from Fort Lauderdale's Barrier Island to the Riverfront in Las Olas with professional and friendly guide.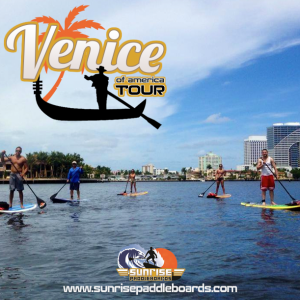 Look out for manatees as you paddle through  navigable inland waterways that make up New River, winding past the palatial estates, multi-million dollar luxury yachts, and natural areas of Fort Lauderdale's intracoastal and river system.
The canals house mega yachts of the rich and famous which are docked at luxurious homes that can only be seen by river as many are inside gated communities.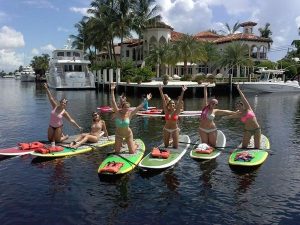 These inland waterways with their waterfront homes earned Fort Lauderdale its reputation as the "Venice of America."Glide your board from small wakes as yachts and boats pass, all while enjoying the beautiful Intracoastal Waterway system that stretches from Maine to Miami.
The Fort Lauderdale port hosts as many as 18 cruise ships a day, sailing from Port Everglades in Fort Lauderdale to marquee destinations throughout the Caribbean.
Paddling tours navigate different routes daily based upon current, wind conditions, and other variables to make the tour safe, fun, and inviting  for all ages. Along the tour their knowledgeable tour guide will answer questions while making your experience as easy and fun as possible.
Images Courtesy of Sunrise Paddleboards
Location: 2520 N. Federal Hwy., Ft Lauderdale, FL 33305
Dates & Time: Every Saturday at 10 AM
Tel: 954-440-4562
sunrisepaddleboards.com
For Regional accommodations, Restaurants & Attractions: sunny.org
Do you have a New Year's resolution for 2018, perhaps that includes exposing your family to more culture, well here's your chance. On January 6th, Florida Grand Opera is holding a fun-filled Family Day for those new to the genre or seasoned opera aficionados.
Explore the world of opera through hands-on activities, performances, interactive experiences, and the thrill of live theater. Enjoy a special presentation of Hansel & Gretel by the FGO Children's Opera.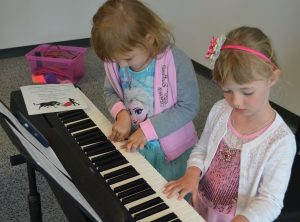 Activities (while supplies last) –
10am-12pm: Black Box: Voice experience with an interactive voice lesson
Lab Theater: Instrument Petting Zoo
Classroom: Costume Demonstration and crafts
Dance Rehearsal Studio: Makeup/lighting color effects demo
12-12:45pm Hansel & Gretel Main Stage performance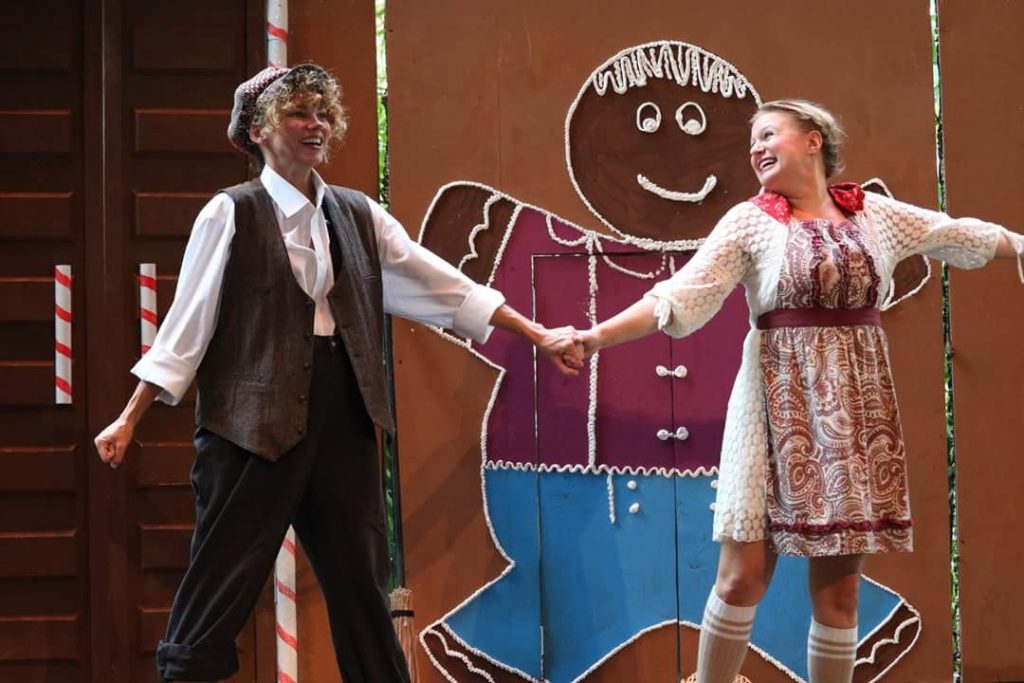 12:45 Post-show autographs and pictures in Main Stage Lobby
Appropriate for all ages. Free admission;  All patrons entering the theater require a ticket regardless of age. This includes children and infants.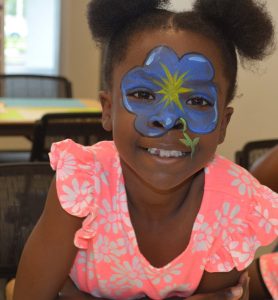 Location: South Miami-Dade Cultural Arts Center, 10950 SW 211 Street, Cutler Bay, FL 33189
Date: Sat, Jan. 6th, 2018
Time: 10am – 2pm
Tel: 786-573-5316
Tel Box office: 786-573-5300
smdcac.org/events/fgo-family-day-2017
For Regional Accommodations, Restaurants & attractions: miamiandbeaches.com
Step through the doors of some of Fell's Point's most haunted  watering holes for a fascinating haunted pub crawl tour of this historic maritime neighborhood when you partake in Fells Point Wicked History Pub Tour.
Baltimore Wicked History Tours has been thrilling locals and visitors alike with scandalous tales of Baltimore's underbelly since 2014. The Fells Point Wicked History Pub Tour lasts between 2-2.5 hours, depending on the tour guide. There are 3-4 pub stops during the course of the tour.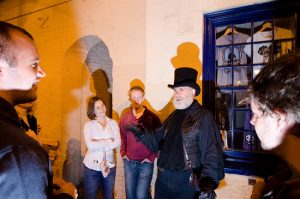 You'll walk the cobblestone streets of Fells Point and enter some of the most haunted pubs on the shore front. Travel back in time to when Fells Point was a colorful, dangerous place to visit, crawling with sailors, privateers, ladies of the night, and immigrants looking for a better life. Tempers ran hot with people who had nothing to lose and those looking to exploit them. Fells Point also had its bright spots with luminaries like Billie Holiday and Edgar Allan Poe roaming these historic streets. Learn the secrets of this historic maritime village while enjoying an entertaining and  knowledgeable view of the era from an amazing story telling  tour guide.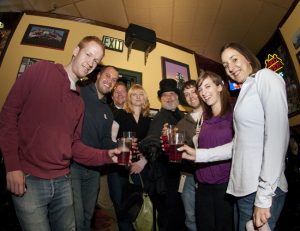 In a Baltimore Wicked History Tour  you'll experience Baltimore's  scandalous yesteryear in a history lesson like no other.  This haunting adventure that  some might call downright wicked, is for 21 and older only.
For Reservations: fareharbor.com/baltimorewickedhistorytour/items/calendar/2017/07/ or  (877) 293-1571
Head to Annapolis City Dock at the end of April and catch the Annapolis Spring Sailboat Show.  Set in the historic seaport of Annapolis,  the sixth annual in-water sailboat show kicks off the boating season with displays: catamarans, mono hulls, racing boats, family cruisers, day sailors, and inflatables—a total of over 100 new and brokerage boats.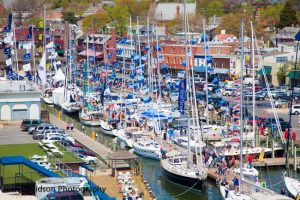 The sailboat show is for experienced and novice sailors alike, showcasing every new model present in the market, on display in the water and on land, allowing you opportunity to talk to the industry experts about buying and owing a boat. Shop for the latest in marine equipment, electronics, clothing and boating accessories at more than one hundred on-land nautical exhibits.

Cruisers University features hands-on workshops providing lessons from professionals and firsthand experience. The event will also include in-water demos, and the 3rd Annual Annapolis Junior Keelboat Regatta, where on April 29th at noon regional high school sailing teams will compete for the traveling cup.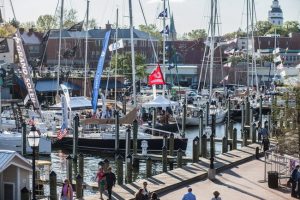 Take a break from touring boats to enjoy live music, continuous entertainment, free food and beer and wine tastings, prizes, plus magnificent water views.
This venue is a one of a kind opportunity for sailors to be with sailors. There are very few places where you will find so many sailors congregated; the Annapolis Spring Sailboat Show is one of them.
Location: City Dock, Annapolis, MD (GPS address: 1 Dock Street, Annapolis, MD 21401)
Date: April 28 – 30, 2017
Hours: Fri, Sat  10 – 6 pm, Sun 10 -5 pm
Tel: 410-268-8828
annapolisboatshows.com/annapolis-spring-sailboat-show
For Regional Accommodations, Restaurants & Attractions: visitannapolis.org
It is really hard to take the boring authenticity-proving side of the modern art world and make it into a delightful audience loving (2 standing ovations on opening night) theatre piece.
Stephen Sachs, the playwright, took on the true story of Terry Horton, a former truck driver who scavenged a painting for $5 at a second-hand shop as a gift for a friend who needed cheering up. Maude Gutman, as she is called in this play, is a lover of kitsch – her trailer is overwhelmed by it (A congratulatory shout out here for the jam-packed shelves created by set and costume designer Pam Johnson, who really needed my Smart Shopping Montreal book to find all that stuff!). At a yard sale, the local art teacher noticed the painting and mentioned it might be a Jackson Pollock; and so begins the tale. Somehow Gutman managed to get a major art house in NYC to send an expert over to check out her claim.
And therein lies this sparring pied-a-deux. A foul-mouthed bourbon drinking trailer park madam vs. the snooty elitist artsy gentleman. Human authenticity versus art authenticity is set to be proven. Nicola Cavendish walks the walk and talks the talk. Her sneaker grounded stalking moves her around the trailer while her expert verbal comedic timing keeps the pace going. She even manages to give the garbage pail "a line".
Jonathan Monro (Lionel Percy), himself a renaissance man (competitive swimmer, piano prodigy, singer, director, lyricist, actor), glides around her, expertly dodging her verbal and physical attacks. My take-away forever (as a former NYC art teacher) is the exuberant and sexually suggestive way in which Monro teaches us the how and why a Jackson Pollock painting is important – and not just a bunch of paint splashes on a canvas.

Though Percy always trusts his "first blink", it is Nicola Cavendish who summed it up brilliantly when she observed Pollock's paintings, "You can see that what emerges is layers and layers and layers. I think it's a lesson on how we can learn to look more closely, whether we are talking about a piece of art or whether we're talking about the woman who lives across the street who's offensive." Modern art is beyond the understanding of the ordinary citizen, and this play opens the door a crack as to what it is all about, how it works and doesn't work. The show makes it all fun and drives Maude's trailer expertly to the end to find out if she goes from rags to riches.
Location: 453 St-Francois Xavier
corner: Notre-Dame
Tel: 514-288-3161
Dates: Jan 31-Feb 26, 2017
Prices $28- $51
www.centaurtheatre.com
Metro: Place d'Armes