Tag Archive
activity
art
artist
Austria
Canada
children
city
CostSaver
display
Drivei-95
drive i-95
entertainment
Europe
event
exhibit
family
festival
Florida
food
France
free
fun
historic
History
landmark
live
local
London
Museum
music
performance
Restaurant
roadtrip
shop
show
sights
sightseeing
tour
tourist
Trafalgar
travel
travelblogger
USA
view
world
The newest, highest tourist spot in London is called the Shard. You go up up up to the floor 68, 69 and 72 to find a garden of Eden, with a snack bar and plenty of photo ops. Since it is almost twice the height of any other view in the capital, it offers wowy 360-degree views for up to 40 miles. Free on the London City Pass.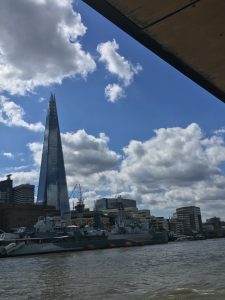 Rumba on the Lumber 2018, a festival of food, movement, music and the arts, consisting of two days of events in historic downtown Lumberton with over 4000 people in  attendance.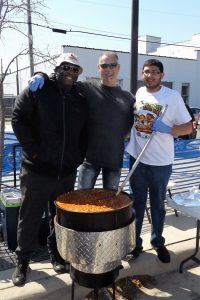 Many wonderful annual events will once again be front and center, including: The Rumba on the Lumber Festival with live music, vendors, Rumba Cross fit Games Exhibition, and the Lumbee River EMC Free Kidzone, 5K, 10K, fun run/walk, 100K ride, 20-Mile adventure ride,  Chili Cookoff and a bicycle rodeo.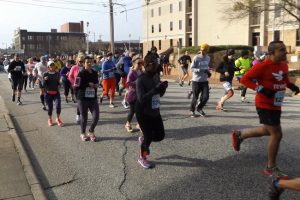 Many festival-goers agree, it's all about the chili. More than two dozen teams bring their most coveted recipes. Teams prepare a minimum of 10 gallons of chili and dole out free samples of their creations. The teams will be competing for prizes including the best tasting, Spiciest Chili, Strangest ingredient and Best chili cooking outfits. Don't miss the fun!
Saturday- Downtown Plaza/ 3rd Street:
Venice Of America Lesson and Tour is a fun and easy way to learn how to stand up paddle board and experience a relaxing journey from Fort Lauderdale's Barrier Island to the Riverfront in Las Olas with professional and friendly guide.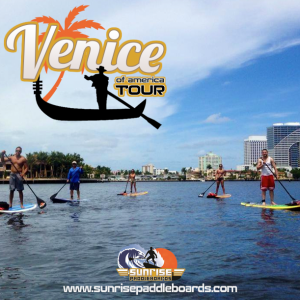 Look out for manatees as you paddle through  navigable inland waterways that make up New River, winding past the palatial estates, multi-million dollar luxury yachts, and natural areas of Fort Lauderdale's intracoastal and river system.
The canals house mega yachts of the rich and famous which are docked at luxurious homes that can only be seen by river as many are inside gated communities.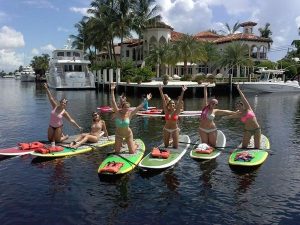 These inland waterways with their waterfront homes earned Fort Lauderdale its reputation as the "Venice of America."Glide your board from small wakes as yachts and boats pass, all while enjoying the beautiful Intracoastal Waterway system that stretches from Maine to Miami.
The Fort Lauderdale port hosts as many as 18 cruise ships a day, sailing from Port Everglades in Fort Lauderdale to marquee destinations throughout the Caribbean.
Paddling tours navigate different routes daily based upon current, wind conditions, and other variables to make the tour safe, fun, and inviting  for all ages. Along the tour their knowledgeable tour guide will answer questions while making your experience as easy and fun as possible.
Images Courtesy of Sunrise Paddleboards
Location: 2520 N. Federal Hwy., Ft Lauderdale, FL 33305
Dates & Time: Every Saturday at 10 AM
Tel: 954-440-4562
sunrisepaddleboards.com
For Regional accommodations, Restaurants & Attractions: sunny.org
This is more than just a mud run it's the biggest, baddest, muddiest party in town. This year's  MudFest race will be 5 miles or 5 kilometers of mud and obstacles, each year is bigger and better, runners will face some new challenges, more surprises, twists, turns and of course more MUD than ever.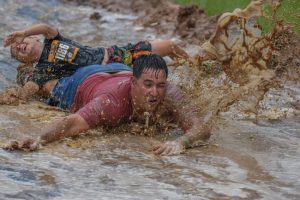 The JCB MudFest is designed for and geared toward having fun, getting muddy, and getting your heartbeat up. There will be some serious mud pits to slosh through, some other man-made, and natural obstacles to conquer. Parts of the lake may be over 6 feet deep. There will be ropes and other tricky ways to get across and there's always ways to go around any obstacle including the lake.
The Mud Run race starts in waves. Approximately 25 teams go at a time, with a 3 minute lag between each wave. Parking is free so come out and support the participants and the cause. When you're running with an extra 10 pounds of mud on your shoes it's appreciated to have people cheering you on from the sidelines.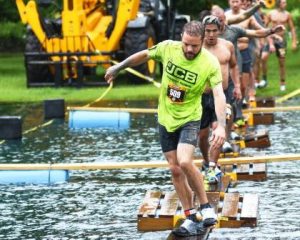 The Post Race Party begins as soon as the first teams finish in the Party Pit, where you can watch the finish and enjoy food and drinks that are included for race participants as part of the registration fee. If you're planning on just watching all of the action, you can partake in the frosty beverages and delectable food for a $10 donation to The Lady Bamford Center.
Highlights include: Each participant receives a custom t-shirt, Over 30+ epic obstacles, access into the Party Pit, professional race photos, live chip timed results, Free Beer for those 21+, overall & age division awards, live music following the event, Free post-race food and drink.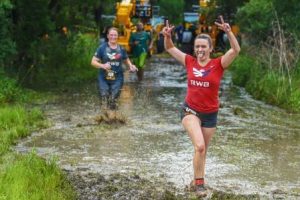 Schedule:  (Subject to Change)
6:30AM: Packet Pickup & Late Registration Opens
7:15AM: Costume Contest @ JCB Events Trailer
7:50AM: Kiddie Muddobbers Mud Run @ Finish line (FREE)
8:00AM-8:20AM: Mudfest 5k & 5 Mile Competitive Waves #1-#5 Start (5 minute increments)
8:25AM-9:30AM: Mudfest 5k & 5 Mile Recreational Waves #6-#19 Start (5 minute increments)
8:05AM: Party Pit Music Starts
8:30AM: Food and Beverage Vendors Open
12:00PM: Awards Ceremony
Location: JCB North American Headquarters, 2000 Bamford Blvd, Pooler, GA 31322
Date: Sat, June 17, 2017
Hours: 7:15am – 12:30pm
Tel: 912-447-2000
jcbmudfest.com
For Regional Accommodations, Restaurants & Attractions: visitsavannah.com
Did you ever Rumba on the Lumber? If not, you gotta get there. The whole weekend is geared towards the entire family.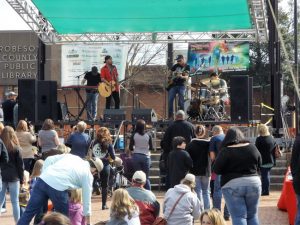 The Rumba on the Lumber Festival features  live music, Rumba Games Exhibition – a battle between local fitness fanatics, Family Fun Ride/Rodeo, vendors, arts and crafts show, and the Lumbee River EMD Free Kidz Zone –  with rock climbing, inflatable bouncer/slide, children's basketball game, a spinner mechanical ride, trackless train and a high-striker.
The annual Rumba on the Lumber Festival officially kicks off at 9 am with the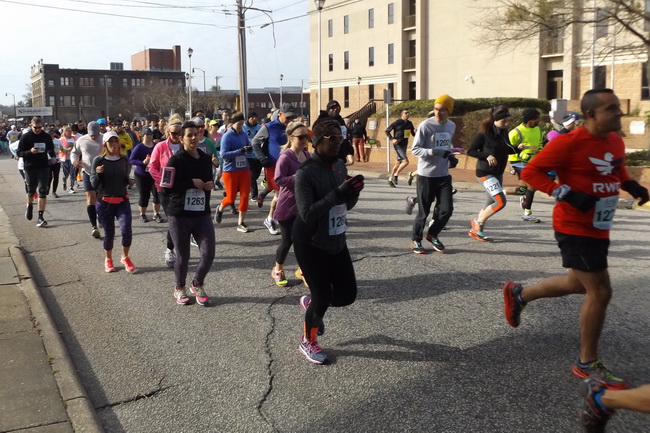 Southeastern Health 5K, 10K run described as  very flat, fast, and fun, and the Family Fun Mile starts at 10am in downtown Lumberton.
Front and center is the Bud Light North of the Border Chili cook-off.  Crowds gather from 11 – 2pm, Saturday in downtown Lumberton to get a taste of what teams are cooking. About 30 teams compete in categories like Best Tasting, Spiciest, Strangest Ingredient, Best Chili Name and Best Cooking Outfits. Costumed participants find unique ways to set themselves apart from the competition.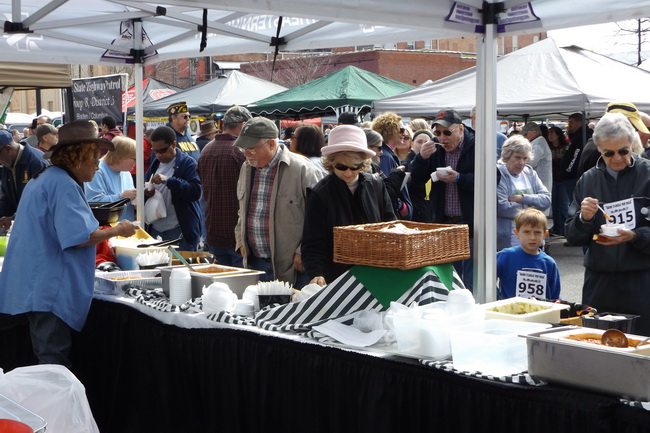 Schedule of Events:-
Saturday – March 4th:
9am – Southern Eastern Health 5K and Southeastern Health 10K
10 – 5pm – Lumbee River EMC KidZone activities at the Courthouse Plaza
10 – 5pm – Business, Craft and Food Vendors Galore
11am – Southeastern Health Family Fun Run/Walk
11 – 2pm – Bud Light North Light of the Border Chili cook-off with music by the Goldrush Band
TBA – The Rumba Games Fitness Competition
2 – 5pm – Concert at the Courthouse Plaza with the Blackwater Rhythm and Blues Band
Events on Sun March 5th:(starting at Northeast Park)
12 Noon – Yamaha of Lumberton Metric Century ( 100K Cycling Race)
1:30 – Cruzbike 20-Mile Adventure Ride
3:30 – Family Fun Ride/Rodeo
Go out and join the Lumberton community at this  FREE weekend hugely packed with entertainment and family fun.
Location:Downtown Plaza – 200 N. Elm Street, Lumberton, NC 28358
Date: Sat March 4 – Sun March 5, 2017
Time: Sat 9 – 5pm. Sun 12 – 4pm
Tel: 910-671-3876
lumberton-nc.com/event/rumba-on-the-lumber-2017
For Regional Accommodations, Restaurants & Attractions: lumberton-nc.com
This year marks the 55th running of the Rolex 24 At Daytona. The competitive 24-hour continuous sports car race executed on the track's 3.56-mile road course is a perfect battle between machine, driver and time. This race inaugurates the three weeks of race action for Budweiser Speedweeks with great racing, carnivals, car show and live bands and other entertainment.
Since 1962, racing legends from around the world have come to Daytona to compete in a grueling 24-hour marathon. The Rolex 24 Hours of Daytona is infamously relentless on both driver and machine as sleep-deprived crews perform mechanical phenomenons. From sunrise to sunset, fans will watch drivers compete against a brigade of  adversaries that span the auto racing universe in the first IMSA WeatherTech SportsCar Championship race of the season.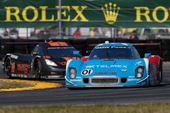 Each team is comprised of four drivers and no drivers are allowed to be in a car for more than four hours during a six-hour time frame. However, each driver must drive for at least four hours and 30 minutes throughout the 24-hour period. Crew chiefs and crew members will also rotate throughout the event.
When the 24-hour time span concludes, the team that has wheeled the most miles in each class of cars – Prototype, Prototype Challenge, GT Daytona, GT Le Mans – will win their respective divisions. The race begins at 2:40 pm on Saturday, Jan 28 and concludes on Sunday, Jan. 29 at 2:40 pm, giving it the name "24 Hours of Daytona."
For Schedule and Tickets: daytonainternationalspeedway.com/Events/2017/Rolex-24-At-DAYTONA/Schedule.aspx
Photo Credit:  Barberstock
Location: Daytona International Speedway, 1801 W. International Speedway Blvd. Daytona Beach, FL 32118
Date: Sat, Jan 28 – Sun,  Jan 29, 2017
Time:  Jan 28th -6:30AM Fanzone Opens – Jan 29th 2:40PM FINISH – 55th Rolex 24
Tel: 386-253-7223
daytonainternationalspeedway.com
For Regional Accommodations, Restaurants & Attractions: daytonabeach.com
Make sure that you include a stop in Fayetteville to see the NATURE CONNECTS® Art with Lego® Bricks Exhibit at Cape Fear Botanical Garden which lasts until January 8, 2017.
Kids and kids at heart will appreciate this award-winning, record-breaking exhibition, inspired by nature and built by artist Sean Kenney, with over 500,000 colorful LEGO® bricks. The exhibit features  larger-than-life sculptures representing the complex and amazing network that interconnects all living things on Earth.
The sculptures will be displayed throughout the Garden to encourage you to walk by an 8-foot tall hummingbird, go nose-to-nose with a 5-foot bumblebee, admire a 7-foot rose, and watch an oversized koi leap about in the Cypress Pond.
Interpretative panels for each display with feature a message to connect children with the natural world and promote environmental stewardship and conservation. Adding to the exhibit will be activities for all ages, hands-on building stations, and design competitions.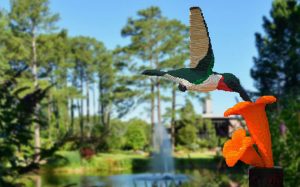 Cape Fear Botanical Gardens also offers some evening entertainment for the holidays:  Holiday Lights in the Garden – where the Garden will be transformed into a sparkling wonderland with thousands of lights illuminating plants, trees, and new exhibits.
Attractions and festivities include a synchronized show of lights and music shimmering over the Cypress Pond, a mile long stroll featuring thousands of lights aglow, photos with Santa on select evenings, S'mores roasting over the fire pit, and free crafts for children. The Garden Gift Shop, brimming with wonderful holiday selections, will be open each evening. nightly until Dec 23rd, Dec 26th – 30th, 5 – 9pm.
Take advantage of their on-line special pricing:.eventbrite.com/e/holiday-lights-in-the-garden-pre-sale-tickets-29281713393
Location: Cape Fear Botanical Garden, 536 N. Eastern Blvd., Fayetteville, NC 28301
Dates: until Sun,  Jan 8, 2017 – *Excluding holidays: Christmas Eve and Day, New Year's Eve and Day.
Hours: Mon – Sat: 10am – 4pm, Sun: 11am – 4pm *Last Admission: 3:15 pm
Tel: 910-486-0221
capefearbg.org
For Regional Accommodations, Restaurants & Attractions: visitfayettevillenc.com
The Prince William 5k Turkey Trot and 1 Mile Fun Run is a family friendly and festive celebration of Thanksgiving Day.  The race theme  being: "Trot, Eat, Sleep!" These high energy amusing races highlight Prince William County as a healthy, fun, and active community.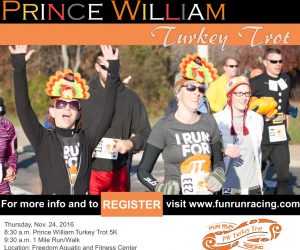 Participants are encouraged to wear their best Thanksgiving themed gear: Pilgrim, Pocahontas, Turkey, Pie, Native American and Colonial. This event will be full of festivities and most importantly tons of fun including music, best costume awards, and a chance to win a Golden Ticket: All runners receive a FRR finish line envelope, the random Golden Ticket awards – "Willy Wonka" style–  featuring a mystery gift.
Top 5 men and women receive Running Store Gift Cards – $100/$75/$50/$25/$25.
100 pumpkin pie Duck Donuts are randomly given to 100 lucky race finishers.
1 Mile Fun Run/Walk: The one mile fun run-walk is a low key non-timed event. The 1 mile race is geared toward the youth, however, runners of all ages and abilities are welcome and beginners are encourage to attend.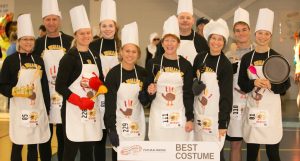 Stay Warm! The Freedom Aquatic & Fitness Center has graciously opened its facility so participants and spectators can stay 'warm' both pre and post-race. A DJ will play music from 8:00-10:30.
Location: Freedom Aquatics & Fitness Center, 9100 Freedom Center Blvd., Manassas, VA 20110
Date: Sat,  Nov 26, 2016
Time: 8:30 a.m. Prince William Turkey Trot 5K , 9:30 a.m. 1 Mile Run/Walk
funrunracing.com/the-pw-5k-turkey-trot
For Regional Accommodations, Restaurants & Attractions: discoverpwm.com
Discover Richmond's food scene by taking the Carytown Food & History Tour. Get acquainted with the neighborhood of Carytown, otherwise known as The Mile of Style, an eclectic mix of restaurants and boutiques while exploring Carytown?s food, history and culture on this 2.5-hour walking tour.
Along the way, you will be popping in and out of various restaurants, cafes, and shops. Get an insider's perspective as you sample delicious food and snacks from 5-6 local eateries including food tastings of fresh seafood, world-renowned tacos, popular Virginia peanuts. Hear from owners and chefs about how these establishments got their start. This culinary and cultural walking food tour is authentic and quirky and the perfect mix of food, history, and fun.
Walking Distance: 1 easy mile, Rain or Shine.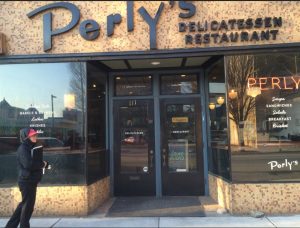 Location: Carytown, Richmond, VA 23221
Date/Time: Every Sat at 2:00pm
Tel: 804-479-8929
rivercityfoodtours.com/tours/carytown-food-tour
For Regional Accommodations, Restaurants & Attractions: visitrichmondva.com
Look at how insanely precise our food safety rules have become. This pinwheel ice cream sandwich from Carvel, not only has a best-before date, it has a best-before time. Will I get sick if I eat it at 4:59 pm? It's ice cream – you couldn't save it in the car and eat it later (3 months later) even if you tried to. Found at Modena New York State Travel Plaza Center at milepost 65 southbound on New York State Thruway.