Tag Archive
activity
art
artist
Canada
children
city
community
contest
country
craft
display
downtown
drive i-95
Drivei-95
drivei95
entertainment
event
family
festival
Florida
food
free
fun
game
historic
History
house
Island
live
local
Museum
music
national
North Carolina
performance
prize
Restaurant
roadtrip
shop
show
tour
travel
travelblogger
USA
world
Calling all dachshunds, wiener wannabes, dachshund lovers and friends…A Cape Cod tradition continues on Main Street, celebrating everything dachshund in charming Historic Barnstable Village.
Cape Cod Doxie Day invites you to join the first ever Wiener Waddle and Waggin' Parade dachshunds in costume and decorated wagons, strollers and carts, are encouraged. Prizes will be awarded for best costume, best wagging and best waddle. Cheer on your favorite doxie in the Doxie Dash.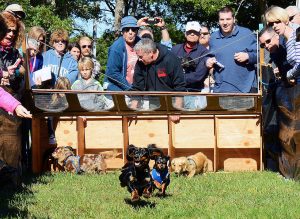 Bring Fido and help celebrate everything dachshund. Enjoy the many contest including longest doxie, teeniest weenie, best trick to name a few. Enter competitions to win prizes and bragging rights.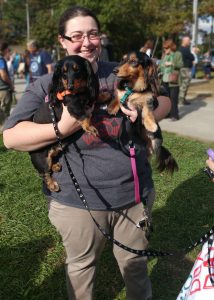 Fun for the whole family including the furry ones. Come on out and sing the official Dachs-song, mingle and meet other doxies to benefit local animal organizations. Take photos with the mini Oscar Mayer Wienermobile, and partake in the Blessing of the animals, and stop by the ask-a-vet table. There will be raffles,  silent auction and more.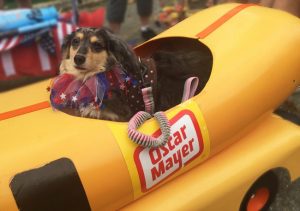 All well-behaved, on-leash dogs are welcome at Cape Cod Doxie Day. Admission is FREE and plenty of FREE parking.  Rain Date Sunday, September 30th.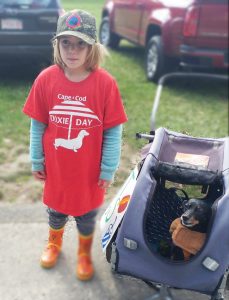 Proceeds from Cape Cod Doxie Day 2018 will benefit The Sampson Fund which helps pet owners pay for critical vet care bills which they would not have the means to do so without assistance (https://www.sampsonfund.org). They will be collecting donations packaged pet food and cat litter for Cape Cod Disaster Animal Response Team (CCDART) http://www.ccdart.org 
Location: Barnstable Village, Behind the Barnstable Courthouse, 3195 Main Street, Barnstable, MA 02630
Date: Sat, Sep 29, 2018
Time: Noon til 3pm
Tel: 508-362-8986
ccdoxieday.com
For Regional Accommodations, Restaurants & Attractions: capecodchamber.org
Professional and amateur anglers and those looking for a fun, family event gather for The Greater Jacksonville Kingfish Tournament (GJKT), a contest fishing for king mackerel that spans six days every July in Jacksonville, Florida.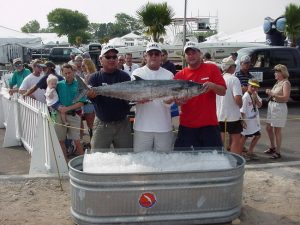 The Greater Jacksonville Kingfish Tournament, known as one of the largest kingfish tournaments in the Southeast,  is now entering its 38th year and goes way beyond the tournament itself. In addition to the General Tournament, this fishing extravaganza also includes a Junior Angler Offshore Tournament,  live entertainment, food festival, and more.
The event benefits Jacksonville Marine Charities, an organization that has proudly made an impact over the years for the local community and its economy. The grand tournament prizing structure grants cash prizes for 10 places with 1st Place Big Fish prize valued at over $86,000.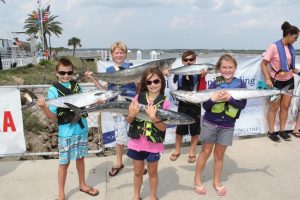 Location: Jim King Park & Boat Ramp at Sister Creek, Jacksonville, 32226
Dates: Jul 16 – 21, 2018
Time: Various – see schedule above
Tel: 904-251-3011
kingfishtournament.com
For Regional Accommodations, Rstaurants & Attractions: visitjacksonville.com
The Going to the Dogs Band is hosting a Car Show  to benefit Friends of the Colleton County Animal Shelter (FoCCAS), an organization very close to the band's heart.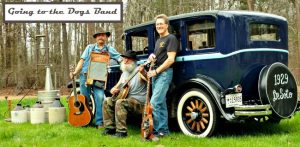 Going above and beyond with their commitment to animal groups and other deserving causes, Going to the Dogs Band is a 100-percent charity and benefit band. All members of the band refuse to accept any payment for their time and talent. They are dedicated to donating all money earned to Animal Shelters and Rescues, oxygen masks for animals for fire stations, bullet-proof vests for K-9 Police Units, as well as other charities including human, environmental, and other worthy causes.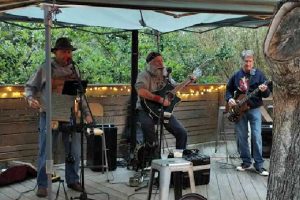 The Wheels for Paws Car and Bike Show will be fun for the whole family with trophies presented to the top ten vehicles, raffles and 50/50 drawing, balloon art, and of course Live entertainment by Going To The Dogs Band.
There will also be a featured Bike Ride to benefit the furry friends at FoCCAS, (Friends of Colleton County Animal Shelter), a volunteer-based organization that helps animals at the county's animal shelter. Kickstands up at 11am.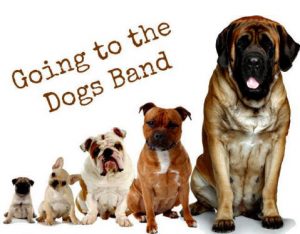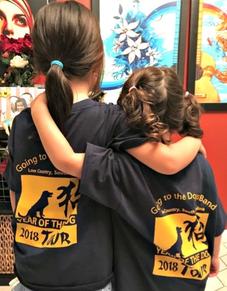 Get out and show your support of FoCCAS and The Going to the Dogs Band who keep paying it forward.
Location: 1013 S Jefferies Blvd Ste C, Walterboro, SC
Date: Sat, July 14, 2018
Time: 9am – 2pm
Tel: 843 – 300 – 0347
goingtothedogsmusic.com/wheels-4-paws.html
For Regional Accommodations, Restaurants & Attractions: walterborosc.org

on't miss the 10th Anniversary Military Bowl presented by Northrop Grumman Corporation, benefiting the USO of Metropolitan Washington-Baltimore (USO-Metro), a military support organization. Kick off is on Thursday, Dec. 28 at 1:30 pm at Navy-Marine Corps Memorial Stadium in Annapolis matching a team from the Atlantic Coast Conference (ACC) against an opponent from the American Athletic Conference (AAC) and will be televised nationally on ESPN.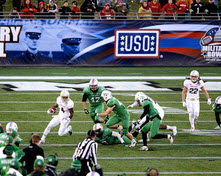 The game day festivities kicks off  at 9:30 am with one of Annapolis' newest traditions: the Military Bowl Parade, featuring The world-famous Budweiser Clydesdales.  They will lead the parade procession – along with Medal of Honor recipients, mascots, and team bands – from City Dock in downtown Annapolis to the Navy-Marine Corps Memorial Stadium as part of the many special events throughout the day.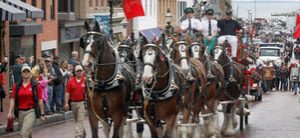 The Official Military Bowl Tailgate kicks off in the Blue Lot on the west side of Navy-Marine Corps Memorial Stadium. Admission to the tailgate is free and will feature music, games, food & beverages from fantastic Annapolis restaurants, and exciting giveaways for the first arrivals. In addition, there's also the 3rd Annual Bud & Burger Battle (held from 10:30 am-12:30 pm) where you can sample some of Annapolis' favorite burgers before voting for your favorite.
Fan Bowl Week in Annapolis:
Wednesday, December 27
Thursday, December 28
For more than 70 years, the USO (United Service Organizations) has been the way for the American people to say thank you to our nation's service men and women and their families.
To purchase tickets: militarybowl.org/tickets/#!
Location: U.S. Navy-Marine Corps Memorial Stadium, 550 Taylor Avenue, Annapolis
Date: Thurs, December 28, 2017
Time: Kick off 1:30 (doors open at 12:00)
Tel: 202-776-2919
militarybowl.org
For Regional Accommodations, Restaurants & Attractions: visitannapolis.org
Wilson, NC Exit 121: The North Carolina Whirligig Festival is a 2-day hometown annual arts and crafts festival features arts of the region, including the giant Whirligigs created by late local artist, Vollis Simpson. Like the whimsical outsider art, the Wilson Whirligig Festival,  in Historic Downtown Wilson, is a community celebration of people and art in motion.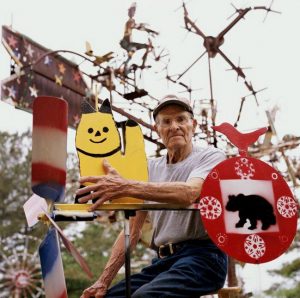 The Vollis Simpson Whirligig Park is hosting their Grand Opening the Thursday before the festival weekend, Nov. 2nd starting at 4 pm.
With Over 200+ vendors, 3 stages of live entertainment, a showcase of local and interactive art,  delicious food, beer gardens, Non-Profit organizations, free Whirli-Kidz Zone, Special events, 5K Whirli-Run, Whirli-Kidz Stage & Choir, Cup Cake Challenge, Photo Contest. New this year is a Ninja Whirligig Warrior Zone where you can meet local American Ninja Warriors, watch them compete and get a chance to test out the course yourself.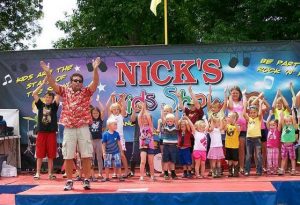 The ever popular cake dive is back, Sun @4pm: witness the festival's messiest event, a "dive" into a large 10 ft x 10 ft anniversary cake for a variety of prizes.
Touch-A-Truck is a fun event for the whole family, allowing children three + an all access pass to explore, climb and touch city of Wilson trucks and emergency response vehicles. Kids can sit in vehicles, honk the horn and talk with the equipment operators. Horn free hours will be offered throughout the day for kids with noise sensitivity.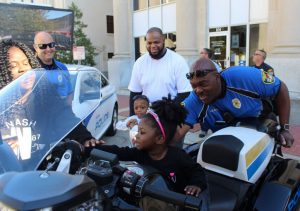 Douglas Street will transform into a space to build, create, and envision. With Brick Scholars, Greenlight, and Imagination Station Science & History Museum. Kids five + will be able to make Lego creations, even a whirligig! Showcase your creation with the onsite photo booth.
It's a colorful 2-day celebration that sparks creativity in the people of Wilson, so get inspired and take part in the community's largest celebration. (rain or shine)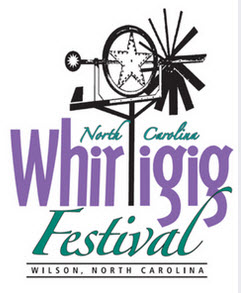 Location: Historic Downtown Wilson,NC 27893
Dates: Nov 4 – 5, 2017
Times:  Sat, Nov 4 -10 am – 5 pm , Sun, Nov 5  noon – 5 pm
Tel: 252-289-9650
whirligigfestivalnc.org
For Regional Accommodations, Restaurants & Attractions: wilson-nc.com
Ready for some homemade ice cream? Lucky you, it's that time again for the annual Ice Cream Churn-Off at Ashantilly Center. What a tasty idea, combining everyone's favorite dessert with a fundraiser benefiting the nonprofit Ashantilly Center.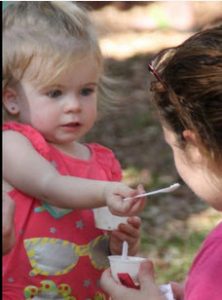 Competitors will vie for awards for a people's choice, best individual ice cream and the best ice cream from a business or organization. The competition is opened to everyone, adults and youth alike, so churners bring your churn and your primo recipe – but no raw eggs allowed, and Ashantilly will provide ice and salt.
If consuming the coveted ice cream is more your speed, you are welcome to bring your own chairs and find a shady spot to enjoy the frozen dessert and the live music. A $5 donation gets samplers two tastings, and ice cream lovers can purchase additional samples – 3/$5.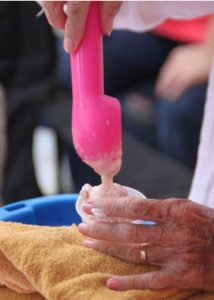 Ice cream doesn't get fresher than this! There's also Free lemonade and popcorn and great raffle prizes and live music.
Location: Ashantilly Center, 15591 GA Hwy 99, Darien, Georgia 31305
Date: Sun, Sept. 3, 2017
Time: 4PM – 6PM
Tel: 912 437-4473
ashantillycenter.org/ashantilly-events/33-10th-annual-churn-off
For Regional Accommodations, Restaurants & Attractions: visitdarien.com
It's strawberry season at the Ashland Strawberry Faire, a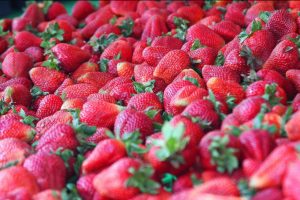 community and family-oriented event celebrating the strawberry harvest.Now in its 36th year,  The Ashland Strawberry Faire is held on the streets of Randolph-Macon College in historic Ashland, Virginia and draws approximately 40,000 to the Ashland region for fresh strawberries, food, music, arts, crafts, plants, antiques and games.
Ashland Strawberry Faire is a FREE family and pet friendly street party featuring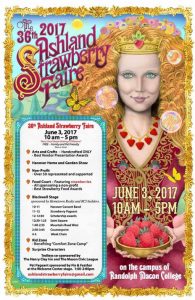 live music and entertainment throughout the day, a Kid's Zone  filled with fun activities such as a Cake Walk, Moon Bounce, Raffles, Arts and Crafts, and games ranging from Golf Putt, Bean Bag Toss, Lollipop Picking.  There will also be a strawberry pageant, pet pageant and a Kissing Booth (to benefit the Hanover Humane Society) – There are lots of prizes and treats for all. Proceeds from the event to aid the Hanover County non-profit organizations and scholarships – "Berry Good People making the Difference".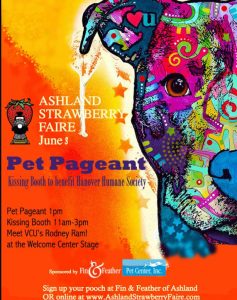 Location: 500 Henry Street, Ashland, VA 23005
Date: Sat, June 3, 2017
Hours: 10 -5pm
Tel: 804-752-8289
ashlandstrawberryfaire.com
For Regional Accommodations, Restaurants & Attractions: town.ashland.va.us
The 44th Annual Cherry Blossom Festival is a celebration of spring commemorating the planting of 72 Yoshino Japanese Cherry Blossom trees in 1973.  Hanami (cherry blossom) viewing, has been a Japanese custom since the 7th century when the aristocrats enjoyed the transient beauty of  looking at sakura (cherry trees). Sakura is a symbol of Japan, and it's said that there are over 400 varieties of cherry trees in Japan.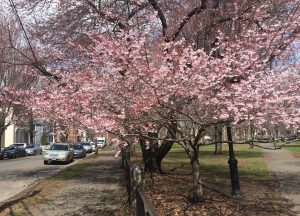 The longstanding tradition of the Cherry Blossom Festival,  takes place  in New Haven's Historic Wooster Square, and offers something for everyone in the family, including your 4 -legged family member.
Enjoy free entertainment including music, dancing, shop a flea market, food, a children and family area that includes puppet shows, arts and crafts, face painting and activities from the Peabody Museum, New Haven Free Public Library's Readmobile and a raptor-rescue organization  -Horizon Wings.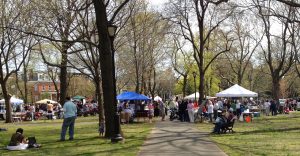 There is a Pet Friendly area, with New Haven Animal Shelter, Greater New Haven Cat Project, Little Shop of Howlers, Pups Without Partners and Veterinary Wellness Center.
With so much to do don't forget the main attraction, enjoying the scenic view of the early blooming cherry blossoms. This family-friendly festival is a great and inexpensive way to bring in spring.
Location: Wooster Square, New Haven, CT 06511
Date: Sun., April 23, 2017
Time: 12 – 5pm
Tel: 203-777-1371
historicwoostersquare.org/cherryblossomfestival.html
For Regional Accommodations, Restaurants & Attractions: visitnewhaven.com
Learn a lost art from people who have been holding on to hollerin' for over 47 years keeping the North Carolina staple "Hollerin'" alive at the Worldwide Hollerin' contest on October 8th.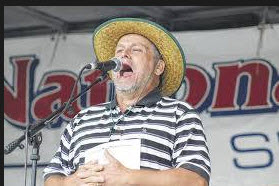 "Hollerin'," a traditional form of communication used in rural areas to convey long-distance messages, is considered by some to be the earliest form of communication between humans. "Hollers" exist for virtually any communicative purpose imaginable. The hollers featured at the World Wide Hollerin' festival fall into one of these four categories: distress, functional, communicative or pleasure.
Enjoy a wide variety of fun activities and entertainment, including: the Hollerin' Contest, Paradise Acres BBQ & Chicken, assorted food vendors, live music, crafts and Children's activities. Visitors are invited to bring their chairs, blankets and coolers and enjoy the contest on the 12-acre Paradise Acres facility.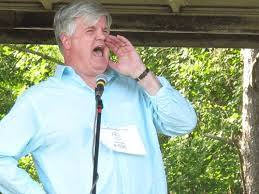 Eighty percent of the proceeds from the event are donated to Wags4Tags.org , an organization that matches trained shelter dogs with veterans suffering from psychological and emotional injuries.
Location: Paradise Acres, 1965 John McMillan Rd, Hope Mills, NC 28348
(Exit 41 off the I-95)
Date: Nov. 5th, 2016
Time: 10 am to 6 pm
Tel: 910-633-4735
worldwidehollerinfestival.org
For Regional Accommodations, Restaurants and Attractions: visitfayettevillenc.com