Tag Archive
activity
art
artist
Canada
children
city
community
contest
country
craft
downtown
Drivei-95
drive i-95
drivei95
entertainment
event
family
festival
Florida
food
free
fun
game
historic
History
house
i95
Island
live
local
Museum
music
national
North Carolina
prize
Restaurant
roadtrip
shop
show
street
tour
travel
travelblogger
USA
world
Richmond International Film Festival (RIFF) brings more than 150 international cutting edge films to RVA, plus industry panels, Q&As, live musical performances, red carpet awards, and entertainment mixers that usher the spirit of Hollywood into Virginia's  Bowtie Cinemas, various music venues, and the historic Byrd Theater, a venue touted by USA Today as "one of the top 10 places to still see a movie in splendor in the United States."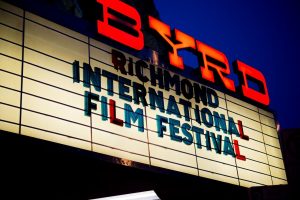 With more than 20 countries represented, the RIFF Official Selection consists of a diverse range of films (features and shorts), music videos, and screenplays across all genres.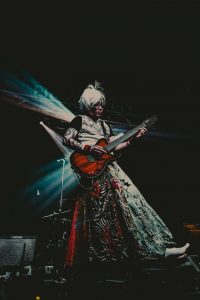 RIFF is known for placing a heavy focus on music each year. The 2018 Festival will again include more than 50 music performances, industry networking events, panels, music business roundtable discussions, industry mixers, and more. On top of providing great entertainment from some of the music industry's hottest talent, RIFF utilizes this area as a platform for filmmakers and musicians to forge new working relationships. Top awards will be given out across a variety of music categories during the annual red carpet awards.
2018 Special guests include: Kate Bosworth, Michael Polish, Danny Glover, Lee Aronsohn, Rene Balcer & Carolyn Hsu-Balcer.
It's a one-of-a-kind festival honoring some of the most singularly entertaining projects on the international film scene.
Location: Various
Date: Mon, Apr 23, 2018 – Sun, Apr 29, 2018
Tel: 804-219-0675
rvafilmfestival.com
For Regional Accommodations, Restaurants & Attractions: visitrichmondva.com

If you love to read, then this event is definitely for you. Want to meet authors and learn of the inspiration for their works? Book 'Em North Carolina is national event that brings together brings together more than 75 authors, publishers, literary agents and publicists under one roof for one common cause; to promote literacy.

Book 'Em NC Writers Conference and Book Fair is open to readers of all ages. There are book readings and events scheduled for children from pre-school to teens, panel discussions and talks for writers trying to break into the field and  lectures and events for readers of various genres, including mysteries, romance, true adventure, historical, biographical, …
Authors will sell and sign their books, participate in panel discussions and talks, network and interact with fans one-on-one. Headlining authors include: poet LeJuane Bowen and fictional author Jill McCorkle.
A series of talks occur between 10 – 3 pm and include:
Writers Conference – for aspiring or published authors of all ages and levels
The Children's Corner – readings for younger children, arts and crafts and special activities
Panel Discussions and Talks – for readers of various fiction and nonfiction genres, including autobiographical, biographical, historical, mystery/suspense, romance, fantasy, paranormal, science fiction, horror, true crime and others
Each talk begins on the hour and feel free to attend one or all of the talks throughout the day.
The purpose of The Book 'Em Foundation and this event is to raise public awareness of the link between high crime rates and high illiteracy rates. The Book 'Em Foundation was co-founded by suspense author P.M. Terrell. Proceeds from the Book 'Em North Carolina book fair will go directly to increasing literacy in Robeson County, North Carolina and to reducing crime in the area.
 This event is FREE and open to the public.
Location: Robeson Community College, 5160 Fayetteville Rd, Lumberton, NC
Date: Sat, Sept 23, 2017
Time: 9:30 – 4pm
Tel: 910-272-3362
bookemnc.org
For Regional Accommodations. Restaurants & Attractions: lumberton-nc.com
Imagine an attic full of personal memorabilia of many submariners, and you get the feel of this homey museum.
The St. Marys Submarine Museum gives visitors a real feel for life aboard a submarine. The museum's 5,000 square feet of exhibition and displays feature real and working shipboard equipment. A ship's control panel, ballast control panel, periscope, and working sonar panels give exciting visuals of the interior of a submarine.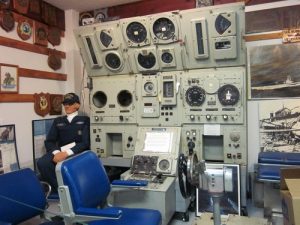 At St. Marys Submarine Museum a wide variety of Submarine artifacts, memorabilia and information are available for viewing. You can see early submarine designs (pig boats) right up to nuclear ones, consoles, a working Type-8 periscope, listings of boats built and lost in WW II and tons of command plaques.
For the truly addicted, submarine movies play all day, and you are invited
to read actual files of each U.S. submarine or support commands. More than 99% of all WWII Patrol Reports and their command history files are here (even previously classified documents); these are not usually seen by the average person or submarine veteran.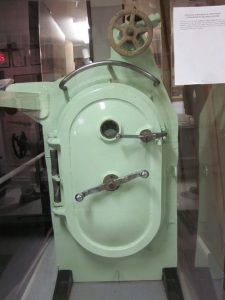 Location: St. Marys Submarine Museum, 102 W. St. Marys St., St. Marys, GA 31558
Hours: Tues-Sat 10am – 5pm, Sun 12pm – 5pm
Tel: 912-882-2782
stmaryssubmuseum.com
For Regional Accommodations, Restaurants & Attractions: visitkingsland.com
Make sure that you include a stop in Fayetteville to see the NATURE CONNECTS® Art with Lego® Bricks Exhibit at Cape Fear Botanical Garden which lasts until January 8, 2017.
Kids and kids at heart will appreciate this award-winning, record-breaking exhibition, inspired by nature and built by artist Sean Kenney, with over 500,000 colorful LEGO® bricks. The exhibit features  larger-than-life sculptures representing the complex and amazing network that interconnects all living things on Earth.
The sculptures will be displayed throughout the Garden to encourage you to walk by an 8-foot tall hummingbird, go nose-to-nose with a 5-foot bumblebee, admire a 7-foot rose, and watch an oversized koi leap about in the Cypress Pond.
Interpretative panels for each display with feature a message to connect children with the natural world and promote environmental stewardship and conservation. Adding to the exhibit will be activities for all ages, hands-on building stations, and design competitions.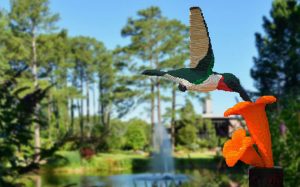 Cape Fear Botanical Gardens also offers some evening entertainment for the holidays:  Holiday Lights in the Garden – where the Garden will be transformed into a sparkling wonderland with thousands of lights illuminating plants, trees, and new exhibits.
Attractions and festivities include a synchronized show of lights and music shimmering over the Cypress Pond, a mile long stroll featuring thousands of lights aglow, photos with Santa on select evenings, S'mores roasting over the fire pit, and free crafts for children. The Garden Gift Shop, brimming with wonderful holiday selections, will be open each evening. nightly until Dec 23rd, Dec 26th – 30th, 5 – 9pm.
Take advantage of their on-line special pricing:.eventbrite.com/e/holiday-lights-in-the-garden-pre-sale-tickets-29281713393
Location: Cape Fear Botanical Garden, 536 N. Eastern Blvd., Fayetteville, NC 28301
Dates: until Sun,  Jan 8, 2017 – *Excluding holidays: Christmas Eve and Day, New Year's Eve and Day.
Hours: Mon – Sat: 10am – 4pm, Sun: 11am – 4pm *Last Admission: 3:15 pm
Tel: 910-486-0221
capefearbg.org
For Regional Accommodations, Restaurants & Attractions: visitfayettevillenc.com
Don't miss the mid-Atlantic's premier celebration of the literary arts, The Baltimore Book Festival, featuring more than 200 celebrity and local authors appearances and book signings, non-stop readings on multiple stages, cooking demos by celebrity chefs, poetry readings and workshops, panel discussions, more than 100 exhibitors and booksellers, walking tours, storytellers and hands-on projects for kids, street theater, live music, and a delicious variety of food, beer and wine.
For the kids, or the kids at heart there's a Pop Culture Parade where superheroes, storybook characters, BmoreFit Dancewalkers,  and special guests dress up in costume and march down the promenade, starting at Pratt & Light streets traveling down to the Geppi's Entertainment Museum Comic Pavilion.
Some of the feature presentations include: Terry McMillan, author of "How Stella Got Her Groove Back"; NPR correspondent Glen Weldon, talking about his "The Caped Crusade: Batman and the Rise of Nerd Culture"; and local pundit D. Watkins, who has an essay collection called "The Beast Side: Living (and Dying) While Black in America" and his memoir 'The Cook Up,' takes us deeper into his former life, and Comic writer Carl Hiaasen will read from his newest novel, "Razor Girl" to mention but a few.
Whether it's Health & Wellness , Cooking (The Food for Thought), Science Fiction & Fantasy or Children's with a Stage featuring interactive programs for the whole family, this FREE event highlights 13 stages offering something for everyone.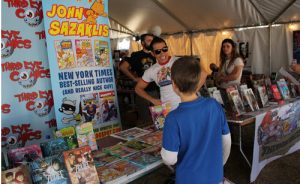 Location: Baltimore Inner Harbor, 201 E. Pratt Street,Baltimore, MD 21202
Date: Fri – Sun Sept 23-25, 2016
Hours: 11 – 7pm
Tel: 410-752-8632
baltimorebookfestival.org
For Regional Accommodations, Restaurants & Attractions: baltimore.org
Phot0 Courtesy of The Baltimore Office of Promotion & The Arts
:Put on your fairy wings and get to The Portsmouth Fairy House Tour. It's one of the largest fairy house tours around and takes place each fall in the historic South End Neighborhood of Portsmouth, New Hampshire. Presently in its 12th year, the Tour will feature over 200 handcrafted fairy houses built by creative professionals, local artists, florists, garden clubs, community members, families and students and will be on display on the grounds of Strawbery Banke Museum , Governor John Langdon House , Prescott Park  and Peirce Island. The annual Fairy House Tour attracts more than 8,000 families and fairies each year.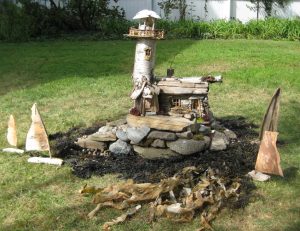 Inspired by local award-winning author and illustrator Tracy Kane's Fairy Houses Series® of books, which popularized fairy house building worldwide and served as the original inspiration for the Portsmouth Fairy House Tour. Tracy Kane will be on hand both days to greet fairy fans and sign books.
Visitors will also have the chance to see excepts from "Fairy Houses–the Ballet" performed both days on the Prescott Park Arts Festival Stage and see the magic of Tracy Kane's Forest Secrets brought to life by the NH Theatre Project in the Langdon grove. Families are also invited to build their own fairy house on Peirce Island where Basic materials will be provided, but you are welcome to bring your own special embellishments. For a complete list of activities: portsmouthfairyhousetour.com/activities–food.html

The centerpiece of the Tour is the Artists Invitational competition. Ten select fairy houses build by imaginative connoisseurs will be judged by a panel of three judges, including Fairy Houses Series® Author/ Illustrator, Tracy Kane.
Tour Summary:
Ticket includes entrance to Strawbery Banke and Governor John Langdon House
Meet Tracy Kane, author/illustrator of the multi-award winning Fairy Houses Series® of books and video.
Artists Invitation
Excepts from "Fairy Houses–the Ballet" performed both days on the Prescott Park Arts Festival Stage
See the magic of Tracy Kane's books brought to life by the NH Theatre Project in the Langdon grove
Build your own Fairy House on Peirce Island and help create the World's Largest Fairy Houses Village
The Amazing Bubble Machine
All within walking distance
FREE PARKING available at Peirce Island
Tickets and tour maps are available by the flag pole at Prescott Park, Governor John Langdon House, and on Peirce Island (by the main parking areas).
Location: various -Portsmouth, NH 03801
Date: Sat & Sun, Sept 24 & 25 2016
Time: 11am till 3pm Rain or Shine
Tel: 603-659-1300
portsmouthfairyhousetour.com
For Regional Accommodations, Restaurants & Attractions: goportsmouthnh.com