Tag Archive
activity
art
artist
Austria
Canada
children
city
CostSaver
display
drive i-95
Drivei-95
entertainment
Europe
event
exhibit
family
festival
Florida
food
France
free
fun
historic
History
landmark
live
local
London
Museum
music
performance
Restaurant
roadtrip
shop
show
sights
sightseeing
tour
tourist
Trafalgar
travel
travelblogger
USA
view
world
Join the excitement of the 14th Annual Darlington Car Hauler Parade and Racefest featuring NASCAR Monster Energy Cup Teams transporters making their way through cheering fans from the Florence Civic Center to the Darlington Square and into the track that's "Too Tough to Tame" – Darlington Raceway.
There is plenty of FUN for the whole family, beginning at the Florence Civic Center with entertainment and live music. Kids play all afternoon for FREE on the KidsZone inflatable ride and games. The Game Truck will bring a wide selection of games for Xbox360, Wii and PS3 and can accommodate up to 16 players at one time. There will be refreshments for purchase with the proceeds  supporting Camp Pee Dee Pride.
The main attraction continues to be the NASCAR transporters, which fans can take photos with with their favorite team's hauler and driver before the haulers take off. This year famous former drivers are back such as Hut Stricklin, former champ of NASCAR's Dash Series, and Donnie Allison, who won ten races in the Cup Series.
Fans will enjoy the exciting silent auction full of great NASCAR items and race memorabilia. Proceeds benefit local charities.
At 7 p.m. the parade of NASCAR haulers leave the Florence Civic Center and make the 12-mile trek to RaceFest on the Darlington Square, where there will be more entertainment, food, a car show and an incredible fireworks display. The transports will continue through Darlington until they reach the track Darlington Raceway where they can park, unload and begin preparation for the Bojangles' Southern 500 race taking place on on September 2nd.
As if it could not get any better, admission to the Darlington Car Hauler Parade is FREE.
Location: Florence Center, 3300 W Radio Dr , Florence, SC 29501
Date: Thurs, Aug 30, 2018
Time: 4pm – 7pm
Tel: 800-325-9005
darlingtoncarhaulerparade.com
For Regional Accommodations, Restaurants & Attractions: visitflo.com
The Going to the Dogs Band is hosting a Car Show  to benefit Friends of the Colleton County Animal Shelter (FoCCAS), an organization very close to the band's heart.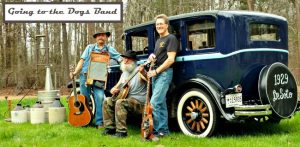 Going above and beyond with their commitment to animal groups and other deserving causes, Going to the Dogs Band is a 100-percent charity and benefit band. All members of the band refuse to accept any payment for their time and talent. They are dedicated to donating all money earned to Animal Shelters and Rescues, oxygen masks for animals for fire stations, bullet-proof vests for K-9 Police Units, as well as other charities including human, environmental, and other worthy causes.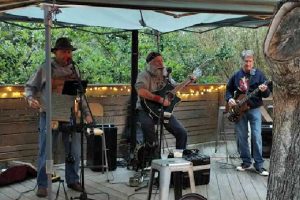 The Wheels for Paws Car and Bike Show will be fun for the whole family with trophies presented to the top ten vehicles, raffles and 50/50 drawing, balloon art, and of course Live entertainment by Going To The Dogs Band.
There will also be a featured Bike Ride to benefit the furry friends at FoCCAS, (Friends of Colleton County Animal Shelter), a volunteer-based organization that helps animals at the county's animal shelter. Kickstands up at 11am.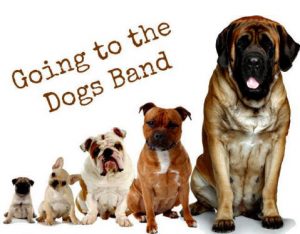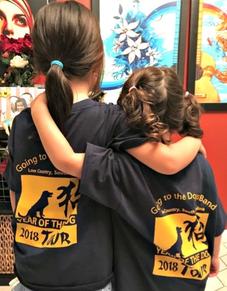 Get out and show your support of FoCCAS and The Going to the Dogs Band who keep paying it forward.
Location: 1013 S Jefferies Blvd Ste C, Walterboro, SC
Date: Sat, July 14, 2018
Time: 9am – 2pm
Tel: 843 – 300 – 0347
goingtothedogsmusic.com/wheels-4-paws.html
For Regional Accommodations, Restaurants & Attractions: walterborosc.org

The 43rd annual Colleton County Rice Festival is a celebration of the rice planting heritage that helped found Colleton County.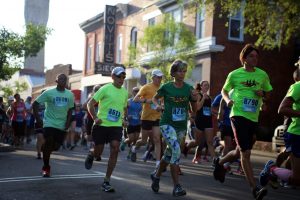 Enjoy a fun-filled week of family activities in the warm Carolina sun that includes a fireworks display, live musical entertainment, arts and crafts, 5k run, food concessions, corn-hole tournament, a BMX bike show with riders performing tricks and acrobatics, a crowd favorite DockDogs® a sport in which dogs compete in distance or height while jumping from a 40 foot dock into water, as well as cultural displays and performances depicting their local heritage.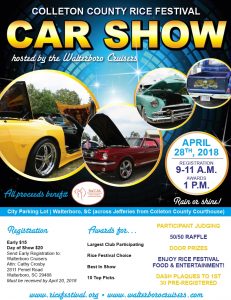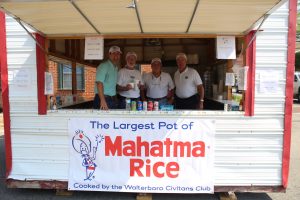 They also claim to show off the worlds largest pot of rice along with a rice cooking contest.  Best of all Admission is FREE.
BMX Bike Shows – 3 shows daily
Rice Festival Parade  – Saturday, April 28 @11am
Rice Festival Dog Show– Saturday, April 28 @2pm
Palmetto Dock Dogs –April 27 & 28: Competition all day and finals on Saturday afternoon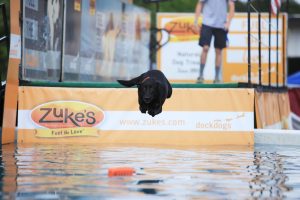 Rice Run/Walk– April 28 @ 8am
Chad Gainey Sculpture –Chainsaw Art by Chad Gainey -April 27 & 28: Hampton Street
Biggest Pot of Rice -April 27 & 28

Corn Hole Tournament– Saturday, April 28 @4pm
Live Entertainment – throughout the 2 days
Fireworks – Saturday, April 28, 2017 8:45pm: Rice Festival finale
Location: Downtown Walterboro, Walterboro, SC 29488
Dates: Fri, Apr 27 – Sat, Apr 28, 2018
Times: Fri 10am -10pm, Sat 10-7pm
Tel: 843.549.1079
ricefestival.org
For Regional Accommodations, Restaurants & Attractions: walterborosc.org
If you're getting stiff from all that driving or the kids are just suffering from cabin fever from being in the car for so long, here is your perfect solution. The City of Dillon's Wellness Center is approximately half way between New York and Miami. Why not stop and workout the kinks of travel or walk off that lunch while enjoy their facility.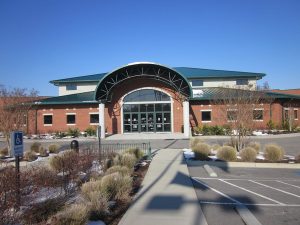 You are welcome to use (for FREE) the 1/2 mile lighted outdoor walking path outside the complex , which is open 24/7 and dogs on a leash are always welcome.
You can buy a day pass for a mere $5 to go inside and use the city of Dillon's 40,000 sq ft indoor sport and fitness complex that includes state-of-the-art cardiovascular equipment, weight machines, a free weights room and an aerobics & dance room. At the indoor sports complex you can let the kids play basketball, volleyball, or compete in a game of  ping pong.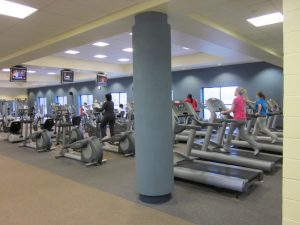 In addition they have a gym, dry sauna, locker rooms/showers, lounge, wireless internet, cable TV and trained staff.  not Take a break and take advantage of this very inviting and clean gymnasium and fitness center.
Location: 1647 Commerce Dr, Dillon, South Carolina
Hours: Mon – Fri 5:30am – 8:30pm , Sat 8am – 5pm , Sun 2 – 5pm
Tel: 843-774-5115
cityofdillonsc.us/residents/wellness_center.php
For Regional Accommodations, Restaurants & Attractions: cityofdillonsc.us
Feeling creative and want to embrace the holiday spirit? Tis' the season to decorate! Why not add a fresh evergreen wreath to your home for the perfect festive touch this season. On Thursday, December 14th Moore Farms offers you the opportunity to create a dazzling garland to adorn the outside or inside of your home.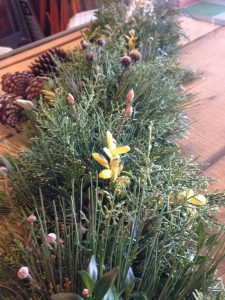 These handcrafted holiday garlands add natural beauty to your abode and in this class, you'll learn how to create wreaths by using fresh unique greenery, such as, cypress, arborvitae, magnolia, berries and dried materials found at Moore Farms Botanical Garden while making them into beautiful pieces of festive cheer. Create a fragrant and decorative display for the season and with proper care, it can last for months.
All materials needed to create your festive decor is provided. Class registration is limited to the first 18 participants and costs $30 per person so register quickly.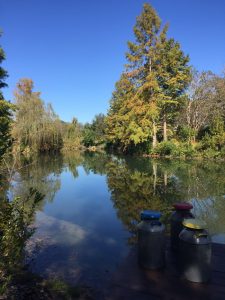 A tasty lunch is included in the program. If you have any special needs or dietary restrictions, please let them know.
Please click the "Buy Tickets" button to reserve your spot:  Buy Tickets
Location: Moore Farms Botanical Garden, 100 New Zion Road, Lake City, South Carolina 29560
Date: Thurs, Dec 14, 2017
Time: 10 – 2
Tel: 843-210-7582
moorefarmsbg.org
For Accommodations, Restaurants & Attractions: visitflo.com
Nestled among fields of corn and soybeans, this dynamic 65-acre garden is set in the rural Pee Dee region near Lake City, South Carolina. Moore Farms Botanical Garden is the perfect learning environment. They also host classes and professional workshops.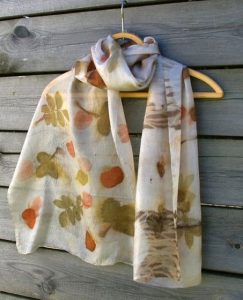 Join Caroline Harper at Moore Farms Botanical Garden on Thursday, September 28, 2017 for an artful day in the garden at a workshop creating Eco Print Scarves.
Eco printing is basically a direct contact printing method, drawing out pigments from plants to make interesting and often surprising marks on protein (silk) fibre. In this class accomplished artist Caroline Harper will show you how to create 2 silk scarves with foraged leaves, flowers, vegetable skins and other objects found from the garden.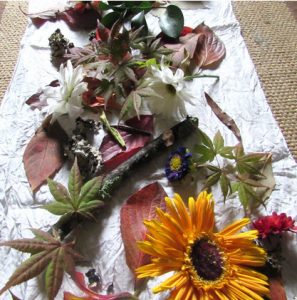 The unique colors and shapes that occur from these materials will make your scarf a one-of-a-kind masterpiece. Silk and organic material will be provided but please bring anything you would like to add to embellish your dazzling scarves. Registration is limited to 20 participants. $60 per person
Location: Moore Farms Botanical Garden, 100 New Zion Road, Lake City, SC 29560
Date: Thurs, Sept 28, 2017
Time: 1:30 pm to 4:30 pm
Tel: 843-210-7582
moorefarmsbg.org
For Regional Accommodations, Restaurants & Attractions: lakecitysc.com/visiting visitflo.com
Don't miss one of the Lowcountry's signature events, the annual DragonBoat Beaufort Race Day. The exciting dragon boat races will take place Saturday, June 24, 2017 at at Henry C. Chambers Waterfront Park on the river from 8-4.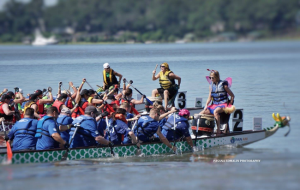 Witness the fierce competition and camaraderie as teams of paddlers race on the Beaufort river to win trophies and raise money for local cancer patients. Among the fun and festivities will be an opening ceremony, three heats of races, the moving Carnation Ceremony for cancer survivors and their families and the closing medal ceremony.
DragonBoat Race Day will include many local businesses, community groups and teams of friends and family racing against each other. The mixed Cancer Survivor Division will be the showcase for the heroes and heroines, honoring the spirit of DragonBoat Race Day.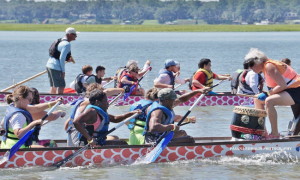 Twenty paddlers sitting side-by-side in a dragon-headed 42 foot-long vessel, paddling furiously to the beat of an emphatic drummer. The goal: physical wellness and psychological well-being through this thrilling, team-oriented support program that even offers opportunities to travel to competitions worldwide.
There will be 35 teams each racing three times. There will be two divisions – Mixed Community and Cancer Survivor teams. All teams race together. Cancer Survivor teams must have at least 8 cancer survivors in the boat during each race. After the first and second heats, teams will be placed in racing categories based upon their time; the third heat will decide the medals. Cancer Survivor placings decided by accumulating the two best times from each team. Gold, Silver and Bronze medals will be awarded for the top three finishers in each racing categories during the Awards Ceremony at the end of the day.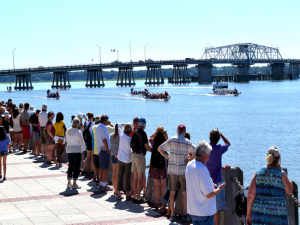 Location: Henry C. Chambers Waterfront Park, downtown on the Beaufort River,  SC
Date: Sat, June 24, 2017
Time: 8am – 4pm
Tel: 843-473-4477
dragonboat-raceday.com
For Regional Accommodations, Restaurants & Attractions: southcarolinalowcountry.com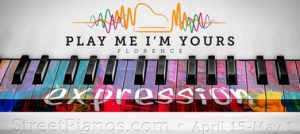 Florence, SC Exit 160: No, you're not seeing things, those randomly placed pianos throughout Florence are part of Play Me, I'm Yours, an initiative of a worldwide street piano project, geared to interconnect people in the community by "expressing themselves"  by bringing pianos to the people and music to the streets.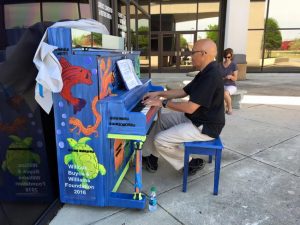 Dozens of Pianos will be located all over Florence and Lake City, and will remain available until May 7, positioned for everyone to play and enjoy on streets, in parks, squares, markets and other public places. Play Me, I'm Yours invites the public to engage with, participate and take ownership of their urban environment. Decorated and personalized by local artists and community groups, the street pianos create a place of exchange and an opportunity for people to connect.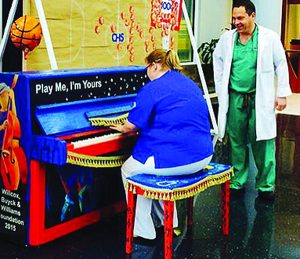 Touring internationally since 2008, Play Me, I'm Yours was created by British artist Luke Jerram. More than 1500 pianos have now been installed in over 50 cities across the globe, from London to Lima, bearing the simple invitation Play Me, I'm Yours. The project has already reached more than ten million people worldwide.
An opening-night festival will be held April 21 in the Willcox Plaza on West Evans Street. The event will include a dueling pianist team and a "Paint a Piano" tent for young artists. Don't miss the featured noon concerts on various instruments by local pianists.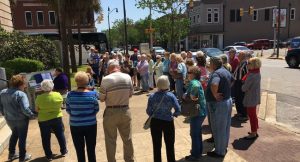 Location: Florence, SC
Date: Fri, April 21 – Sun, May 7, 2017
Tel: 843-260-6210
streetpianos.com/florence2017
For Regional accommodations, Restaurants & Attractions: visitflo.com
The third annual Smoke in the 'Boro promises to be a mouth watering event, loaded with fun, live music, kids' activities, an Anything Butt BBQ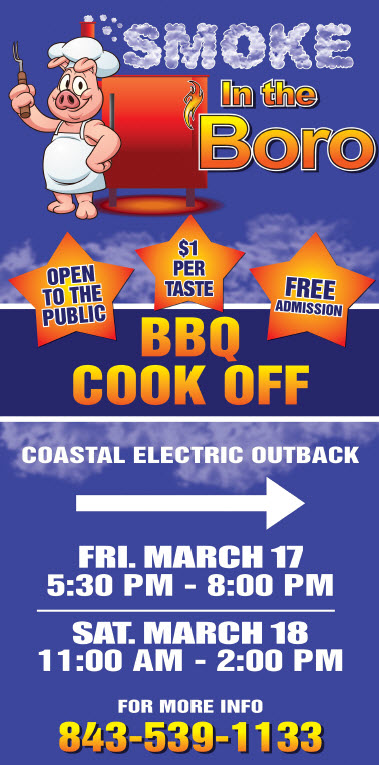 competition and a Butts Only contest.
The weekend will consist of two separate events. "Anything Butt" will be held on Friday night from 5:30-8 pm.  Cooking teams will prepare anything of their choice, from chicken wings to seafood — anything but barbecue. Local judges from Colleton County will evaluate the entries, and the winner will be revealed and prizes awarded.

The teams will then cook their Boston butts and ribs during the night for "Butts Only" , which means Pork only, as required by the SC Barbeque Association and judged by certified, sanctioned judges from around the Southeast.
The teams  present their entries to the judges on Saturday morning. At 11am the gates will be open to the public for tastings and to  partake until 2 pm.
On both Friday and Saturday, tasting tickets for $1.00 each will be available so that you can sample some heavenly food.  There will be great music both days from The Back Road and Going to the Dogs Bands. Free Admission.
Location: Coastal Electric Outback Building, 2269 N Jefferies HWY, Walterboro, SC 29488
Date: Fri March 17 – Sat March 18, 2017
Time: Fri 5:30 – 8pm, Sat 11 – 2pm
Tel: 843-539-1133
thecolletoncenter.org/events/
For Regional Accommodations, Restaurants & Attractions: walterborosc.org/visitingus