Tag Archive
activity
art
artist
Canada
children
city
community
contest
country
craft
downtown
Drivei-95
drive i-95
drivei95
entertainment
event
family
festival
Florida
food
free
fun
game
historic
History
house
i95
Island
live
local
Museum
music
national
North Carolina
prize
Restaurant
roadtrip
shop
show
street
tour
travel
travelblogger
USA
world
The 43rd annual Colleton County Rice Festival is a celebration of the rice planting heritage that helped found Colleton County.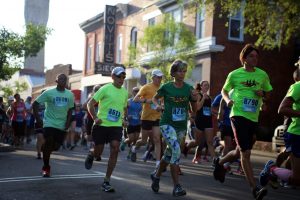 Enjoy a fun-filled week of family activities in the warm Carolina sun that includes a fireworks display, live musical entertainment, arts and crafts, 5k run, food concessions, corn-hole tournament, a BMX bike show with riders performing tricks and acrobatics, a crowd favorite DockDogs® a sport in which dogs compete in distance or height while jumping from a 40 foot dock into water, as well as cultural displays and performances depicting their local heritage.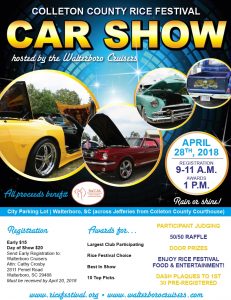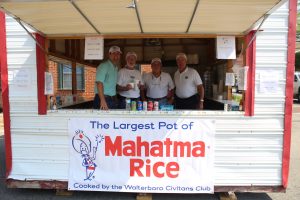 They also claim to show off the worlds largest pot of rice along with a rice cooking contest.  Best of all Admission is FREE.
BMX Bike Shows – 3 shows daily
Rice Festival Parade  – Saturday, April 28 @11am
Rice Festival Dog Show– Saturday, April 28 @2pm
Palmetto Dock Dogs –April 27 & 28: Competition all day and finals on Saturday afternoon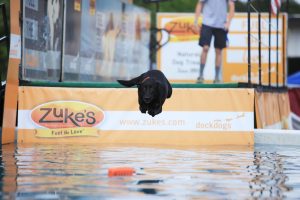 Rice Run/Walk– April 28 @ 8am
Chad Gainey Sculpture –Chainsaw Art by Chad Gainey -April 27 & 28: Hampton Street
Biggest Pot of Rice -April 27 & 28

Corn Hole Tournament– Saturday, April 28 @4pm
Live Entertainment – throughout the 2 days
Fireworks – Saturday, April 28, 2017 8:45pm: Rice Festival finale
Location: Downtown Walterboro, Walterboro, SC 29488
Dates: Fri, Apr 27 – Sat, Apr 28, 2018
Times: Fri 10am -10pm, Sat 10-7pm
Tel: 843.549.1079
ricefestival.org
For Regional Accommodations, Restaurants & Attractions: walterborosc.org
Walk into a medieval  fairytale and experience what a spring festival might have been like in 12th century Nottingham England. Fantasy takes flight when you step back to the past at Robin Hood's Faire. Witness singing, dancing and magic throughout the faire, listen to old world music performed live on stage and in the streets and watch Robin Hood and his Merry Men stop Prince John's villainy.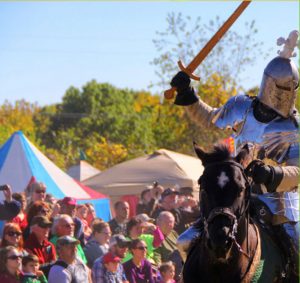 This amusing and colorful festival offers continuous themed entertainment throughout the day and some special events including:  The Mayor of Nottingham's Bingo Brunch, Princess Tea Time, Archery & Archery Tag, Opening Ceremony, Daily Tournaments, Paragon Jousting, parade, Prince John's Plot and join the Merry Men interactive show. For a complete schedule of events: robinhoodsfaire.com/shops-and-crafts/show-information/show-schedule/
The Faire has featured weekends, with activities geared to themes:
May 13, 14 – Pet Weekend– Open up a whole new world for your pet when you attend Robin Hood's Faire "Pet Weekend". Participate in daily contests with your pet to win prizes or just watch shows, shop, and enjoy the day. robinhoodsfaire.com/may-13-14-pet-weekend/
May 20-21 – Fantasy & Fairies Weekend- Anything is possible with fairy magic as visitors from a variety of places and times are pulled from the future and past to Robin Hood's Faire. Come as you are or consider dressing as a fairy or play someone from history or the future. robinhoodsfaire.com/fantasy-fairy-weekend-may-20-21/
May 27, 28, 29 – Bromance & Brew Weekend-What could be better than hanging out with your guy friends, competing against each other in manly contests, and sharing a cold craft brew? Guys will enjoy this weekend and  ladies, Sunday is a vow renewals with Friar Tuck.  robinhoodsfaire.com/bromance-brew-weekend-may-27-28-29/
Robin Hood's Faire runs every Saturday, Sunday, and Memorial Day from May 13-29, 2017 (11 am to 7pm). Tickets to the festival are available at the Faire on all days of the show. All food, drink, and games are cash only.
Location: North Haven Fairgrounds, 300 Washington Ave, North Haven, CT 06473
Dates: May 13 — 29, opened Sat, Sun & Memorial Day
Hours: 11– 7pm
Tel: 860-478-5954
robinhoodsfaire.com
For Regional Accommodations, Restaurants & Attractions: visitnewhaven.com
It's a game that you rarely think of playing outside a five-by-two foot space. It incorporates skill, concentration and hand-eye coordination. It's foosball, the tabletop-size game that has a household presence but with an entirely new approach.
The human version of the tabletop classic is remarkably similar to its traditional counterpart, but on a much larger scale. Teams of 6 attach themselves to fixed poles across the field and can only move to the right or left as a team, to move the ball up the field. Teams consist of 2 Forwards, 3 Mid-fielders and 1 Goalie. Watch your favorite table-top game come to life when twenty-four teams  participate in this round robin tournament taking place on the grounds of the Airborne & Special Operations Museum.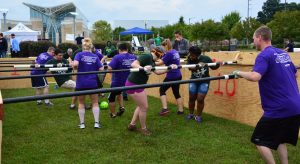 Cash prizes are awarded to the top three teams. Food and refreshments will be available for purchase. The tournament raises money for the museum's nonprofit foundation.
Location: Airborne & Special Operations Museum,100 Bragg Blvd., Fayetteville, NC 28301
Date: Sat, Oct 1,2016
Time: 9 – 5pm
Tel: 910-643-2778
asomf.org
For Regional Accommodations, Restaurants & Attractions: visitfayettevillenc.com