Tag Archive
activity
annual
art
artist
Canada
children
city
community
contest
country
craft
display
downtown
Drivei-95
drive i-95
drivei95
entertainment
event
family
festival
Florida
food
free
fun
game
historic
History
house
Island
live
local
Museum
music
national
North Carolina
prize
Restaurant
roadtrip
shop
show
tour
travel
travelblogger
USA
world
Spend Father's Day with the Father of Our Country. General Washington greets visitors and poses for photographs on Father's Day weekend. Listen as Washington discusses his role as husband, stepfather, and Father of Our Country in the program "Father to the First Family."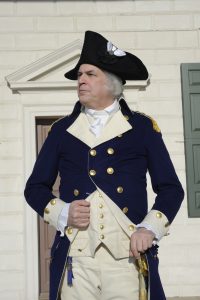 At George Washington's Distillery & Gristmill, watch costumed distillers demonstrate how whiskey was made using 18th-century processes. Visitors are taken through the historic process of whiskey-making in this reconstructed 18th-century distillery including operating copper stills, stirring mash tubs, and managing the boiler as they demonstrate 18th-century distilling. A 16-foot waterwheel powers the giant gears and millstones of Washington's remarkable Gristmill that includes the only operating Oliver Evans Automated Milling System in America.
Father's Day Weekend takes place rain or shine. Visitor parking is always free at Mount Vernon.
Location: George Washington's Mount Vernon, 3200 Mount Vernon Memorial Highway, Mount Vernon, Virginia 22121
Date: June 16 – 17, 2018
Times: 9am – 5pm
Tel: 703-780-2000
mountvernon.org
For Regional Accommodations, Restaurants & Attractions: visitalexandriava.com
The paved walkways of Savannah's scenic Forsyth Park will spring to life at the 37th annual SCAD Sidewalk Arts Festival.
Watch as talented SCAD artists, alumni and high school students create colorful chalk masterpieces and compete for coveted prizes in a tradition that's nearly as old as the university itself.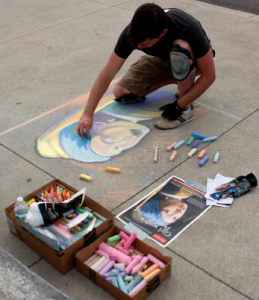 In addition to the sidewalk art, visitors can also see the art of tableaux vivants, or "living pictures" in which actors and models will silently depict a scene as if in a photo. Chalk distribution begins at 10am, drawing at 11am, with judging and results announced in the afternoon.
Who needs technology; discover just how much a simple piece of chalk can inspire.  Be amazed and mesmerized at the colorful chalk designs these artists produce on chalked-up squares along the sidewalks that weave through Forsyth Park.
Families are encouraged to bring their own chalk and let their little ones color on the squares that are not being used as part of the festival.
Free, fun and impressive, go out and be inspired, and maybe even draw a masterpiece of your own.

Location: Forsyth Park, Between Drayton and Whitaker streets, Savannah 31401
Date: Apr 28, 2018
Time: –
Tel: 800-869-7223
scad.edu/sidewalkarts
For Regional Accommodations, Restaurants & Attractions: visitsavannah.com
Every winter, throughout the months of January and February, the Jekyll Island Authority hosts a beach treasure hunt known as Island Treasures.

The origin of the event dates back to the early 1900s, when fishermen used glass floats as markers on their nets. Occasionally, the floats would break loose and wash ashore for lucky beachcombers to find and keep. Collecting the rare, highly sought-after glass floats became a hobby in the 1950s.
On Jekyll Island, the tradition continues with the annual Island Treasures event. Artists from across the country are selected to create one-of-a-kind glass floats. Colorful hand-crafted glass floats or globes, similar to the ones once used on fishing nets, are created by glass artisans from across the country.  New for this year, treasure hunters will now hunt for clear, plastic globes that can be exchanged for a handmade glass float at the Jekyll Island Guest Information Center.
Island Treasures are hidden daily, always  in plain view and public spaces. The treasures will never be placed in the dunes, marshes, animal habitats or private property. And, each weekend, double the number of globes hidden around the island.
Inside each plastic globe,  lucky treasure hunters will find a card with instructions to take the globe to the Jekyll Island Guest Information Center. Each card will have a number that corresponds to a real, handcrafted Island Treasure. Hunters will be limited to one glass float per household per year, increasing everyone's chance to find a glass float. Hunters will also receive a certificate of authenticity and artist biography for their one-of-a-kind float. The Guest Information Center will be open daily, 9 a.m. – 6 p.m.
This Island Treasures event is FREE and lots of fun for all ages and as a bonus you get to explore this beautiful island.
Location: Jekyll Island Guest Information Center, 901 Downing Musgrove Causeway
Jekyll Island, GA 31527
Date: until Feb 28, 2018
Time: Open daily, 9 -6pm
Tel: 912- 635-3636 or 1-877-4-Jekyll
jekyllisland.com/signatureevents/island-treasures
For Regional accommodations, Restaurants & Attractions: jekyllisland.com, goldenisles.com
Imagine an attic full of personal memorabilia of many submariners, and you get the feel of this homey museum.
The St. Marys Submarine Museum gives visitors a real feel for life aboard a submarine. The museum's 5,000 square feet of exhibition and displays feature real and working shipboard equipment. A ship's control panel, ballast control panel, periscope, and working sonar panels give exciting visuals of the interior of a submarine.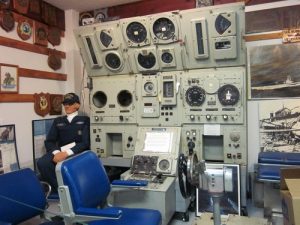 At St. Marys Submarine Museum a wide variety of Submarine artifacts, memorabilia and information are available for viewing. You can see early submarine designs (pig boats) right up to nuclear ones, consoles, a working Type-8 periscope, listings of boats built and lost in WW II and tons of command plaques.
For the truly addicted, submarine movies play all day, and you are invited
to read actual files of each U.S. submarine or support commands. More than 99% of all WWII Patrol Reports and their command history files are here (even previously classified documents); these are not usually seen by the average person or submarine veteran.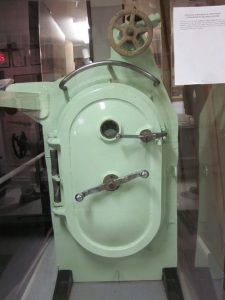 Location: St. Marys Submarine Museum, 102 W. St. Marys St., St. Marys, GA 31558
Hours: Tues-Sat 10am – 5pm, Sun 12pm – 5pm
Tel: 912-882-2782
stmaryssubmuseum.com
For Regional Accommodations, Restaurants & Attractions: visitkingsland.com
Step through the doors of some of Fell's Point's most haunted  watering holes for a fascinating haunted pub crawl tour of this historic maritime neighborhood when you partake in Fells Point Wicked History Pub Tour.
Baltimore Wicked History Tours has been thrilling locals and visitors alike with scandalous tales of Baltimore's underbelly since 2014. The Fells Point Wicked History Pub Tour lasts between 2-2.5 hours, depending on the tour guide. There are 3-4 pub stops during the course of the tour.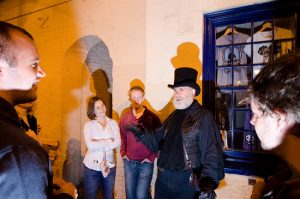 You'll walk the cobblestone streets of Fells Point and enter some of the most haunted pubs on the shore front. Travel back in time to when Fells Point was a colorful, dangerous place to visit, crawling with sailors, privateers, ladies of the night, and immigrants looking for a better life. Tempers ran hot with people who had nothing to lose and those looking to exploit them. Fells Point also had its bright spots with luminaries like Billie Holiday and Edgar Allan Poe roaming these historic streets. Learn the secrets of this historic maritime village while enjoying an entertaining and  knowledgeable view of the era from an amazing story telling  tour guide.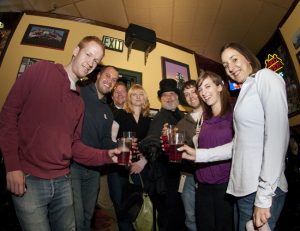 In a Baltimore Wicked History Tour  you'll experience Baltimore's  scandalous yesteryear in a history lesson like no other.  This haunting adventure that  some might call downright wicked, is for 21 and older only.
For Reservations: fareharbor.com/baltimorewickedhistorytour/items/calendar/2017/07/ or  (877) 293-1571
Gari Melchers Home and Studio – Belmont, typical of the Federal style, is over 200 years old. In 1916, renowned artist Gari Melchers and his wife Corinne bought the residence, and no expense was spared in the improvements to their country home.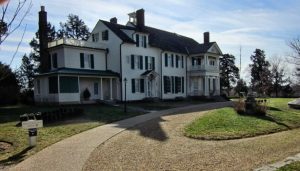 The Melchers accumulated a varied collection of antique furniture and carpets, fine china, paintings and prints by old masters on their extensive travels abroad. The grounds cover 27 acres of gardens, and you get to visit Gari's huge studio too. Upon Corinne's death in 1955, the estate was left to Virginia, and all of their personal possessions, including his beautiful paintings, remain as if they just left.
The Stafford County Visitor Center is in the interestingly stocked gift shop. The property, which is operated by the University of Mary Washington, is both a Virginia Historic Landmark and a National Historic Landmark.
The Belmont Photo Exhibit "Through a Lens" – Belmont Portrayed: Through a Lens, an exhibition of photographs depicting the buildings, grounds and gardens of Gari Melchers Home and Studio at Belmont,  is open to the public on and will be on view  until May 21.
The selection of 21 photos by 12 artists was chosen by Belmont Director David Berreth to represent a variety of photographic approaches to visually interpreting the 19th-century estate and its surroundings.
Location: Gari Melchers Home & Studio Belmont, 224 Washington St, Falmouth, VA 22405
Hours: Apr 1 – Oct 31, daily 10 – 5pm,  From Nov 1- Mar 31, daily 10 – 4 pm
Tel: 540-654-1015
GariMelchers.org
For Regional Accommodations, Restaurants & Attractions: co.stafford.va.us
fredericksburgva.com/VisitFredericksburg
Walk into a medieval  fairytale and experience what a spring festival might have been like in 12th century Nottingham England. Fantasy takes flight when you step back to the past at Robin Hood's Faire. Witness singing, dancing and magic throughout the faire, listen to old world music performed live on stage and in the streets and watch Robin Hood and his Merry Men stop Prince John's villainy.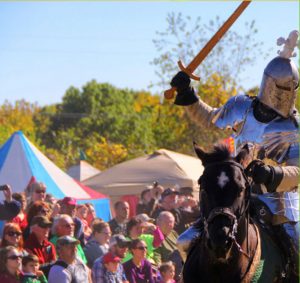 This amusing and colorful festival offers continuous themed entertainment throughout the day and some special events including:  The Mayor of Nottingham's Bingo Brunch, Princess Tea Time, Archery & Archery Tag, Opening Ceremony, Daily Tournaments, Paragon Jousting, parade, Prince John's Plot and join the Merry Men interactive show. For a complete schedule of events: robinhoodsfaire.com/shops-and-crafts/show-information/show-schedule/
The Faire has featured weekends, with activities geared to themes:
May 13, 14 – Pet Weekend– Open up a whole new world for your pet when you attend Robin Hood's Faire "Pet Weekend". Participate in daily contests with your pet to win prizes or just watch shows, shop, and enjoy the day. robinhoodsfaire.com/may-13-14-pet-weekend/
May 20-21 – Fantasy & Fairies Weekend- Anything is possible with fairy magic as visitors from a variety of places and times are pulled from the future and past to Robin Hood's Faire. Come as you are or consider dressing as a fairy or play someone from history or the future. robinhoodsfaire.com/fantasy-fairy-weekend-may-20-21/
May 27, 28, 29 – Bromance & Brew Weekend-What could be better than hanging out with your guy friends, competing against each other in manly contests, and sharing a cold craft brew? Guys will enjoy this weekend and  ladies, Sunday is a vow renewals with Friar Tuck.  robinhoodsfaire.com/bromance-brew-weekend-may-27-28-29/
Robin Hood's Faire runs every Saturday, Sunday, and Memorial Day from May 13-29, 2017 (11 am to 7pm). Tickets to the festival are available at the Faire on all days of the show. All food, drink, and games are cash only.
Location: North Haven Fairgrounds, 300 Washington Ave, North Haven, CT 06473
Dates: May 13 — 29, opened Sat, Sun & Memorial Day
Hours: 11– 7pm
Tel: 860-478-5954
robinhoodsfaire.com
For Regional Accommodations, Restaurants & Attractions: visitnewhaven.com
Dinosaur Revolution is a traveling exhibition staged  at the Delaware Museum of Natural History. This is a creative learning experience within a maze setting. The interactive maze is mentally and physically engaging and offers a fun and hands-on way to explore the fascinating prehistoric world of dinosaurs.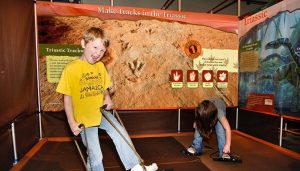 Uncover the facts, fictions, and fossils of Dinosaur Revolution as visitors can experience reptilian role-play activities by LIVING LARGE. Undertake three Mesozoic Missions spanning 150 million years that dinosaurs ruled the Earth and mimic dinosaur behavior; become a junior paleontologist and find evidence of dinosaur doings while learning why dinosaurs are one of the most successful survivors in earth's history; and unearth a shocking discovery: dinosaurs may not be extinct!
Dinosaur Revolution blends learning and play, inviting visitors to investigate all things dinosaur while challenging your knowledge, presenting new discoveries, and debunking popular myths.
Location: Delaware Museum of Natural History, 4840 Kennett Pike, Wilmington, DE 19807
Dates: until – May 29, 2017
Hours: Mon – Sat: 9:30 – 4:30pm, Sun: Noon – 4:30pm
Tel: 302-658-9111
delmnh.org/event/dinosaur-revolution
For Regional Accommodations, Restaurants & Attractions: visitwilmingtonde.com
If  you're in the Montreal or Ottawa area,  you are only 1 1/2 hours away from an exciting safari adventure. Parc Omega is the perfect day outing for kids (and folks) of all ages. It's an 800 hectare park where the animals roam free and you are "caged" in your car. It's such an easy drive to be able to come face to face with Canadian wildlife: reindeer, elk, arctic wolf and fox, bison, musk ox, turkey, boar, coyote, black bear, and many kinds of deer.
Along a 12-kilometere safari nature route which takes you past lakes, meadows, small valleys, forests and rocky hills, you meander at your own pace. You can pick up bag of carrots at the visitor center (or bring your own), and as you slowly make your way through, you are allowed to open the windows to feed the wildlife. Kids are thrilled that they do not have to be in their car seats here and can flit from side to side of the vehicle to say hello to the animals.
You tune your radio to a station which fills you in on all sorts of information about the species you will be seeing.
We learned which males are good daddies and stay around to raise the youngsters and which ones only show up for mating season.
I never knew that the musk oxen's heads are strong as hammers and they butt and knock everything down. Their quarters are specially built to withstand their strength.
 You pass by low slung "condos" for boars designed to keep the big predators out.
Coming here in winter gives you the opportunity to see how the arctic fox blends into the snowscape.
About 2/3 through, there's a place to stop,  get out to stretch legs and visit some wooden buildings for bathrooms, gifts, food and hot cocoa. Friendly deer are in the parking area to get a snack too – those carrots – buy lots.
This is one experience that all Canadian families should take advantage of. It's not only educational and fun, but will bring lasting memories for the whole family.
Location: Parc Omega is a safari park in Notre-Dame-de-Bonsecours, Quebec, Canada
Address: 399 Route 323 North, Montebello, QC J0V 1L0 Click for map 
Phone: (819) 423-5487
www.parcomega.ca