By stan. Filed in
Drink
,
Drive I-95
,
Entertainment
,
Family Fun
,
Florida
,
Food
,
History
,
Nature
,
Special Event
,
Sports
,
United States
,
USA
|
Hold on to you hats racing fans, February is the return of Speedweeks at Daytona International Speedway. This nine-day motorsports adventure offers devoted race fans with an action-packed schedule of six of the most exciting races, culminating with the Daytona 500 which will showcase 59 years of history in the world's only motorsports stadium.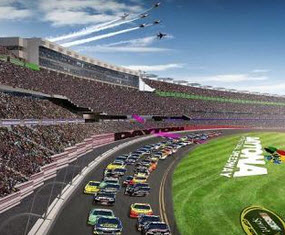 Sat, Feb. 18: Lucas Oil 200 and the Clash at Daytona -Prepare for the ultimate doubleheader with action from the ARCA Racing Series & NASCAR presents a driver pool of experienced veterans and young up-and-comers, while NASCAR rolls out a star-studded lineup to open their season.
Sun, Feb. 19: Daytona 500 Qualifying By Kroger -Every second makes a difference in the group qualifying format that determines the front row for the Daytona 500.
Thurs, Feb. 23: Can-Am Duel – With the front row of the Daytona 500 set, top drivers in the Cup Series compete to determine the rest of the starting grid
Fri, Feb. 24: NextEra Energy Resources 250 – Annually one of the most exciting races at Daytona International Speedway, this race is well-known for its long list of close finishes.
Sat, Feb. 25: PowerShares QQQ 300 – Young drivers look to make a name for themselves, while established veterans seek to gain momentum before Sunday's showcase event.
On February 26th, The Daytona 500, also known as "The Great American Race," is NASCAR's signature event. Fresh off of a sold-out crowd witnessing the closest finish in Daytona 500 history,  it's sure to be another for the record books. At a place where the timeline unfolds like the pages of history, a proud new chapter is set to be written at the "World Center of Racing."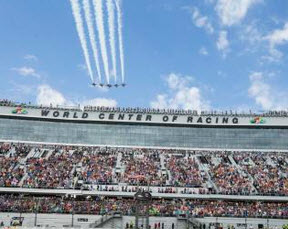 Location: Daytona International Speedway,
1801 W. International Speedway Blvd. Daytona Beach, FL 32118
Dates: Sat Feb 18 – Sun Feb 26, 2017
Times: Various
Tel: 800-PIT-SHOP
daytonainternationalspeedway.com/Events/2017/Speedweeks-At-DAYTONA/Speedweeks-At-DAYTONA.aspx
For Regional Accommodations, Restaurants & Attractions: daytonabeach.com
Tags: action, American, beach, believer, book, Can-Am, chapter, clash, compete, crowd, Cup, Daytona, Daytona 500, Daytona Beach, Daytona International Speedway, doubleheader, dream, Drivei-95, driver, duel, energy, event, fan, finish, Florida, format, front, grid, group, hall-of-fame, History, lap, line, Lucas Oil 200, memory, moment, motorsport, NASCAR, NextEra, pool, power, Powershares, QQQ, qualifying, race, racing, record, resource, row, schedule, season, series, showcase, signature, sold-out, stadium, star, starting, timeline, veteran, witness, world, World Center of Racing, written, year