By glenda. Filed in
Architecture
,
Europe
,
Florence
,
Italy
,
Nature
,
Trafalgar Costsaver European Delight
,
Travel
|
You get a great view of the majestic Renaissance Filippo Brunelleschi -designed domed Florence Cathedral, the Duomo if you ascend one of the hills around it. The Gothic-styled Cattedrale di Santa Maria del Fiore was begun in 1296 along with it's Baptistery and Giotti's Bell tower (Campanile). Ghiberti's original Baptistery doors are in the museum (the ones outside are copies).
Brunelleschi was commissioned in 1418. The dome is egg-shaped and was accomplished without scaffolding. A balcony by Baccio d'Agnolo was added in 1507. Notice that only 1 of the eight sides was finished by 1515, when someone asked Michelangelo (whose artistic opinion was by this time taken as cardinal law), his thoughts of it. The master reportedly scoffed, "It looks like a cricket cage." Work was immediately stopped, and to this day the other 7 sides remain only rough brick.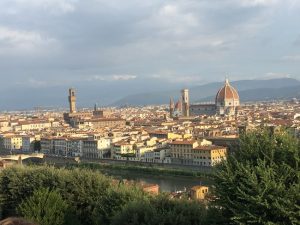 Tags: architecture, artistic, Baccio d'Agnolo, balcony, Baptistery, bell, Bell tower, brick, Campanile, cardinal law, cathedral, Cattedrale di Santa Maria del Fiore, city, city view, commissioned, CostSaver, cricket, design, designed, dome, domed, Duomo, egg-shaped, Europe, Filippo Brunelleschi, firenze, Florence, Florence Cathedral, Giotti, Gothic, Gothic-styled, History, Italy, landmark, majestic, master, Michelangelo, Museum, Renaissance, scaffolding, sights, sightseeing, skyline, tour, tourist, tower, Trafalgar, travel, travelblogger, view