Tag Archive
activity
architecture
art
artist
building
Canada
children
city
CostSaver
downtown
drive i-95
entertainment
Europe
event
exhibit
family
festival
Florida
food
fun
historic
History
landmark
local
Museum
music
Nature
New Zealand
Ontario
roadtrip
sculpture
Seattle
show
sights
sightseeing
tour
tourist
Trafalgar
travel
travelblogger
view
Washington
Washington State
water
world
Thirty-nine per cent of people living in the NZ area were born somewhere else. In 2018, artists Alfredo and Isabel Aquilizan created Pillars: Project Another Country to expound on human migration across oceans, displacement, relocation and settlement. When you move from one place to another, how do you become part of a community, what constitutes your family, and how are houses/homes built around these needs and relationships? The Aquilizans were born in the Philippines, work between Manila and Brisbane, so they very well understand the conversation about 'belonging' and what people call 'home'. This huge hanging upside-down sculpture shows people falling out of a boat and creating homes.
You can get great views if you sit in the comfy chairs in the front lounge of the Victoria Clipper as it speeds along from Victoria, BC to Seattle, WA. See if you can spot the iconic Seattle Space Needle on the horizon.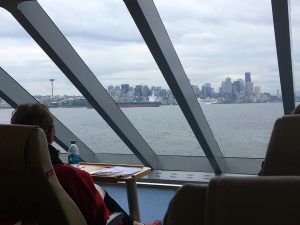 On the Victoria Clipper in the Puget Sound, you catch the first exciting glimpse of Seattle's skyline. Do you think Peter Puget who discovered it while on George Vancouver's expedition, was as excited? Do you see the Space Needle?
The Victoria Clipper is a speedy and fun way to zip across the water from Victoria, British Columbia in Canada to Seattle, Washington in the US. 
I wouldn't want to go boating with these in my boat but they sure are beautiful to look at. Even the reflection in the water is beautiful. See them at Chihuly Garden and Glass in Seattle, WA.
Glass Boating at Chihuly Garden and Glass. Balls here float, not bounce. The placement is so perfect so that you get a second view of the reflection in the water.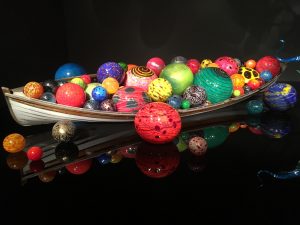 Never thought about where you park your gondola when you are off work. Notice the other boats tucked along the buildings. Front doors are often on the canals.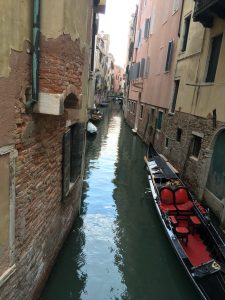 Not all the canals in Venice are narrow. Some are broad highways. See if you can find the tip of a gondola in this one.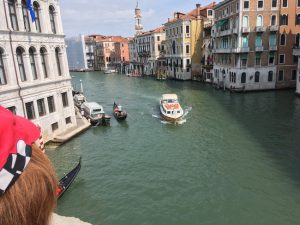 .
On a bateau mouche ride on the Seine you get a duck's eye view of the city going under all those famous bridges, like this one, the Pont St-Michel. FYI there are 37 of them.
.