Tag Archive
activity
architecture
art
artist
Austria
building
Canada
children
city
city view
CostSaver
downtown
drive i-95
entertainment
Europe
event
exhibit
family
festival
Florida
food
fun
historic
History
landmark
local
Museum
music
Nature
Ontario
roadtrip
Seattle
show
sights
sightseeing
tour
tourist
Trafalgar
travel
travelblogger
view
Washington
Washington State
water
world

Some men are driven by a need for fame. Some men seek glory. Buz has always sought out the perfect barbecue. Not that par-boiled, mass-produced, liquid-smoke injected kind, either. Nothing but real barbecue will do.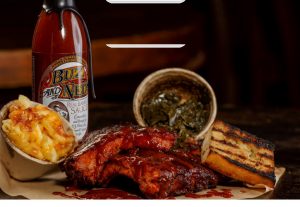 It took a NYC guy to literally work his way thru kitchens in BBQ havens in Texas, Kansas City, Memphis and Lexington KY, and then merge all that expertise with Ned's 150- year old family recipe to perfect the art of the pit and his own scrumptious BBQ.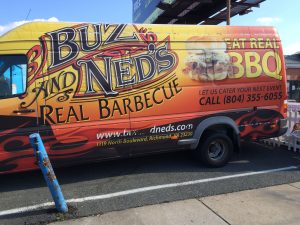 For the past 25 years, his ribs (baby back, spare or beef) have been a hit, there's hearty Brunswick stew (chock full of corn, string beans, carrots, and potatoes), killer chili, Sandra's favorite: beef brisket, and you-could-eat-alone sides of chunky smokey baked beans, cukes & onions, sweet potato fries and, of course, hush puppies. Wash 'em down with root beer and Cheerwine.
On the last Monday of every month Buz and Ned's is featuring Pig Pickin' Mondays  at their 8205 West Broad St. location only. The traditional, down-home, country PIG PICKIN' starts at 6 p.m. until 8 p.m. (or earlier , 'til they run out of pig). It's a first-come, first-serve, all-you-can-eat meal featuring an amazing 100% wood barbecued whole pig cooked slowly using only freshly-cut hickory log, served with Buz and Ned's barbecue sauce on the side. The buffet will also include: hush puppies, freshly shredded cole slaw, sandwich rolls, three bean baked beans, sour cream red skinned potato salad and freshly-brewed iced tea.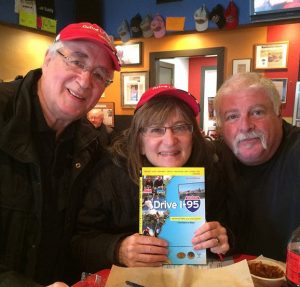 With a whole-hog knowledge of 'cue, meat-eaters will agree that Buz and Ned's Real Barbecue is a Southern authority on smoke. Go on in and eat like a local.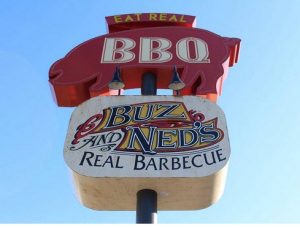 Boulevard Location: 1119 North Blvd., Richmond, VA 23230 (Directions)
Hours: Sun-Thurs: 11am-9pm · Fri-Sat: 11am-10pm
Tel: 804-355-6055
West Broad Street Location: 8205 W. Broad St., Richmond, VA 23294 (Directions)
Hours: Sun-Thurs: 11am-10pm · Fri-Sat: 11am-11pm
Tel: 804-346-4227
buzandneds.com
For Regional Accommodations, Restaurants & Attractions: visitrichmondva.com
The 10th Annual Eastern Carolina BBQ Throwdown is a professional cooking competition based on KCBS categories (chicken, pork ribs, pork & beef brisket). Awards include Grand Champion, Reserved Grand Champion, and People's Choice Award. Cash awards, trophies and plaques awarded up to 10th place in each category. There will be 58 opportunities to win.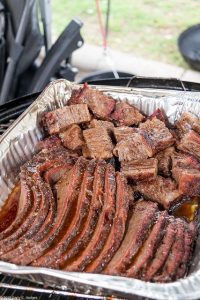 The Friday night Kick Off Party includes a Kick Off Concert featuring Who's Bad- The Ultimate Michael Jackson tribute band  held in downtown Rocky Mount. KCBS representatives will be present and competition judging starts at noon on Saturday, October 14, using the blind judging technique. This is a party you don't want to miss, with plenty of delicious food, beverages, and great entertainment. Bring your lawn chairs or blankets and come have some fun.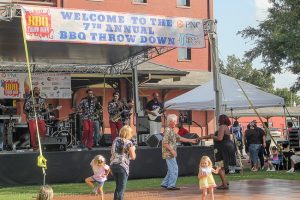 Schedule of Events:

Friday & Saturday, October 13-14, 2017
10th annual Eastern Carolina BBQ Throw Down (Competition)
Includes: People Choice
Friday, October 13th (12pm – 8:30 pm)
BBQ Kick Off Party (Train Station Lawn) 5:00 pm – 8:30 pm
Who's Bad Michael Jackson tribute band 6:30 pm (Train Station Lawn)
Saturday, October 14th (10:00 am – 6 pm)
Food Vendors, Commercial Vendors, Exhibitors, Live Music
Location: 101 Coastline St, Downtown Rocky Mount,NC  27804 – in front of the Helen P. Gay Historic Rocky Mount Train Station
Date & Time: Fri, Oct. 13 – Sat, Oct. 14, 2017
Time: Fri 12 pm – 8 pm, Sat 10 am – 6 pm
Tel: 252-972-1159
downtownrockymount.com/events/eastern-carolina-bbq-throwdown
For Regional Accommodations, Restaurants & Attractions: rockymounttravel.com
The California Lemonade chain has fabulously delicious, healthy, inexpensive,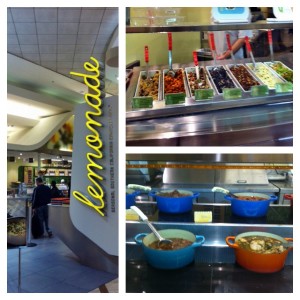 seasonal Southern California comfort food. You can choose a 3 or 2-plate meal for only $10. We love that pricing goes by portion size – you can get 1, 2, or 3 portions of each.
Start with the wildly creative salad bar (beets, tangerines, walnuts & onions or watermelon radish, ahi tuna & snap peas or Thai quinoa, cuke, red pepper, mango, peanuts & carrots). Sandwiches are called "right-sized" as they aren't the gi-normous ones often found in US restaurants.
The hot section features some land and sea food (buttermilk chicken, red curry salmon, pot roast, BBQ brisket). Yes there are desserts and of course, as it's name implies, 7 kinds of lemonade (ginger peach, blackberry thyme, cucumber mint) to wash it all down. Don't skip the mac 'n cheese (only $3.75) or the (yikes!) brussel sprouts.
This photo's at LAX airport in the Delta departure lounge but there's about a dozen of them all over LA.  California. They also have a yummy cookbook.