Tag Archive
activity
architecture
art
artist
building
Canada
children
city
CostSaver
downtown
drive i-95
entertainment
Europe
event
exhibit
family
festival
Florida
food
fun
historic
History
landmark
local
Museum
music
Nature
New Zealand
Ontario
roadtrip
sculpture
Seattle
show
sights
sightseeing
tour
tourist
Trafalgar
travel
travelblogger
view
Washington
Washington State
water
world
Invoking the floral colours of an intricate Indian rug, the Indian Char Bagh Garden at Hamilton Gardens definitely has the feel of India. A bagh is an enclosed 4-part garden 8 -18th century
 

Muslim world Asia to north Africa to Spain, paradise gardens universal garden became a distinctive art form in 16 & 17th century under mughal Rulers and then Hindu aristocracy poetic

 

secret pleasure gardens feel breezes, hear water gurgling perfume of flowers real living carpet.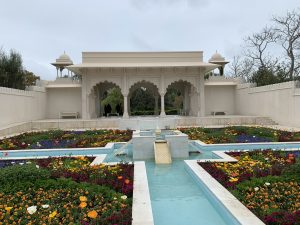 If you are heading out to Ottawa to skate on the Rideau Canal and to enjoy Canada's capitol, leave some time to explore the Canadian Museum of Nature, their first national museum, completed in 1912.
The Beaux Arts building was recently renovated and is now fronted by a towering glass atrium. That's where we found the arts and crafts action. Perhaps leave that for the end, after you've had a chance to watch "Exploding Geology", the tornado demonstration, walk through the large bird display (and play on the interaction boards),  swoon over the 1200 gorgeous minerals, rocks and meteorites , meet the 10-metre blue whale, enjoy the full size mammal gallery (look for the reindeer), go face to face with a triceratops,  or spy on the tarantula.
Kids of any age and their parents will enjoy their day. If you have time there are two movies, "Nature Unleashed" and "3D Dinosaur" but our gang liked the interactive museum more. Special exhibits coming up will show off Ikebana, Japanese floral design, Flora of the Canadian Arctic and in the summer, the Hidden Lives of Ants.
Trivia buffs should note that this Canadian Museum of Nature  served as home to Canada's House of Commons and Senate following the fire that destroyed the Centre Block of Parliament in 1916.
Location: 240 McLeod St., Ottawa, Canada
Phone: 613-364-4021
www.nature.ca