Tag Archive
activity
architecture
art
artist
building
Canada
children
city
CostSaver
downtown
drive i-95
entertainment
Europe
event
exhibit
family
festival
Florida
food
fun
historic
History
landmark
local
Museum
music
Nature
New Zealand
Ontario
roadtrip
sculpture
Seattle
show
sights
sightseeing
tour
tourist
Trafalgar
travel
travelblogger
view
Washington
Washington State
water
world
Sir Henry Pellatt, a Canadian stockbroker and entrepreneur built this full-sized castle in Toronto around 1913. It has secret passageways, breathtaking views and elaborately decorated rooms. Unfortunately financial miscalculations caused him to have to leave his "castle on the hill" and he died in poverty.
.
On a bateau mouche ride on the Seine you get a duck's eye view of the city going under all those famous bridges, like this one, the Pont St-Michel. FYI there are 37 of them.
.

.
The beauty of taking a Bateau Mouche ride on the Seine is the joy of going under so many famous bridges – and learning the history effortlessly as you go. This one is the Pont Alexandre III built between 1896 and 1900, the most ornate one and a Paris historical site. Four gilt-bronze statues of Fames watch over the Beaux-Arts style bridge. The exuberant Art Nouveau lamps, cherubs, nymphs and winged horses celebrate the Franco-Russian alliance enacted in 1892 by Tsar Alexander III. His son Nicholas II laid the foundation stone in October 1896. In the same political spirit, the Trinity Bridge in Saint Petersburg was designed by Gustave Eiffel, and the first stone was laid in August 1897 by French president Félix Faure .
.
In the Louvre, one of the largest paintings at 33 ft. x 22 ft. was unsurprisingly commissioned by Napoleon himself of his 1804 coronation. His official court painter Jacques-Louis David, created a Facebook of French politicians, Napoleon's family and, of course a selfie of the painter himself.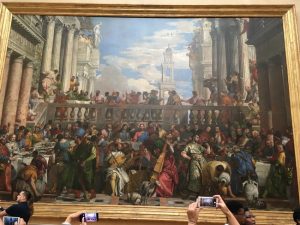 A fall tradition at the Roger Williams Park Zoo, is the Jack-O-Lantern Spectacular, attracting more than 100,000 visitors for this truly "spectacular" event.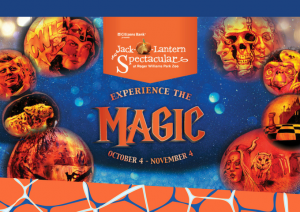 Don't miss this year's show that includes more than 5,000 intricately carved pumpkins featuring scenes of wizards, fairytales, and the luminaries of great myths and legends, alongside superheroes, and historical figures who changed the world. Revel in the sights and sounds of the season, and celebrate this otherworldly experience. This seasonal art show aims to delight and amaze the whole family, and not to scare anyone. – Tickets on-sale now
You can also experience the Soaring Eagle Zip Ride during the Jack-O-Lantern Spectacular. From 115 feet above riders enjoy an aerial view of the park and admire the plethora of jack-o-lanterns from above. Get an eagles-eye view over Providence and into Narragansett Bay in comfortable side-by-side seats.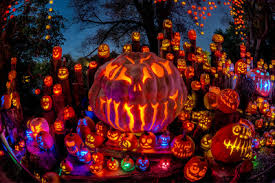 There are also a number of Special Events taking place which are included in the price of admission (with the exception of Spooky Zoo and Boo at the Zoo Family Overnight). Kids and adults are encouraged to wear costumes; masks are not permitted for teens/adults over age 12.

Children's Fairy Tale Nights – Wed and Thurs, Oct 10th & 11th @ 5:30pm-8pm: Meet beloved children's fairy tale characters.  Take pictures with Peter Pan, Cinderella, Snow White, Robin Hood and favorite Dr. Seuss characters such as the Cat in the Hat and the Grinch.  As the sun sets, find your favorite fairy tales characters intricately carved on the pumpkins.
Wizarding Nights – Wed and Thurs, Oct 17th & 18th @6pm-8pm:
Wizards and witches get your wands, mount your brooms and fly on over to meet some of the characters from J.K. Rowling's beloved series.  Before you embark on the pumpkin trail, try a butter beer or a chocolate frog.  Then travel the pumpkin trail, and identify characters and scenes from the wizarding world.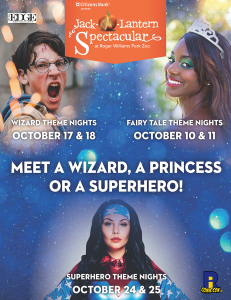 Super Hero Nights – Wed and Thurs, Oct 24th & 25th @6pm-8pm:
Comic book fans might meet Black Panther, Captain America, Iron Man, Spider Man, and the gang, take a photo, and find out how they all save the world.  As the heroes go back out to fight evil, find your hero's pumpkin on the pumpkin trail.
Spooky Zoo – Sat and Sun, Oct 27th & 28th:
Spooky Zoo is back, offering daytime outdoor autumn activities for the whole family.  Come trick-or-treat (while supplies last)  beginning at 10:30 am on the Treat Trail by the red wolf exhibit. Kids and adults will enjoy a packed schedule of seasonal activities. Activities are free with Zoo admission and all children 12 and under dressed in costume get in for half price.
Boo at the Zoo Family Overnight – Sat, Oct 20th and Sat, Oct 27th, 2018:
Snooze at the Zoo for the wildest family overnight adventure in town. The night begins with pizza and ice cream before educators engage you and your children in an owl pellet dissection, program animal encounters, and give you VIP access to the world famous Jack-O-Lantern Spectacular. Set up your sleeping bags in the Meller-Danforth Education Center with popcorn and a movie to snooze to. You'll need your zzzzs before waking up with the animals. A light breakfast will be provided before a morning Zoo tour.
The Jack-O-Lantern Spectacular takes place 7 days a week. Take advantage of Value Nights, Mon-Thurs, which will save you a bit of money and are usually less crowded.

Location: Roger Williams Park Zoo, 1000 Elmwood Ave, Providence, RI 02903
Dates: Oct 4 – Nov 4, 2018
Times: 6 – 11 p.m. (last admission at 10pm)
Tel: 401-785-3510
rwpzoo.org/plan-your-visit/events/jack-o-lantern-spectacular
For Regional Accommodations, Restaurants & Attractions: goprovidence.com
Do you have what it takes to lead like Washington? Visitors to his Mount Vernon Estate now have a chance to put themselves in Washington's boots and experience first-hand the leadership challenges that he faced on the battlefield and in the presidency.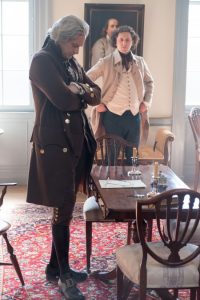 "Be Washington: It's Your Turn to Lead" is a new first-person interactive experience that allows visitors to  come face to face with a leadership challenge that George Washington also confronted as commander in chief or president. Listen to advice from his most trusted sources and make your decision.
Inside the immersive 1,200-square-foot Be Washington theater, participants take the role of George Washington as they seek to solve one of four crises that Washington faced. Events of the Revolutionary War and presidency come alive on a massive 30-foot 6K-resolution screen. Chris Jackson, the actor who played George Washington in the Broadway hit "Hamilton," will introduce each of the plots onscreen and will later describe the course of action that General or President Washington took. Each scene takes about 18 minutes to complete.
Featured scenarios include the Battle of Second Trenton, the Whiskey Rebellion, the Genet Affair and the Newburgh Conspiracy. As you learn about the situation, participants hear insights and opinions from some of the same historical advisers that Washington would have had access to, such as Thomas Jefferson, Alexander Hamilton and Henry Knox. As they sift through differing recommendations, they are asked to rate each adviser's persuasiveness.
At the end of each segment as Washington, the participants have seconds to vote for which course of action they would take to solve the crisis.  All votes are then tabulated and shared on the main screen. Washington's decisive actions at key moments helped to shape our history. Discover if you would have made the same tough choices.
Entry to the Be Washington theater is free when you purchase a general admission ticket to Mount Vernon. You can try the web-version of "Be Washington" at: play.bewashington.org
Location: George Washington's Mount Vernon, 3200 Mount Vernon Memorial Highway, Mount Vernon, VA 22121
Date: until – Dec 31, 2018
Time: 9am – 4pm
Tel: 703-780-2000
mountvernon.org/site/bewashington
For Regional Accommodations, Restaurants & Attractions: visitalexandriava.com
The 33rd Annual Whitehall Lecture Series, Heroes of the Homefront: World War I and the Faces of Wartime America, commemorates the roles of American soldiers and supporters during World War I.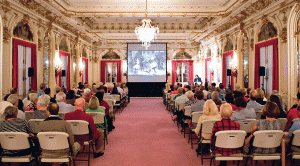 Each lecture will provide a unique range of historical perspectives, including those of political and military leadership, the Doughboys on the front lines, minority infantrymen conscripted to battle, and women on the homefront and abroad.
Heroes of the Homefront will evoke a new appreciation for America's participation in World War I and address the ways in which American culture was changed forever because of it. When possible, a book signing with the speaker follows each lecture. All lectures start at 3:00 pm.
February 18
The Last of the Doughboys:
The Forgotten Generation and Their Forgotten War
by Richard Rubin
February 25
World War I:
The American Soldier Experience
by Dr. Jennifer Keene
March 4
The Second Line of Defense:
American Women and World War I
by Dr. Lynn Dumenil
March 11
Uncle Sam Wants You: World War I
and the Making of the Modern American Citizen
by Dr. Christopher Capozzola
Online visitors can experience each lecture via a free Livestream broadcast at http://flaglermuseum.us/programs/lecture-series where visitors may listen live, see the presentation and ask the lecturer questions.
Location: The Flagler Museum, One Whitehall Way, Palm Beach, FL 33480
Date: See Above
Time: 3pm
Tel: 561-655-2833
flaglermuseum.us
For Regional Accommodations, Restaurants & Attractions: thepalmbeaches.com

If you love to read, then this event is definitely for you. Want to meet authors and learn of the inspiration for their works? Book 'Em North Carolina is national event that brings together brings together more than 75 authors, publishers, literary agents and publicists under one roof for one common cause; to promote literacy.

Book 'Em NC Writers Conference and Book Fair is open to readers of all ages. There are book readings and events scheduled for children from pre-school to teens, panel discussions and talks for writers trying to break into the field and  lectures and events for readers of various genres, including mysteries, romance, true adventure, historical, biographical, …
Authors will sell and sign their books, participate in panel discussions and talks, network and interact with fans one-on-one. Headlining authors include: poet LeJuane Bowen and fictional author Jill McCorkle.
A series of talks occur between 10 – 3 pm and include:
Writers Conference – for aspiring or published authors of all ages and levels
The Children's Corner – readings for younger children, arts and crafts and special activities
Panel Discussions and Talks – for readers of various fiction and nonfiction genres, including autobiographical, biographical, historical, mystery/suspense, romance, fantasy, paranormal, science fiction, horror, true crime and others
Each talk begins on the hour and feel free to attend one or all of the talks throughout the day.
The purpose of The Book 'Em Foundation and this event is to raise public awareness of the link between high crime rates and high illiteracy rates. The Book 'Em Foundation was co-founded by suspense author P.M. Terrell. Proceeds from the Book 'Em North Carolina book fair will go directly to increasing literacy in Robeson County, North Carolina and to reducing crime in the area.
 This event is FREE and open to the public.
Location: Robeson Community College, 5160 Fayetteville Rd, Lumberton, NC
Date: Sat, Sept 23, 2017
Time: 9:30 – 4pm
Tel: 910-272-3362
bookemnc.org
For Regional Accommodations. Restaurants & Attractions: lumberton-nc.com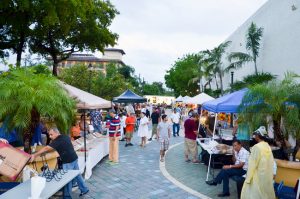 Miami, FL Exit 1B: Little Havana is a true reflection of Hispanic culture. As you approach the heart of the neighborhood at SW 8th Street—known as Calle Ocho by the locals; the geographical, historical and emotional heart of the Miami Cuban exile community,  you may feel you've been transported to another time and place. Go there for authentic Cuban fare, a strong cafecito, a good Cuban cigar, Latin festivals or a fierce game of dominoes. From salsa-dancing and art exhibits, to a historic movie theater, concerts, Little Havana uncovers a thriving arts and culture scene with a distinctly Cuban flair.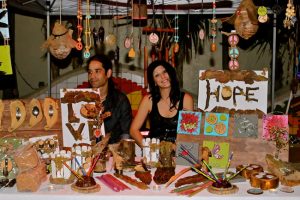 Experience Little Havana by partaking in the Cuban culture at Viernes Culturales (Cultural Fridays), Little Havana's popular vibrant art and culture festival, taking place on the last Friday of every month, from 7 to 11 pm on SW 8th Street (Calle Ocho) between 13th and 17th Avenues. It promises to be a fun-filled event for the whole family.
Enjoy live music, dancing under the stars, discover works by local artists and artisans in and around iconic Domino Plaza on SW 8th Street and SW 15th Avenue, contemporary and historic artworks at the many fine art galleries, domino games, cigar rollers, local arts and crafts, all while taking in the flavor and ethnic diversity that Little Havana has to offer.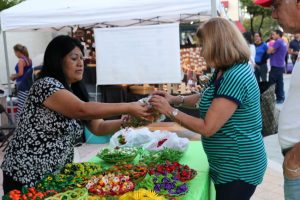 Get the sense of this tight knit community by taking advantage of the Free Little Havana Walking Tour.  Dr. Paul George has developed 12 different tours of the surrounding neighborhoods and this historic walking tour experience brings a unique and different audience from all parts of South Florida. Meet in front of the Tower Theater (1508 SW 8th St.) @ 7 PM, Free, no reservations required.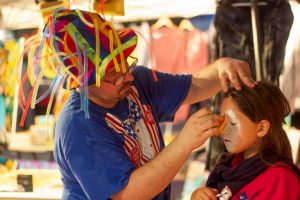 Free Trolley Service : The City of Miami takes you for free on the Miami Trolley leaving from the Mary Brickell Village and the Brickell Metrorail/Metromover Station to the heart of the Viernes Culturales festival every 15 minutes, starting at 6:30 pm.
Location: Along Southwest 8th Street from 13th to 17th avenues, Miami, FL 33135
Date: Fri, June 30 2017 (Later 2017 Dates: 7/28, 8/25, 9/29, 10/27, 11/24, 12/29)
Hours: 7 – 11 pm
Tel: 305-643-5500
viernesculturales.org/mainvc/
For Regional Accommodations, Restaurants & Attractions: miamiandbeaches.com