Tag Archive
activity
architecture
art
artist
building
Canada
children
city
CostSaver
downtown
drive i-95
entertainment
Europe
event
exhibit
family
festival
Florida
food
fun
historic
History
landmark
local
Museum
music
Nature
New Zealand
Ontario
roadtrip
sculpture
Seattle
show
sights
sightseeing
tour
tourist
Trafalgar
travel
travelblogger
view
Washington
Washington State
water
world
Many of us enjoy a light read to while away a lazy summer afternoon. At the Hudson Village Theatre, you don't even have to read to have fun – you can just listen and watch as four women meet, mingle and moan – and become a family of friends.
The director, Ellen David, takes this (Jessie) Jones (Nicholas) Hope (Jamie) Wooten delightful script and gently guides the dynamic quattro of actors as they learn "what is holding you back from one's past and self-imposed limitations towards a compelling future".  This could be any one of us.
The performers David chose are as well cast and strong as the four sides of a square. Randa Covington (Jane Wheeler) has defined herself by her work, and doesn't know how to re-define herself beyond that. She tries to hold on to her safe proper business countenance, but is weighed down by feeling second best in her family. Marlafaye (Lisa Bronwyn Moore) gets the classic "dumped for a younger woman" part, so feelings of anger and rejection are keeping her from moving forward. "I swear the older you get the harder it is to jump start a new life", she says.
Dot (Kathleen Fee), the oldest of the bunch, has just lost her husband, the only man she has known, and with whom she had planned to retire. She has no idea how to figure out what comes next. Her subtle acting is deliciously wonderful as she delivers many funny zinger lines. Paula Costain as Jinx moves and talks with the right zippy attitude to convince them, as their new "life coach", to go (as David says)" beyond their comfort zone to a brave new world where they eventually find themselves". Jinx reminds us that her older sister (now incapacitated with dementia) taught her that "it's the happy in life that counts".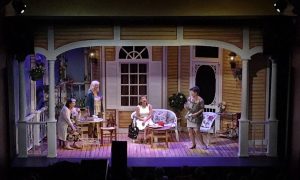 The set by Jean-Claude Olivier is a comfortable porch, so the women have an informal place to gently and liquidly reveal their sagas. As this is a "Sipping Society", drinking props (by Lea Robertson) were a fun challenge due to the many iterations of serving different kinds of alcohol. Marlafaye once toasted, "Girls, here's to living single and drinking doubles".
There were more costume changes than you would expect (by Elisabeth De Medeiros), creating a fashion show which helped define the scenes and the forward movement of their lives.
Jamie Wooten, one of the playwrights, was a writer for The Golden Girls, so the quality of their patter and the giggly one-liners is in the same genre of that hysterical show.  When Marlafaye sees Randa's house for the first time she opines, "Yeah, sure is a pretty place. Everything's so neat and clean. I'm not like that. Instead of cleaning my house, I just turn off the lights".  When Randa comments on drinking mead, "This really isn't so horrible", Marlafaye responds, "The very words I said on my wedding night".  Marlafaye also says,  "Sex is like a brownie – when it's good it's really good. And when it's bad….it's still pretty good!".
Andrea Romaldi, the artistic director writes, "friendships are our lifelines and support structures. Good friends cheer us, challenge us, bewilder us and irritate us, but ultimately they support and help us grow into our best selves". Head out to Hudson and lift a glass to friendship.
Location: 28 Rue Wharf, Hudson, QC J0P 1H0
Phone: 450- 458-5361
Dates: til July 22
https://villagetheatre.ca/
Spend Father's Day with the Father of Our Country. General Washington greets visitors and poses for photographs on Father's Day weekend. Listen as Washington discusses his role as husband, stepfather, and Father of Our Country in the program "Father to the First Family."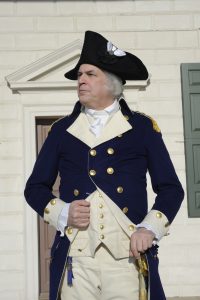 At George Washington's Distillery & Gristmill, watch costumed distillers demonstrate how whiskey was made using 18th-century processes. Visitors are taken through the historic process of whiskey-making in this reconstructed 18th-century distillery including operating copper stills, stirring mash tubs, and managing the boiler as they demonstrate 18th-century distilling. A 16-foot waterwheel powers the giant gears and millstones of Washington's remarkable Gristmill that includes the only operating Oliver Evans Automated Milling System in America.
Father's Day Weekend takes place rain or shine. Visitor parking is always free at Mount Vernon.
Location: George Washington's Mount Vernon, 3200 Mount Vernon Memorial Highway, Mount Vernon, Virginia 22121
Date: June 16 – 17, 2018
Times: 9am – 5pm
Tel: 703-780-2000
mountvernon.org
For Regional Accommodations, Restaurants & Attractions: visitalexandriava.com
Just as we have our beloved famous Disney princesses, the Austro-Hungarian Empire had theirs – but she was for real. They call her by her nickname Sisi, and she was their Empress for 44 years.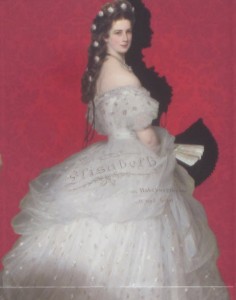 Their have been numerous movies, plays, operas, ballets, books and music about her in the German speaking world. It is probably the trilogy of romantic films about her life which starred a young Romy Schneider which made her a household name. She is so popular that  the 3 movies are shown every Christmas on Austrian, German, Dutch, and French television.
Though her husband Emperor Franz Josef  adored her, she felt stifled by Habsburg  court life and traveled extensively whenever and wherever she could. She loved learning and spoke English, French, modern Greek and Hungarian. Her domineering mother-in-law made her life miserable and even took away her children to raise. Her first daughter died as a toddler and her beloved son Crown Prince Rudolph, heir to the throne, committed suicide along with his lover, and she never fully recovered from that loss.
Empress Elisabeth was vain and did not sit for any portraits after she was 32  and would not allow any more photographs, so that her public image would always remain of her youthful self.  She was tall, and compulsively maintained the same low weight all through her life thru exercise (horsemanship, fencing, hiking) and fasting.
Her interest in politics had developed as she matured. She felt an intense emotional alliance with Hungary, and worked toward it gaining an equal footing with Austria. Elisabeth was an ideal mediator between the Magyars and the Emperor. She was a personal advocate for Hungarian Count Gyula Andrássy (he was a lifelong friend, and possibly her lover).
Finally, the Austro-Hungarian Compromise of 1867 created the double monarchy of Austro–Hungary. Andrássy was made the first Hungarian prime minister, and in return he saw that Franz Josef and Elisabeth were officially crowned King and Queen of Hungary.
Sisi was assassinated "by accident" in 1898 by Luigi Lucheni, who had planned to kill the Duke of Orleans, Pretender to France's throne, but the Duke had left town. Despite warnings of possible assassination attempts Elisabeth, now age 60, traveled incognito to Geneva. She eschewed the protection which the Swiss government had offered and only promenaded with her lady-in-waiting.
You can visit many of her residences: her apartments in the Hofburg and the Schönbrunn Palaces in Vienna, the imperial villa in Ischl, the Achilleion in Corfu, and her summer residence in Gödöllő, Hungary.
These plaques, mounted in Vienna, tell some of her story: