Tag Archive
activity
architecture
art
artist
Austria
Canada
children
city
city view
CostSaver
downtown
drive i-95
entertainment
Europe
event
exhibit
family
festival
Florida
food
free
fun
historic
History
landmark
local
London
Museum
music
Nature
Ontario
roadtrip
Seattle
show
sights
sightseeing
tour
tourist
Trafalgar
travel
travelblogger
view
Washington
Washington State
world
Take a Sunset Kayak Tour at Sebastian Inlet State Park for a memorable exploration the Indian River Lagoon, home to brown and white pelicans, herons, egrets, osprey, bottle-nosed dolphin and manatee.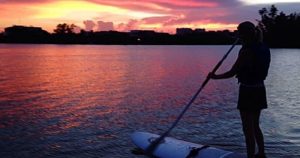 Or maybe you'd prefer the Full Moon Kayak Tours,  available on June 29, June 30,July 27, 28 and Aug 25. Under the light of the full moon, join an adventure, glow sticks in hand, through the grass flats and explore the Indian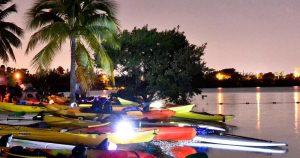 River Lagoon. After the tour, relax and enjoy Smore's and refreshments at the Marina.
Included in these tours: a kayak or paddle-board, safety vests and safety instructions.
What to bring: bathing suit, sunscreen, towels, sun protective clothing (ie. hats and sun shirts), water shoes or waterproof sandals and bug spray.
Location: BG's Bayside and Marina, 9502 S. Hwy A1A
Melbourne Beach Florida, 32951 – Located inside Sebastian Inlet State Park
Date: Sunset Tours: weekly – Sun, Wed, Thur, Fri, and Sat, Full Moon – usually only once a month,  Please check schedule
Time: Sunset Tours – 7pm, Full Moon – 7:30pm
Tel: 321-724-5424
bgsurfsidegrillandadventures.com/sunset-tours
Regional Accommodations, Restaurants & Attractions: visitspacecoast.com
Every winter, throughout the months of January and February, the Jekyll Island Authority hosts a beach treasure hunt known as Island Treasures.

The origin of the event dates back to the early 1900s, when fishermen used glass floats as markers on their nets. Occasionally, the floats would break loose and wash ashore for lucky beachcombers to find and keep. Collecting the rare, highly sought-after glass floats became a hobby in the 1950s.
On Jekyll Island, the tradition continues with the annual Island Treasures event. Artists from across the country are selected to create one-of-a-kind glass floats. Colorful hand-crafted glass floats or globes, similar to the ones once used on fishing nets, are created by glass artisans from across the country.  New for this year, treasure hunters will now hunt for clear, plastic globes that can be exchanged for a handmade glass float at the Jekyll Island Guest Information Center.
Island Treasures are hidden daily, always  in plain view and public spaces. The treasures will never be placed in the dunes, marshes, animal habitats or private property. And, each weekend, double the number of globes hidden around the island.
Inside each plastic globe,  lucky treasure hunters will find a card with instructions to take the globe to the Jekyll Island Guest Information Center. Each card will have a number that corresponds to a real, handcrafted Island Treasure. Hunters will be limited to one glass float per household per year, increasing everyone's chance to find a glass float. Hunters will also receive a certificate of authenticity and artist biography for their one-of-a-kind float. The Guest Information Center will be open daily, 9 a.m. – 6 p.m.
This Island Treasures event is FREE and lots of fun for all ages and as a bonus you get to explore this beautiful island.
Location: Jekyll Island Guest Information Center, 901 Downing Musgrove Causeway
Jekyll Island, GA 31527
Date: until Feb 28, 2018
Time: Open daily, 9 -6pm
Tel: 912- 635-3636 or 1-877-4-Jekyll
jekyllisland.com/signatureevents/island-treasures
For Regional accommodations, Restaurants & Attractions: jekyllisland.com, goldenisles.com