Tag Archive
activity
architecture
art
artist
building
Canada
children
city
CostSaver
downtown
drive i-95
entertainment
Europe
event
exhibit
family
festival
Florida
food
fun
historic
History
landmark
local
Museum
music
Nature
New Zealand
Ontario
roadtrip
sculpture
Seattle
show
sights
sightseeing
tour
tourist
Trafalgar
travel
travelblogger
view
Washington
Washington State
water
world
We were lucky enough to be invited to a Maori cultural group to mingle with women and children. We learned the craft of making instruments. And then we enjoyed singing along (with song sheets) with everyone from kids to their grandparents. All ages joined together to sing – and the kids knew all the words! People are wonderfully inviting all over the world.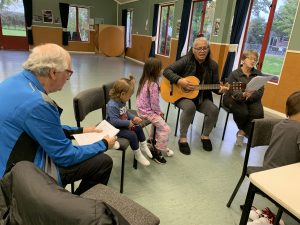 Kids get to climb through a clear tunnel in the shark tank at the Ripley's Aquarium of Toronto. Sharks swarm around them. Phooey, I couldn't fit in…
.
We were totally surprised to find a dozen kids aboard our Trafalgar Costsaver escorted tour through Europe. They sure were lucky to go and they sure had fun.
.
When in London, kids make a pilgrimage to the Kings Cross tube station where Harry Potter left for Hogwarts on special platform numbered 9 3/4. When we first visited this spot, a decade ago, there was the simple sign on the wall. It was a real treasure hunt to find it in the station.
Nowadays, it's very easy. Just look for the giant lineup of kids and their parents willing to pay to take photos in front of it – AND- the very busy shop next door selling everything Harry Potter possible. You don't need to pay to get into the Tube to get to this part of the station.
Is there a place that can be more synonymous to Halloween then Salem, Massachusetts?  Throughout the entire month of October visitors of all ages flock there for the ultimate Halloween experience. Whether it's haunted houses, historic landmarks, costume parties, ghost tours, historic tours, events, psychic and tarot readings, witch and magical shops, Salem's Haunted Happenings, a festive celebration of Halloween and fall in New England, offers a plethora of unique one of a kind Halloween experiences.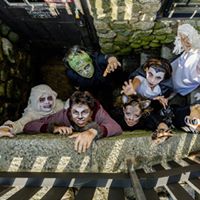 Oct 13th:
12th Annual Witch City 5K Road Race– Salem Willows Park 167 Fort Ave. 9:00 am. 12th Annual Witch City 5K Road Race. Run through Boo-tiful Historic Salem. Get your best running costume ready for this annual Salem Haunted Happenings Event. A great way to begin your day of Halloween fun in Salem. Let the kids join the Halloween costume fun with the Spooktacular Kids Broom Dash. Post-race awards, costume contest, music, photos, refreshments and more. Witch City 5K
Haunted Harmonies A Capella Festival – Haunted Harmonies is a one day A Cappella Festival. Vocal Group Competition-2pm, Tabernacle Church (50 Washington St.) Free and open to the public. Street Singing-4:30pm-6pm, Essex Street Pedestrian Mall. Free. Evening Concert-7:30pm, Tabernacle Church (50 Washington St.) See website for tickets. Haunted Harmonies
Howl-O-Ween Costumed Pet Parade – Derby Wharf, Salem Maritime Historic Site, 160 Derby St. 1 pm-2:30 pm. The event will include plenty of fun and games and a parade and costume contest with prizes. The event is free, though attendees wishing to participate in the parade will be asked to register. Further details: Howl-O-Ween Parade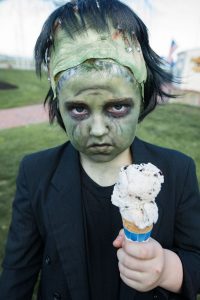 Dark Of Night At Pioneer Village– Pioneer Village, West Ave. – Forest River Park.  Starting at 7pm. In candle-lit cottages at the dark forest's edge, ghostly tales are told. An annual event for those lucky enough to experience the village in October. Seating is limited. Parking is free. Schedule and ticket purchase: Dark Of Night
Oct 14th: MDA Halloween Witch Ride- 11am. Scenic ride from Boston Harley-Davidson at 649 Squire Rd. in Revere to Shetland Park in Salem. All bikes welcome. Register
Oct 19th: Tony Moran At Count Orlok's – Oct. 19, Oct 2o, Oct 21 – Count Orlok's Nightmare Gallery 217 Essex St. (978) 740-0500 Special celebrity guest Tony Moran, known as the face of Michael Myers in the film "Halloween" will be appearing at Count Orlok's for a meet and greet and autographs. Count Orlok's Nightmare Gallery
Oct 20th: Haunted Grace – Phantom of the Opera – Grace Episcopal Church, 385 Essex St. 7:30-9:30pm. Love Gothic buildings and silent movies accompanied by spooky organ music? Haunted Grace is back with a chance to watch the original 1925 Phantom of the Opera with a live soundtrack played on the organ at local Gothic Grace Church. Info and tickets
Jerry's Fright Fair – Oct 20, Oct 21, Oct 27, Oct 28- 301 Essex St. 10am-7pm. 2 floors of vendors/artists selling mostly Halloween themed merchandise, artwork, jewelry, crafts and more! Info
An Evening with Edgar Allan Poe– Remix Church, 9 Church St – 6-7 pm  special guest, the dearly departed Edgar Allan Poe returns to Salem in a theatrically eerie setting, performing dramatic readings of "The Raven" and "A Tell-Tale Heart." Mister Poe will answer all your deepest, darkest questions about his life, his work and his mysterious death. Information and tickets
Oct 21: Trick Or Treat On The Wharf – Pickering Wharf, Derby St. at Congress St.  5pm to 7pm  Join the businesses on Pickering Wharf for this annual event that is free and open to the public. Children can give their costumes a test run at Pickering Wharf in Salem – participating establishments will be offering treats for kids.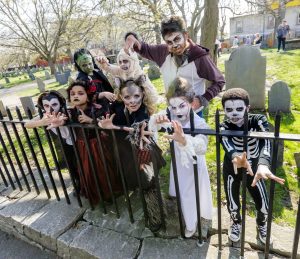 Oct 27: Devils Chase 6.66 Miler and Creepy Clown 3.33 Miler – Soccer Field, Salem Willows, Salem, Ma. (Other Side of 129 Fort Ave)  6:30am registration – 8am start time. The Devils Chase 6.66 Mile Run, named to the Top Nine Costume Runs in the World, is the best and most unique event you will run in all year long. 98% of participants dress up in devil-themed costumes. New this year,  a 3.33 Miler for our runners that want the same fun of the Devils Chase 6.66 Miler with half the run. People from all over the world venture to Historic Salem for one hell of a good time and a great run past a variety of Salem's well known landmarks.  Devil's Chase and Creepy Clown 3.33
Tales at the Witch House – The Witch House  310 Essex St. 978-744-8815. Starting at 7pm. Don't miss a macabre tales of superstition and murder. Move through the darkened rooms of the Witch House by lantern light as the story is performed by costumed actors. Stories begin every half hour and last about a half hour.  Tales At The Witch House
Haunted Grace – Nosferatu – Grace Episcopal Church, 385 Essex St. 7:30-9:30pm. Love Gothic buildings and silent movies accompanied by spooky organ music? Haunted Grace is back with a chance to watch the original 1922 Nosferatu with a live soundtrack played on the organ at local Gothic Grace Church. Info and tickets
Oct 31: 27th Annual TNW Samhain Witches Circle – The Temple of Nine Wells -ATC Ceremony at Gallows Hill Park, 5:30pm-7:30pm. Members of the Temple of Nine Wells Community, local Witches and Pagans and visitors from all over the world will gather at Gallows Hill park on Samhain Night. Dress warmly and walk with them to the site at 4:30pm from NU AEON at 88 Wharf St. After the rite, return to the heart of downtown Salem in the annual Commemorative Candle Light Walk.  Samhain Witches Circle
Closing Fireworks Display – 10:15pm Washington St./Bridge St. Overpass. Official conclusion of Salem's Halloween celebration.
On Going Events:


Imprisoned! 1692 : Essex National Heritage Area, 35 St. Peter. St. Weekends in October. Experience the horrors of the Old Witch Gaol (jail), the actual location where many accused were held during the infamous trials. There's no turning back now. On the eve of the deadliest night of the Witch Trials, the jailer will guide you to hear the stories of the convicted and their final pleas. Their fate has been chosen, but is it deserved? They will let you come to your own conclusions. Information and tickets
Witchery – Musical Play Written Just for Salem: Ames Hall, YMCA, 290 Essex St. 800-838-3006 Fridays Oct. 5 & 12 – 7pm; Saturdays Oct. 6 & 13 – 2pm & 7pm; Sundays Oct. 7 & 14 – 2pm. Witchery is a live, fun filled musical play. A lost little witch falls off her mother's broomstick on Halloween night into the land of Salem Massachusetts. Let's all help the witches, warlocks, ghosts and turkeys find her, in this fun musical for all ages. Live actors, Live music. Witchery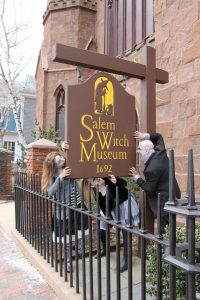 Salem Witch Museum 19 1/2 Washington Square North 978-744-1692 – Do you believe in witchcraft? At this museum get an understanding into the complex perception of witches, "from midwives and healers to witch hunts and Wiccans." Salem's most visited museum presents the witch hysteria of 1692 in an educational, thought-provoking, and a bit spooky way. You'll learn about the event leading up to the witch trials, and what life was like in Salem.salemwitchmuseum
The Tarot Experience – Moon Witch: The Witchery, 61 Wharf St. 339-203-1307  This October, immerse yourself in The Mysteries! Moon Witch is their latest Tarot Experience event, featuring live music, performance, spoken word and video. Explore witchcraft & moon magick along with themes from the tarot in new and thought-provoking ways.​ Running time is about 30 minutes. Moon Witch is a 13+ event. Schedule and tickets: Moon Witch
The Salem Haunted Magic Show – Hysteria: Oddities!: St. Peter's Church Hall Theater, 24 Saint Peter's St. September 29-November 2. A New Live 75 minute show HYSTERIA: Oddities! A unique blend of inconceivable magic, bizarre demonstrations of mind reading, wild comedy, and interactive audience participation. The show focuses on the mysterious and sometimes frightening world of the circus sideshow with incredible demonstrations of bizarre and scary magic, along with classic sideshow stunts like walking on broken glass, swallowing swords, beds of nails and eating lightbulbs . Showtimes and tickets: Salem Haunted Magic Show
Witch Mansion: 186-1 Essex Street, Museum Place Mall  978-825-1300 – Witch Mansion claims to be Salem's scariest haunted attraction. Built by a professional haunted house design firm, this eerie adventure is guaranteed to give you Chills and Thrills. Along with high-tech animations and creepy ghost illusions in 4D. You won't believe your eyes as you enter a twilight world of ghosts, beasts and banshees.  Witch Mansion
House Of Seven Gables October Performances:  October 5-27, House Of 7 Gables – 115 Derby St. 978-744-0991.SPIRITS OF THE GABLES:Get swept into Hawthorne's tale of guilt, greed and revenge as the characters from The House of the Seven Gables (1851), come to life and recount their stories while you walk through the very house that inspired Hawthorne's timeless novel. LEGACY OF THE HANGING JUDGE: Legacy of the Hanging Judge takes visitors back through Nathaniel Hawthorne's birth home to the events of the infamous Salem Witch Trials, through the eyes of the author, whose own ancestor, Judge John Hathorne had a hand to play in the tragic events of 1692. Performances begin every ten minutes in The Nathaniel Hawthorne birth house and last approximately 35 minutes. Last performance begins at closing. Combination tickets available. Reservations highly recommended. October Nights At The Gables

Whether you go by broom, by trolley or by foot, abandon all hope and surrender to the spell of Salem! There's nothing quite like spending Halloween in Salem, always jam packed with fun and spooky things to do.
Dates: Various
Times: Various
hauntedhappenings.org
For Regional Accommodations, Restaurants & Attractions: bostonusa.com
Photo Credit: John Andrews Photography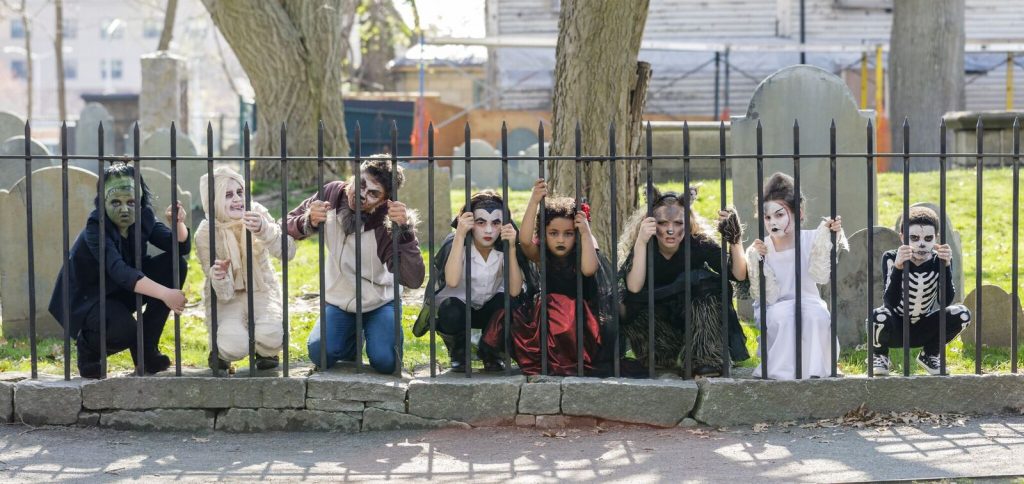 A fall tradition at the Roger Williams Park Zoo, is the Jack-O-Lantern Spectacular, attracting more than 100,000 visitors for this truly "spectacular" event.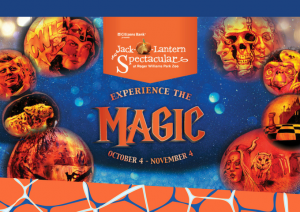 Don't miss this year's show that includes more than 5,000 intricately carved pumpkins featuring scenes of wizards, fairytales, and the luminaries of great myths and legends, alongside superheroes, and historical figures who changed the world. Revel in the sights and sounds of the season, and celebrate this otherworldly experience. This seasonal art show aims to delight and amaze the whole family, and not to scare anyone. – Tickets on-sale now
You can also experience the Soaring Eagle Zip Ride during the Jack-O-Lantern Spectacular. From 115 feet above riders enjoy an aerial view of the park and admire the plethora of jack-o-lanterns from above. Get an eagles-eye view over Providence and into Narragansett Bay in comfortable side-by-side seats.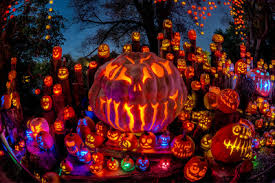 There are also a number of Special Events taking place which are included in the price of admission (with the exception of Spooky Zoo and Boo at the Zoo Family Overnight). Kids and adults are encouraged to wear costumes; masks are not permitted for teens/adults over age 12.

Children's Fairy Tale Nights – Wed and Thurs, Oct 10th & 11th @ 5:30pm-8pm: Meet beloved children's fairy tale characters.  Take pictures with Peter Pan, Cinderella, Snow White, Robin Hood and favorite Dr. Seuss characters such as the Cat in the Hat and the Grinch.  As the sun sets, find your favorite fairy tales characters intricately carved on the pumpkins.
Wizarding Nights – Wed and Thurs, Oct 17th & 18th @6pm-8pm:
Wizards and witches get your wands, mount your brooms and fly on over to meet some of the characters from J.K. Rowling's beloved series.  Before you embark on the pumpkin trail, try a butter beer or a chocolate frog.  Then travel the pumpkin trail, and identify characters and scenes from the wizarding world.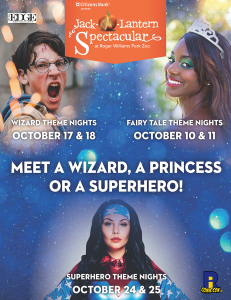 Super Hero Nights – Wed and Thurs, Oct 24th & 25th @6pm-8pm:
Comic book fans might meet Black Panther, Captain America, Iron Man, Spider Man, and the gang, take a photo, and find out how they all save the world.  As the heroes go back out to fight evil, find your hero's pumpkin on the pumpkin trail.
Spooky Zoo – Sat and Sun, Oct 27th & 28th:
Spooky Zoo is back, offering daytime outdoor autumn activities for the whole family.  Come trick-or-treat (while supplies last)  beginning at 10:30 am on the Treat Trail by the red wolf exhibit. Kids and adults will enjoy a packed schedule of seasonal activities. Activities are free with Zoo admission and all children 12 and under dressed in costume get in for half price.
Boo at the Zoo Family Overnight – Sat, Oct 20th and Sat, Oct 27th, 2018:
Snooze at the Zoo for the wildest family overnight adventure in town. The night begins with pizza and ice cream before educators engage you and your children in an owl pellet dissection, program animal encounters, and give you VIP access to the world famous Jack-O-Lantern Spectacular. Set up your sleeping bags in the Meller-Danforth Education Center with popcorn and a movie to snooze to. You'll need your zzzzs before waking up with the animals. A light breakfast will be provided before a morning Zoo tour.
The Jack-O-Lantern Spectacular takes place 7 days a week. Take advantage of Value Nights, Mon-Thurs, which will save you a bit of money and are usually less crowded.

Location: Roger Williams Park Zoo, 1000 Elmwood Ave, Providence, RI 02903
Dates: Oct 4 – Nov 4, 2018
Times: 6 – 11 p.m. (last admission at 10pm)
Tel: 401-785-3510
rwpzoo.org/plan-your-visit/events/jack-o-lantern-spectacular
For Regional Accommodations, Restaurants & Attractions: goprovidence.com
The first annual Oinktoberfest will be held at the American Legion Grounds in Roanoke Rapids, NC. The gates will open at 2pm and live music starts at 3pm and the live music won't disappoint.
Included in the price of the ticket is the entertainment, which includes four bands playing live for you plus all you can eat of some of the finest BBQ and Sides  served by FoSho from Emporia, VA. Food will include BBQ Pork & Chicken along with the sides and sweet and unsweet tea.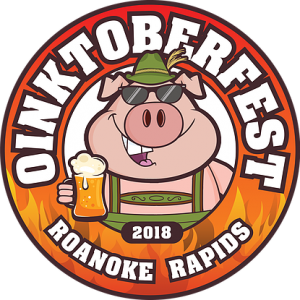 The reason for this event is to help their local Sheriff, Wes Tripp, and his program raise money to buy bicycles benefiting the Kids of Halifax County, NC. This event will also benefit the American Legion and the Veterans Museum of Roanoke Rapids, NC.
Live Music, BBQ, and Good Times – go out and join an afternoon of fun and help out a great cause. Please note: No Tickets Will Be Sold At The Gates and this event has limited tickets, Get Your Tickets Here ...Get Tickets
SCHEDULE OF EVENTS…
3 – 4pm: The 7100 Band (Rock and Country)
4:30 – 5:30pm: Tommy McCoy (Blues)
6 – 7:30pm: Sidewinder Reunion (Rock)
8 – 9:30pm: Colt Ford
Event Will Be Held Rain or Shine.
Location: 717 American Legion Rd , Roanoke Rapids, NC 27870
Date: Sat, Oct 6, 2018
Time: 3pm-9:30pm (Gates open at 2 pm)
Tel: 252-536-3115
oinktoberfestnc.com
For Regional Accommodations, Restaurants & Attractions: visithalifax.com
The Ormond Beach Community Day is a fun filled event for the whole family. All the fun takes place on Saturday, September 29th from 11am to 4pm at Destination Daytona.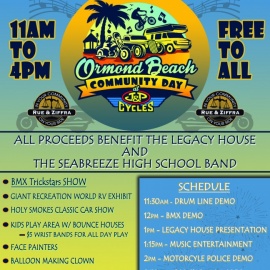 This free community non-profit charity event features outstanding food, live music, vendors and entertainment including a professional  BMX Trickstars shows, classic car show, RV exhibit with Giant Recreation World, Motorcycle Police Demos,  drum line performance, a visit from the National Guard, top 40 hand picked Hot Rod show, kids play area with face painting, balloons, bounce house, and all full day of live music.
Location: Destination Daytona, 253 Destination Daytona, Ormond Beach, FL 32174
Date: Sat, Sept 29, 2018
Time: 11am – 4pm
Tel: 386-868-8484
For Regional Accommodations, Restaurants & Attractions: daytonabeach.com