Tag Archive
activity
architecture
art
artist
building
Canada
children
city
CostSaver
downtown
drive i-95
entertainment
Europe
event
exhibit
family
festival
Florida
food
fun
historic
History
landmark
local
Museum
music
Nature
New Zealand
Ontario
roadtrip
sculpture
Seattle
show
sights
sightseeing
tour
tourist
Trafalgar
travel
travelblogger
view
Washington
Washington State
water
world
A fall tradition at the Roger Williams Park Zoo, is the Jack-O-Lantern Spectacular, attracting more than 100,000 visitors for this truly "spectacular" event.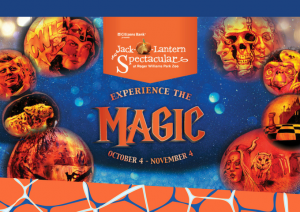 Don't miss this year's show that includes more than 5,000 intricately carved pumpkins featuring scenes of wizards, fairytales, and the luminaries of great myths and legends, alongside superheroes, and historical figures who changed the world. Revel in the sights and sounds of the season, and celebrate this otherworldly experience. This seasonal art show aims to delight and amaze the whole family, and not to scare anyone. – Tickets on-sale now
You can also experience the Soaring Eagle Zip Ride during the Jack-O-Lantern Spectacular. From 115 feet above riders enjoy an aerial view of the park and admire the plethora of jack-o-lanterns from above. Get an eagles-eye view over Providence and into Narragansett Bay in comfortable side-by-side seats.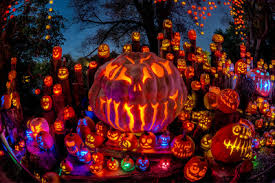 There are also a number of Special Events taking place which are included in the price of admission (with the exception of Spooky Zoo and Boo at the Zoo Family Overnight). Kids and adults are encouraged to wear costumes; masks are not permitted for teens/adults over age 12.

Children's Fairy Tale Nights – Wed and Thurs, Oct 10th & 11th @ 5:30pm-8pm: Meet beloved children's fairy tale characters.  Take pictures with Peter Pan, Cinderella, Snow White, Robin Hood and favorite Dr. Seuss characters such as the Cat in the Hat and the Grinch.  As the sun sets, find your favorite fairy tales characters intricately carved on the pumpkins.
Wizarding Nights – Wed and Thurs, Oct 17th & 18th @6pm-8pm:
Wizards and witches get your wands, mount your brooms and fly on over to meet some of the characters from J.K. Rowling's beloved series.  Before you embark on the pumpkin trail, try a butter beer or a chocolate frog.  Then travel the pumpkin trail, and identify characters and scenes from the wizarding world.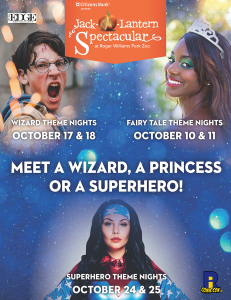 Super Hero Nights – Wed and Thurs, Oct 24th & 25th @6pm-8pm:
Comic book fans might meet Black Panther, Captain America, Iron Man, Spider Man, and the gang, take a photo, and find out how they all save the world.  As the heroes go back out to fight evil, find your hero's pumpkin on the pumpkin trail.
Spooky Zoo – Sat and Sun, Oct 27th & 28th:
Spooky Zoo is back, offering daytime outdoor autumn activities for the whole family.  Come trick-or-treat (while supplies last)  beginning at 10:30 am on the Treat Trail by the red wolf exhibit. Kids and adults will enjoy a packed schedule of seasonal activities. Activities are free with Zoo admission and all children 12 and under dressed in costume get in for half price.
Boo at the Zoo Family Overnight – Sat, Oct 20th and Sat, Oct 27th, 2018:
Snooze at the Zoo for the wildest family overnight adventure in town. The night begins with pizza and ice cream before educators engage you and your children in an owl pellet dissection, program animal encounters, and give you VIP access to the world famous Jack-O-Lantern Spectacular. Set up your sleeping bags in the Meller-Danforth Education Center with popcorn and a movie to snooze to. You'll need your zzzzs before waking up with the animals. A light breakfast will be provided before a morning Zoo tour.
The Jack-O-Lantern Spectacular takes place 7 days a week. Take advantage of Value Nights, Mon-Thurs, which will save you a bit of money and are usually less crowded.

Location: Roger Williams Park Zoo, 1000 Elmwood Ave, Providence, RI 02903
Dates: Oct 4 – Nov 4, 2018
Times: 6 – 11 p.m. (last admission at 10pm)
Tel: 401-785-3510
rwpzoo.org/plan-your-visit/events/jack-o-lantern-spectacular
For Regional Accommodations, Restaurants & Attractions: goprovidence.com
This city throws a birthday party every year for its famous first citizen, George Washington, who lived here most of his life (when he wasn't off leading a war or being first president of United States). He was born February 22. 1732 in Virginia and Alexandria commemorates with  George Washington-themed events throughout the month each February.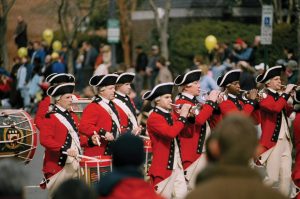 In the spirit of the old cherry tree tale, from now until Feb 11th, Alexandria restaurants are challenged to a very cherry culinary contest. At participating restaurants diners are encouraged to vote for their favorite cherry drinks, starters, entrees and desserts.
(703) 829-6640 For participating restaurants and more info: washingtonbirthday.com/events-1/2017/1/29/cherry-challenge   Photo Credit: Tisara Photography
How about a Walking with Washington Tour. Walk in George Washington's footsteps through his hometown, historic Alexandria. View some of the sites connected to the General, like where he filled his prescriptions or slept overnight. FREE
Begin your journey: Ramsay House Visitors Center, 221 King Street, Alexandria, VA 22314
Dates: Sun. Feb 5, 12, 19, 2017
Time: 2 -3:30pm
washingtonbirthday.com/events-1/2017/2/5/walking-with-washington
Historic Alexandria "Open House" : In honor of the birthday of George Washington admission is FREE to the following sites on Parade Day.
Gadsby's Tavern Museum (134 North Royal Street, Alexandria, Virginia), 11:00 a.m. – 4:00 p.m.
Friendship Firehouse Museum (107 S. Alfred St., Alexandria, Virginia), 10:00 a.m. – 4:00 p.m.
Old Presbyterian Meeting House (323 South Fairfax Street, Alexandria, Virginia), 10:00 a.m. – 4:00 p.m.
The Lyceum (201 S. Washington St., Alexandria, Virginia), 10:00 a.m. – 4:00 p.m.
Carlyle House (121 N. Fairfax St., Alexandria, Virginia), 11:00 a.m. – 4:00 p.m.
Stabler-Leadbeater Apothecary Museum (105-107 S. Fairfax St., Alexandria, Virginia), 11:00 a.m. – 4:00 p.m.
Christ Church (118 N. Washington St., Alexandria, Virginia), 9:00 a.m. – 4:00 p.m
Date: Mon, Feb 20, 2017
Time: 9am – 4pm
washingtonbirthday.com/events-1/2017/2/20/historic-alexandria-open-house
Throughout the weekend, participate in public wreath-layings at the Washingtons' Tomb, see 18th-century dancing demonstrations and character performances, and enjoy birthday cake with "General and Martha Washington." Feb 18 & 19: Included in admission.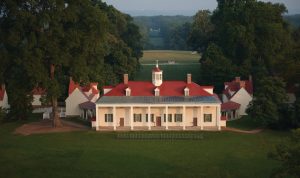 Photo Credit: Mount Vernon

On February 20, see the Official Observance Ceremony of George Washington's Birthday, a special military demonstration, and a musical salute to the first president. The Pioneer Farm will also be open on this day. Admission is FREE
Photo Credit: Mount Vernon

The celebration continues on February 22 as Mount Vernon offers FREE admission on George Washington's actual birthday.
Dates: Feb 18, 19, 20, 22, 2017
Time: 9am – 4pm
mountvernon.org/plan-your-visit/calendar/events/celebrate-washingtons-birthday-on-presidents-day/
For Regional Accommodations, Restaurants & Attractions: visitalexandriava.com
Why not have loads of belly laughs on your next trip? There are a few ways to cut costs and take in the hysterical Montreal Just for Laughs comedy festival inexpensively. Here's all the FREE events:
On July  21st, Weird Al Yankovic is doing a free outdoor concert as part of  "The Mandatory World Tour". The Scène Vidéotron will be presenting various free activites at 7pm every day and shows at 9pm.
The Street Arts Festival has acts performing for free in and around Place des Arts. Starting at 1 pm each day, the colorful Place de la famille le Lait will offer its load of shows and activities including a merry-go-round for kids and all the family
Also for your family entertainment, the Labyrinthe V8 will be open from 6pm during weekdays and from noon during weekends.
Every night from 4pm-3am, the Melting Pot, set on the Esplanade de la Place des Arts, invites party goers to enjoy great music presented by various international DJs.
From July 23rd to July 25th, the Zoofest Festival will take place on the Parterre des artistes. Nicknamed Le Spot, this 3-days outdoor celebration will feature the craziest, funniest and talented emerging artists.
At the Le Mondial des Jeux Loto-Québec set on Maisonneuve Blvd, you can get to play various table games and board games. In the center of the Complexe Desjardins, you are invited to discover and play the latest and the classic video games. Plus, you will have the opportunity to show off your skills in friendly competitions. Kids and grown-ups will also be able to show their talents at the Complexe Desjardins in a drawing contest.
www.hahaha.com
http://mondialdesjeux.com/en/

TICKET DEALS
The best deal by far is the OFF-JFL pass. It costs $49.50 and you get to choose 3 tickets to any of the 100 or so OFF-JFL shows. Also included is that each day from July 22-25, you get an additional free ticket for an OFF-JFL show.
OFF-JFL has a lineup of artists performing at smaller venues where the shows are much more intimate, The lineup this year is absolutely incredible. I really laughed at Ethnic Show headliners Alonzo Bodden, Ahmed Ahmed and Gina Yashere who are on this list.
There are a number of package deals for tickets. There are the tourism packages in which you can stay overnight in a hotel, be right downtown in the midst of all the action, and take in the Gala of your choice starting at only $200 (for 2). There are also multi-show passes available which cuts costs.
Last minute tickets can be purchased at the box office on the corner of Jeanne Mance and Sainte-Catherine.
FOOD

Bouffons! Mtl is a gourmet novelty set on Sainte-Catherine street so festival-goers have the chance to experience a full range of new flavors that will definitely live up to anyone taste buds. Meet chefs, enjoy local products and taste delish dishes from the best food-trucks in the city. The festivities will start at noon every day, inside and outside. For the inside action, look for the Bouffons sign near Clark.
At the Melting Pot on the Esplanade de la Place des Arts, there will be a DJ set every evening and look for the 2 for 1 deal on the burger trio. At Arthur,  during Happy Hour 5-7, you can find 2 for one liquid deals.