Tag Archive
activity
architecture
art
artist
building
Canada
children
city
CostSaver
downtown
drive i-95
entertainment
Europe
event
exhibit
family
festival
Florida
food
fun
historic
History
landmark
local
Museum
music
Nature
New Zealand
Ontario
roadtrip
sculpture
Seattle
show
sights
sightseeing
tour
tourist
Trafalgar
travel
travelblogger
view
Washington
Washington State
water
world
Get your phone's ready to snap pix of the silly corrugated iron sculptures all over this town. Here's a cute story: In 1986, Otorohanga briefly changed its name to "Harrodsville". This was to protest the threat of a lawsuit against restaurateur, Henry Harrod of Palmerston North. Mohamed Al Fayed (yes that one – Diana's boyfriend's father), was the owner of Harrod's department store in London and wanted him to change the name of his restaurant.
As a show of solidarity for Henry Harrod, the District Council suggested that every business in Otorohanga change its name to "Harrods". The town's name was even temporarily changed to Harrodsville. After being mocked in the British newspapers, Al Fayed dropped the legal action and Harrodsville and its shops reverted to their former names.
Sometimes when you have a small plate table d'hote run of many dishes, you get hits and misses. Not at Embers Smokehouse and Grill in Sault Ste. Marie We scarfed down plate after plate of perfectly paired dishes. The black swatch on the carpaccio plate was garlic and believe or not those fluffy green things are holding tacos. This farm-to-table restaurant is also chef- to-table . A memorable meal.
These are North Indian hot (both ways) appetizers served up in an adorable cart. I love it when you eat in a restaurant where you wind up with a collage of ethnic flavors which highlight Canada as a wonderful kaleidoscope of people. The butter chicken poutine says it all – east meets west in Sault Ste. Marie at Rasoi. In Hindi that name means kitchen, and the northern Indian fare here comes straight from home traditions.
https://www.rasoiindiankitchen.ca/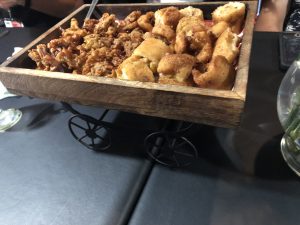 Could not find a way to lock the bathroom door inside of the huge bathroom at Broers Jansen resto. Found this square on the wall with the message, "Door locked when red, Unlocked when green. Had to push the button to turn the lights on and off to lock and unlock. What happens in a power failure?
.
Gustave Eiffel had an apartment in the tower to entertain guests. And you too can be wined and dined there. There are 2 restaurants and then a champagne bar at the top. We totally enjoyed our entire dining and viewing experience at Alain Ducasse's Jules Verne, which garnered one Michelin star. Though a set menu, it allows tourists to experience a "starred" moment in this famous city with less than sky high prices (but still expensive). Starting May 2019, it will be managed by three-star chef  Frédéric Anton. Guess we'll have to go again!
.
Behind Sacre Coeur Cathedral there is a touristy restaurant zone where you can enjoy a typical French meal before getting your spot in front of Sacre Coeur for the sunset. 3-course prix fixe meals are well priced at 16 – 23 euros (around $22-$28US) and are actually pretty tasty. Expect to find classic onion soup, beef Bourguignon, coq au vin, salmon, and apple tart for dessert. Don't order any soda – that's where they get you.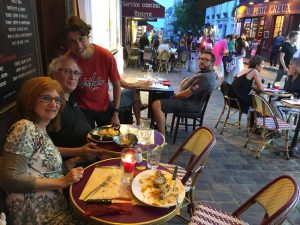 .
Ferries from London to Paris are way beyond what we thought. There are different restaurants, shops, arcade, and quite a number of types of seating including couches, arm chairs, banquettes and this lounger, our favorite. Two people can lie really really comfortably.
The 11th Annual Mystic Garlic Festival features freshly harvested local garlic, garlic infused goodies, music, and activities scattered throughout Olde Mistick Village.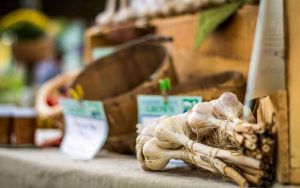 To celebrate the abundant fall harvest, farmers will present an amazing variety of Garlic for sale in addition to fresh produce. More farmers than ever will have honey, jams, preserves, ice cream, baked goods, and syrups.
Besides the proven health benefits of garlic,  there is just something irresistible about the aroma of roasted garlic. Throughout the day and evening, dozens of local restaurants and food service establishments will be serving, for purchase, delicious garlic related foods,  such as garlic fried dough and garlic fries, as well as non-garlic favorites.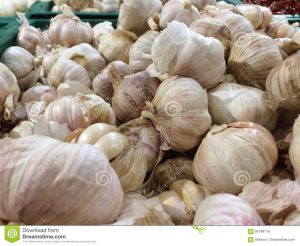 A host of merchants, artisans, authors and artists will line the pathways of Olde Mistick Village displaying their foods, crafts, gifts, and talents. Along with over 45 vendors, you will find Olde Mistick Village merchants offering garlic related activities or products at their stores.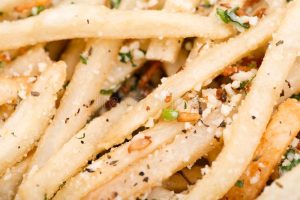 Don't miss the live birds of prey, reptile show, and martial arts demonstration.
So, you bring the mints and Olde Mistick Village will supply the flavor.  A great weekend of music, food, and family fun. Stroller friendly, Free entry and Free parking.
Location: Olde Mistick Village, 27 Coogan Blvd., Mystic, CT 06355
Date: Sept 15 – 16, 2018
Time: Sat 11am – 7pm, Sun 11am – 6pm
Tel: 860 -536-4941
oldemistickvillage.com
For Regional Accommodations, Restaurants & Attractions: thisismystic.com
It's the inaugural Mystic River Day, a day celebrating the Mystic River Community.
Festivities include: children's activities and games on the Mystic River Park green, discover Mystic River history,  many local non-profits, animal encounters, meet the Mystic Mermaid in the park – photo op, Sharkfest Swim, Kayak and SUP races down the Mystic River.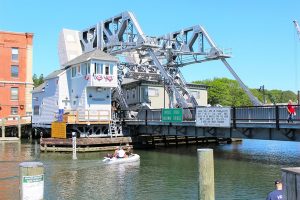 Cheer on the Mystic Sharkfest Swimmers from  8:30 am – 11:30 am, on their 1500 meter swim from Middle Wharf at Mystic Seaport, down the Mystic River, under the famous Bascule drawbridge, finishing at Dock A at Seaport Marine.
This swim will give you the perfect excuse to visit a classic New England seaport on Long Island Sound. The swim course will take you past the fully restored whaling ship, Charles Morgan and around the Mystic Harbor lighthouse and down river through the picturesque village that is steeped in shipbuilding history.
Participating downtown shops, restaurants, and bars will offer specials, discounts and extended happy hours throughout the day.
Location:Mystic River Park, Cottrell Street, Mystic, 06355
Date: Sun, July 8, 2018
Time: 9am – 2:30pm
Tel: 860-572-9578
thisismystic.com/event/mystic-river-day
For Regional Accommodations, Restaurants & Attractions: mysticchamber.org