Tag Archive
activity
architecture
art
artist
building
Canada
children
city
CostSaver
downtown
drive i-95
entertainment
Europe
event
exhibit
family
festival
Florida
food
fun
historic
History
landmark
local
Museum
music
Nature
New Zealand
Ontario
roadtrip
sculpture
Seattle
show
sights
sightseeing
tour
tourist
Trafalgar
travel
travelblogger
view
Washington
Washington State
water
world
What is pop culture without pop music? At MoPop in Seattle, this floor to ceiling column of guitars by Trimpin is called Roots and Branches and is made up of 700 instruments, 40 custom-made. It is computer controlled – self- playing Trimpin's compositions.
College students know pizza; a staple for them while living on or off campus. Over the years, this landmark for pizza in Maine, Pat's Pizza,  has become a favorite of University of Maine students offering delicious and affordable pizzas that won't disappoint. In fact, with deep roots in the community, it has been said that an education at the University is not complete without a Pat's Pizza.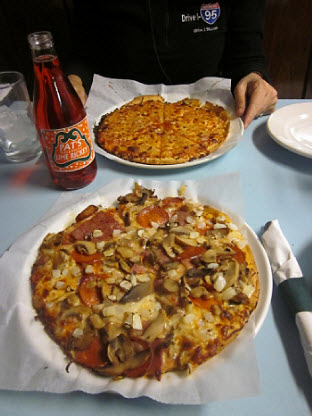 Opened in 1931, and still churning out 700 pizzas a night, this 2nd generation family business (now with 19 locations) is famous in Maine. Step into over 50 years of history with this old time pizzeria, at their original location, with its original Formica counters and slate foot rests.
The thin, soft, light crust melts in your mouth, and the toppings are put on evenly so that there's a taste in every bite. Made with freshest ingredients, 35 toppings like: specially made pepperoni, pine nuts, hot dog, kielbasa, zesty olives or eggplant, there is a pizza just for you! They even make gluten-free pizzas or double -dough pizzas.
The Pat's Combo is the most popular pizza with pepperoni, mushrooms, and Cotto salami on it. Not to mention the mouth-watering calzones, spaghetti and meatballs, sub sandwiches, wraps, salads and a Maine favorite red skin hot dogs too. Wash it down with Pat's own brand of sodas: strawberry, root beer, orange, grape, cream or Stan and Sandra's favorite – raspberry Lime Rickey, or try the local Moxie brand, made in Maine.
Buon appetito!
Location: 11 Mill Street, Orono, ME 04473
Hours: Mon-Fri 7am – 12am, Sat-Sun 7am – 1am
Tel: 207-866-2111
patspizzaorono.com/
For Regional Accommodations, Restaurants & Attractions: visitbangormaine.com
The Richmond Folk Festival carry's forward the 12-year tradition established by the hugely successful National Folk Festival celebrating the roots, richness and variety of American culture through music, dance traditional crafts, storytelling and food. The event takes place at downtown Richmond's  historic riverfront from 2nd to 7th streets and from Byrd Street to the river – including Brown's Island, The American Civil War Museum at Historic Tredegar, portions of Federal Reserve parking lots, and Tredegar Street.

Richmond Folk Festival is where over 200,000 festival goers gather for three FREE days of music, dance, food and fun. Drawing in visitors from across the country with an eclectic mix of 40 artists performing on seven different stages with continuous music and dance performances, along with a Virginia Folk-life demonstration area, children's activities, a folk arts marketplace, regional and ethnic foods.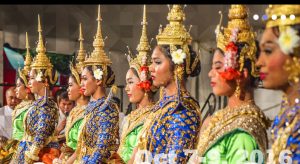 Among the artists to be featured at the 2016 Richmond Folk Festival are: Gary U.S. Bonds and Gene "Daddy G" Barge, (Norfolk Sound), Canzoniere Grecanico Salentino (Southern Italian pizzica tarantata), The Fairfield Four (African-American gospel singing quartet), Geno Delafose & French Rockin' Boogie (zydeco), Natalie MacMaster & Donnell Leahy (Cape Breton and Ontario fiddling), Joe Mullins & the Radio Ramblers (bluegrass), Homayoun Sakhi and Salar Nader (Afghan rubâb and tabla), Sheila Kay Adams (Appalachian songs, stories and ballads). Check the website for complete list of performers/schedule.richmondfolkfestival.org/docs/event_schedule
Expect lots of great food: ethnic, regional and traditional foods to delight guests and showcasing a wide variety of tempting foods to compliment the spirit of the festival. From classic festival fare to exotic flavors from around the globe, there's definitely something to tickle your tastebuds.
Location: Downtown Richmond's Riverfront, Brown's Island Park,Richmond, VA 23219
Date: Fri, Oct 07  – Sun, Oct 09, 2016
Time: Fri 6 – 10PM, Sat 12 – 9:30PM, Sun 12 – 6PM
Tel: 804-788-6466
richmondfolkfestival.org
For Regional Accommodations, Restaurants & Attractions: visitrichmondva.com