Tag Archive
activity
architecture
art
artist
building
Canada
children
city
CostSaver
downtown
drive i-95
entertainment
Europe
event
exhibit
family
festival
Florida
food
fun
historic
History
landmark
local
Museum
music
Nature
New Zealand
Ontario
roadtrip
sculpture
Seattle
show
sights
sightseeing
tour
tourist
Trafalgar
travel
travelblogger
view
Washington
Washington State
water
world
Just like all over the world, people of similar backgrounds form social circles to keep their heritage intact. In Cambridge, NZ, we were invited to this Maori gathering to make our own poi balls. The balls are attached to long strings and swung rhythmically, one in each hand. Today, the women dancers perform the Maori poi. Men used it for strength and coordination and they were also used as a weapon during a battle. It is really hard to spin those balls.
Decided it's time to start looking and feeling better then this event is for you. On June 24, 2017, in Del Ray, Virginia (a neighborhood in Alexandria) "where Main Street still exists", it's the 4th Annual Well Ray Festival –  a community-wide effort to highlight resources for living healthily and happily.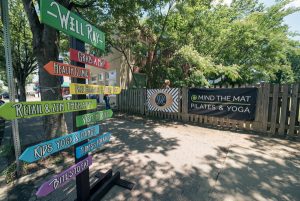 Browse health and lifestyle inspired tents, take free exercise classes, and enjoy therapeutic massages, acupuncture, physical therapy consultations, chiropractic adjustments, nutritional counseling and blood pressure screenings. Check out wellness-inspired fashion from local fitness clothing designers, jewelers, and boutiques.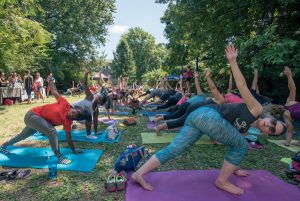 You will find the outdoor celebration of health and wellness at the following locations: the open field across from Mind the Mat Pilates & Yoga, the 2200 block of Mount Vernon Avenue will have Fitness Demos and classes (2213 Mt. Vernon Avenue), the Del Ray Farmer's Market for Cooking and healthy bites,  and the adjacent parking lot beside it (behind United Bank 2401 Mt. Vernon Avenue) and then the Mt. Vernon Recreation Center (2701 Commonwealth Avenue) for vendors, exhibitors, wellness presentations and more.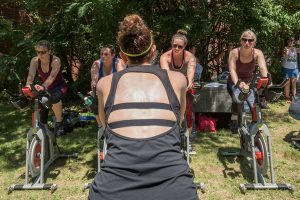 Win prizes and make sure to bring your mat and be prepared to move.  Enjoy free yoga, Pilates, CrossFit, Spin, Barre and dance classes led by fitness, health, and wellness experts. So much fun and the whole family can get involved in a healthy lifestyle.
Last year's SCHEDULE OF EVENTS:
8:15AM Outdoor Yoga with Mind the Mat
9:45AM Pilates Boot Camp with Mind the Mat
10:45AM CrossFit OldTown Kids Field Day (Sheriff's Department vs. Fire Department Tug-o-War)
11:45AM Outdoor Yoga with Mind the Mat
12:30PM Swet Ride/Barre Tech/TRUE Circuit 
1:30PM Stretch Class with Running Brooke
1:45PM Goal and Vision Setting with lululemon
THIRD FLOOR KIDS YOGA AND DANCE:
11-11:20AM/11:30-11:50AM/12:00-12:20PM Dance with TippiToes
12:30PM-2:00PM Yoga with YoKids
And lots of delicious and nutritious FOOD!  
Location: Along Mount Vernon Avenue, Del Ray, VA
Date: Sat, June 24, 2017
Time: 9am – 1pm
Tel: 703-683-2228
wellraydelray.com
For Regional Accommodations, Restaurants & Attractions: visitalexandriava.com
Bring Your Own Improv's Family Friendly Comedy Show is a rarity – a comedy club that you can bring your kids to.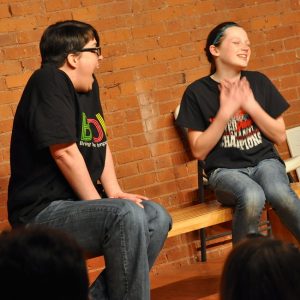 Bring Your Own Improv (BYOI) is now in its 10th season and family-friendly comedy shows are Fridays at 7pm. This interactive improv show welcomes voluntary audience participation, of all ages.
The format is similar to "Who's Line is it Anyways" where different games and scenes are set up. The troupe asks for audience input, the actors put their own spin on scenes, and the action changes constantly,  so no two performances are ever the same. They encourage you to participate in one of three ways: Applaud at a scene you like, yell out fantastic suggestions, or if you feel you're ready,  jump up and get involved with the performers on stage.
So if anyone in your family wants to flex their comic muscles or would just like partake and play along, the clever and creative cast will support you.  No worries, they only choose volunteers with hands up .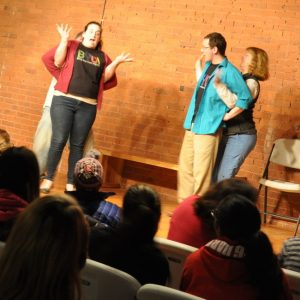 Why not start your weekend off with some laughs, the players are pros and know how to keep the audience entertained.  Sit back and chuckle your cares away with this fun, inexpensive night out with the family. This is a hidden gem if you're looking for something to do while on a family vacation in the Providence or Newport area. There's also a Late Night Comedy Show (PG-13) Fridays at 9pm.
For a list of all shows: bringyourownimprov.com/Shows.htm
Location: Warwick Center for the Arts, 3259 Post Rd., Warwick, RI 02886
Dates:  March Family-Friendly Shows –  Fri, Mar 3, 10, 17, 24, 31, 2017
Time: 7 – 8:30pm
Tel: 401-261-7678
bringyourownimprov.com
goprovidence.com/event/bring-your-own-improvs-family-friendly-comedy-show/29118/
For Regional Accommodations, Restaurants & Attractions: goprovidence.com