Tag Archive
activity
architecture
art
artist
building
Canada
children
city
CostSaver
downtown
drive i-95
entertainment
Europe
event
exhibit
family
festival
Florida
food
fun
historic
History
landmark
local
Museum
music
Nature
New Zealand
Ontario
roadtrip
sculpture
Seattle
show
sights
sightseeing
tour
tourist
Trafalgar
travel
travelblogger
view
Washington
Washington State
water
world
Just like all over the world, people of similar backgrounds form social circles to keep their heritage intact. In Cambridge, NZ, we were invited to this Maori gathering to make our own poi balls. The balls are attached to long strings and swung rhythmically, one in each hand. Today, the women dancers perform the Maori poi. Men used it for strength and coordination and they were also used as a weapon during a battle. It is really hard to spin those balls.
Francophiles and Lafayette enthusiasts, this concert is for you.  On Jan. 11, the Fayetteville Symphony will explore the area's heritage with the concert "The French Connection." The first chamber concert of the season at St. John's Episcopal Church will feature the Fayetteville Symphony String Quartet as they perform Ravel's String Quartet, a piece that is a cornerstone composition of French Impressionism.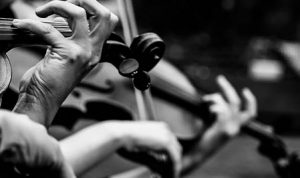 Founded in 1956, the Fayetteville Symphony Orchestra holds the distinction of being the oldest continuously-funded community orchestra in North Carolina. Fifty-one years later, their mission remains: To Educate. To Entertain. To Inspire.
Location: St. John's Episcopal Church, 302 Green Street, Fayetteville, NC 28301
Date: Thurs, Jan 11, 2018
Time: 7:30 – 9:30 pm
Tel: 910-433-4690
www.fayettevillesymphony.org/2017-2018-concerts
For Regional Accommodations, Restaurants & Attractions: visitfayettevillenc.com
On the Cosmos Tour to Prague, Vienna and Budapest, the first optional excursion was a typical Slavic evening in the well-known U Marčanů restaurant, and included folk music with Bohemian, Moravian and Slovakian singing and dancing, plus gypsy music and dancing. The performers were fabulous at getting the audience involved, and great fun ensued. A musical instrument called a cimbalon was played; it's a large, trapezoidal box with metal strings stretched across, and is played by striking two hammers against the strings.
Here's a short video of the cimbalon in action:
The  3-course meal accompanied by unlimited drinks (wine/ beer/soft drinks) started with my favorite food of the whole trip – halushka , little dumpling bits topped with cheese and  fried bacon (probably called bryndza) which is one of the the Slovak national dishes. Now we know why. The main course was pork on a skewer with delicate Lyonnaise potatoes, green beans and roasted potatoes.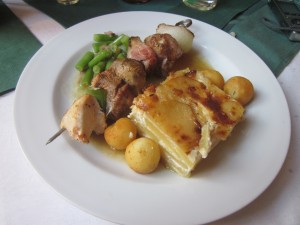 Everyone ate and laughed and enjoyed the evening.