Tag Archive
activity
architecture
art
artist
building
Canada
children
city
CostSaver
downtown
drive i-95
entertainment
Europe
event
exhibit
family
festival
Florida
food
fun
historic
History
landmark
local
Museum
music
Nature
New Zealand
Ontario
roadtrip
sculpture
Seattle
show
sights
sightseeing
tour
tourist
Trafalgar
travel
travelblogger
view
Washington
Washington State
water
world
To fully understand the impetus and experience of the Group of Seven Canadian painters' time in Algoma County, the Theatre in Motion is featuring a one-man show called Moments in Algoma, This group of Seven "experience" has an actor portraying painter Lawren Harris. It's being shown at the Heritage Discovery Center.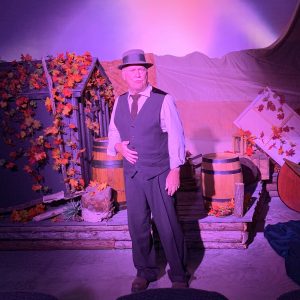 .
Heading down the Boulevard des Capuchines toward the Opera de Paris is still one of those OMG moments. It is way grander than you imagined.
.
This monument on the side of the Opera de Paris is dedicated to its architect, Charles Garnier. We loved the idea of putting the seating plan front and center.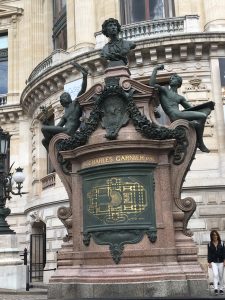 Let's start with the aim of the Teersi Duniya Theatre group itself, which is to highlight theater focusing on social justice. Different cultures get to take the stage, whether they be Indigenous, Palestinian, Israeli, Armenian, Rwandan, Iranian, Turkish or whatever. The theatre's goal, as mentioned by their artistic director Rahul Varma, is that we are all one people and it takes stories of everyone else to see ourselves.  Varma says, "the only way to tell stories in a new way is to get new storytellers into the room".
So Stephen Orlov's story Birthmark is about families. In writing this, he was asking himself why Jews who founded Israel to end their centuries of oppression were now dispossessing another people that had lived there for centuries. Michelle Soifer, the director, says we have in this play, "two young adults filled with passion and drive…  and the chutzpah to do something about it".
Canada as a nation is made up of many communities of people who may have been displaced by war and conflicts. Living here in Montreal we have Jewish and Palestinian cross currents. Though families  may have immigrated here and now raise their families in this safe haven, the memories of their living history or those of their parents will always shape them. The children get stuck between the two solitudes: perhaps the need to avenge their families' past or to just ride along safely here for their future.
Though this is a story of the Israeli vs. Palestinian conflict, it raises the universal problem of parents or caregivers who live with a family member who thinks differently, or even perhaps might be mentally challenged or elderly, and the parent must learn to live with the pain of not being able to fix things (which they might have caused), or even change them.
Natalie Tannous gives a strong performance as a mother conflicted by secrets in the past and fears for her child 's future.  Howard Rosenstein is her gentler counterpart, with his own untold secrets and the consequences of not listening to a child. Stephen Spreekmester creates two very different characters, and does them well – one of an observant Rabbi and one of a tough RCMP officer.  Patrick Keeler  as Nelson, the Jewish child finding solace in religion, and Dalia Charafeddine as Karima secretly planning revenge for her parent's death, give us two very realistic diametric opposites on both sides of this divide.
The simplicity of Sabrina Miller's set design, using floor squares and wall hangings to identify rooms, walls and doorways was very effective.
We learn that words matter: why do we refer to the Israelis as extremists but the Palestinians as terrorists?
Location: Mai Centre, 3680 Jeanne-Mance
corner: Milton
Dates: Nov 3-18, 2018
Price: $17 – $25
Tel: 514-982-3386
www.m-a-i.qc.ca
What better homage to Halloween for adults then The Rocky Horror Picture Show. For over four decades, The Rocky Horror Picture Show has been giving absolute pleasure to adoring audiences.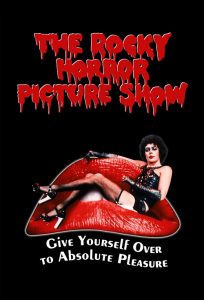 You aren't going to want to miss this interactive movie experience at the Theatre N Stage that combines film and live performers. A cult classic for more than forty years, The Rocky Horror Show is a humorous and sinfully twisted tribute to the science fiction and horror B movies of the late 1940s through to the early 1970s.
The musical tells the story of a newly engaged couple getting caught in a storm and take refuge in the eerie mansion of Dr Frank-N-Furter (Tim Curry),  a transvestite scientist. Brad and Janet meet a houseful of wild characters, including a rocking biker (Meat Loaf) and a creepy biker ((Richard O'Brien). Through elaborate dances and rock songs, Frank-N-Furter unveils his latest creation: a muscular man named "Rocky."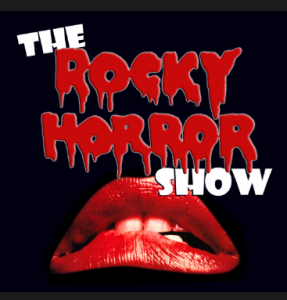 Costumes and audience participation are highly encouraged so get in touch with your inner Frankie and come to the party wearing your best Transylvanian costume. Sing along, shout along, and dance along having a great time with the featured live shadowcast.
Location:  Theatre N at Nemours , The Nemours Building, Wilmington, DE 19801
Dates and Times: Sat Oct 20 @11pm, Thurs, Fri, Sat Oct 25-27 @8pm
Tel: 302-571-4075
theatren.com
For Regional Accommodations, Restaurants & Attractions: visitwilmingtonde.com
On the night of April 14, 1865, President Abraham Lincoln was shot by the dashing young actor, John Wilkes Booth, at Ford's Theatre in Washington City. While Lincoln lay dying, his assassin was making his escape into Southern Maryland.
Over the next twelve days, Booth and his accomplice, David Herold, were tracked through the lower counties of Maryland and across the Potomac River into Viriginia. They were finally trapped at Garrett's Farm near Bowling Green, Virginia, where Herold was taken prisoner and Booth was shot and killed by federal troops. Herold was hanged along with Mary Surratt on July 7, 1865.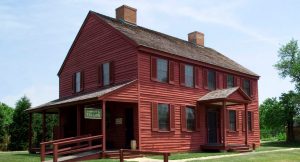 John Wilkes Booth Escape Route Tour – The Surratt Society sponsors tours each fall and spring along Booth's escape route. Many of the same roads and houses used by Booth are still in existence and are visited on this excursion which is narrated by nationally-recognized authorities on the Lincoln assassination and John Wilkes Booth's flight.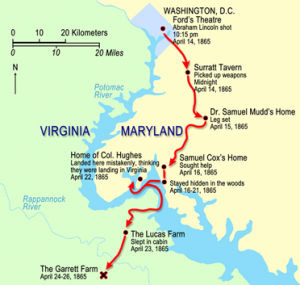 Follow the trail of President Lincoln's assassin from Ford's Theatre in Washington, D.C. to his death near Port Royal,  Virginia. Relax and enjoy the history and scenery on this
12-hour, fully narrated bus tour. The cost is $85 per person ($80 for Surratt Society members). Proceeds go toward the preservation of the Surratt House Museum which was the first stop on Booth's flight south.
To reserve your spot fill out this form.
Location: The Surratt House Museum, 9118 Brandywine Road, Clinton, MD 20735
Dates: Sat, September 8, 15 & 22, 2018
Time: 7 am –7 pm
Tel: 301-868-1121
surrattmuseum.org
For Regional Accommodations, Restaurants & Attractions: visitmaryland.org
Savannah VOICE Festival brings classical vocal excellence to Savannah, with over 25 performances, through a two week celebration of operas, concerts,  food and wine events, and masterclasses during the month of August.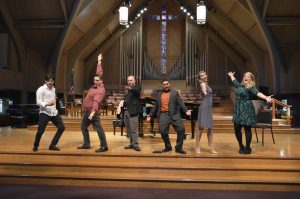 Every year, the Festival is inspired by a theme—2018's is "Stories Great & Small." Offering music from opera, musical theatre and song, this year's highlights include Verdi's La Traviata, Menotti's The Telephone, Humperdinck's Hansel and Gretel and Michael Ching's comedic opera Speed Dating Tonight!
It is a celebration of the classical voice with over 25 performances, including operas, concerts, food and wine events, and masterclasses. Offering music from opera, musical theatre and song, this year's highlights include Verdi's La Traviata, Menotti's The Telephone, Humperdinck's Hansel and Gretel and Michael Ching's comedic opera Speed Dating Tonight!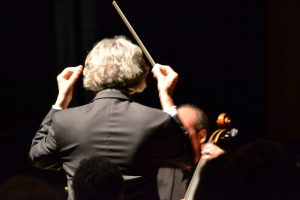 The sixth annual festival, will be staged Aug. 4-26, The Westin Savannah Harbor Resort is the backdrop for many events as well as in and around Savannah in a variety of venues. This will mark the second year of the festival's expansion to three weeks, treating patrons to several extra days of delightful musical offerings.
Through his VOICE Programs, legendary baritone Sherrill Milnes will take attendees on a lighthearted journey through memorable concerts featuring over 100 artists from 15 countries, who will share operatic stories from the past and present, and modern songs of today.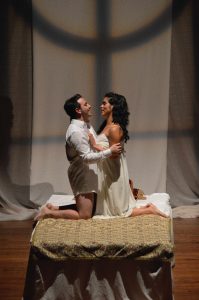 As part of the intensive programs of the Festival Season, opera industry leaders will offer the next generation of artists tools to improve their performance during hour-long mini master class sessions. The free mini master class series provides attendees with the opportunity to meet the faculty members of the VOICExperience Programs while learning more about vocal music, technique and about the "masters" themselves.
This non-stop celebration of the voice will impress the most avid fans and newcomers alike. For the complete 2018 line-up: savannahvoicefestival.org/festival-events

For Free Events: savannahvoicefestival.org/free-events
Location: Various
Dates: Aug 4 – 26, 2018
Times: Various – see schedule
Tel: 855-766-7372
savannahvoicefestival.org
For Regional Accommodations, Restaurants & Attractions: visitsavannah.com
Many of us enjoy a light read to while away a lazy summer afternoon. At the Hudson Village Theatre, you don't even have to read to have fun – you can just listen and watch as four women meet, mingle and moan – and become a family of friends.
The director, Ellen David, takes this (Jessie) Jones (Nicholas) Hope (Jamie) Wooten delightful script and gently guides the dynamic quattro of actors as they learn "what is holding you back from one's past and self-imposed limitations towards a compelling future".  This could be any one of us.
The performers David chose are as well cast and strong as the four sides of a square. Randa Covington (Jane Wheeler) has defined herself by her work, and doesn't know how to re-define herself beyond that. She tries to hold on to her safe proper business countenance, but is weighed down by feeling second best in her family. Marlafaye (Lisa Bronwyn Moore) gets the classic "dumped for a younger woman" part, so feelings of anger and rejection are keeping her from moving forward. "I swear the older you get the harder it is to jump start a new life", she says.
Dot (Kathleen Fee), the oldest of the bunch, has just lost her husband, the only man she has known, and with whom she had planned to retire. She has no idea how to figure out what comes next. Her subtle acting is deliciously wonderful as she delivers many funny zinger lines. Paula Costain as Jinx moves and talks with the right zippy attitude to convince them, as their new "life coach", to go (as David says)" beyond their comfort zone to a brave new world where they eventually find themselves". Jinx reminds us that her older sister (now incapacitated with dementia) taught her that "it's the happy in life that counts".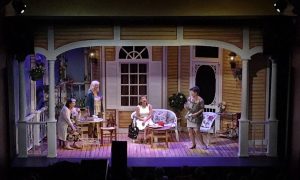 The set by Jean-Claude Olivier is a comfortable porch, so the women have an informal place to gently and liquidly reveal their sagas. As this is a "Sipping Society", drinking props (by Lea Robertson) were a fun challenge due to the many iterations of serving different kinds of alcohol. Marlafaye once toasted, "Girls, here's to living single and drinking doubles".
There were more costume changes than you would expect (by Elisabeth De Medeiros), creating a fashion show which helped define the scenes and the forward movement of their lives.
Jamie Wooten, one of the playwrights, was a writer for The Golden Girls, so the quality of their patter and the giggly one-liners is in the same genre of that hysterical show.  When Marlafaye sees Randa's house for the first time she opines, "Yeah, sure is a pretty place. Everything's so neat and clean. I'm not like that. Instead of cleaning my house, I just turn off the lights".  When Randa comments on drinking mead, "This really isn't so horrible", Marlafaye responds, "The very words I said on my wedding night".  Marlafaye also says,  "Sex is like a brownie – when it's good it's really good. And when it's bad….it's still pretty good!".
Andrea Romaldi, the artistic director writes, "friendships are our lifelines and support structures. Good friends cheer us, challenge us, bewilder us and irritate us, but ultimately they support and help us grow into our best selves". Head out to Hudson and lift a glass to friendship.
Location: 28 Rue Wharf, Hudson, QC J0P 1H0
Phone: 450- 458-5361
Dates: til July 22
https://villagetheatre.ca/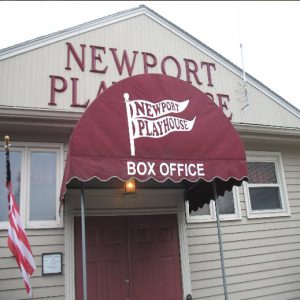 Looking for a great night out while you are on route…this dinner theatre will fit the bill. At Newport Playhouse and Cabaret Restaurant you can enjoy a great buffet, an entertaining play and a fun-filled cabaret all under the same roof. The air conditioned, handicap accessible theatre is conveniently located at the foot of the Newport Bridge and has plenty of parking.
Their expansive buffet does not skimp on quality or selection. Feast on a large variety of hot and cold foods, main entrees, side dishes, beverages and homemade desserts and everything is prepared on the premises.  Alcohol is available table-side or at the bar.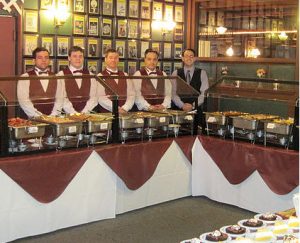 After dinner stroll into the theater, where you have reserved seating,  for a delightful comedy. After the play, return to the dining room for a cabaret filled with songs and laughter.
Now Playing: The Crazy Time – A laugh-filled look at the joys and perils of May/December romances. Miles has left his wife Kate for a younger woman whose youthful lifestyle is both exciting and exhausting. Kate has found a way to deal with her loss. Throw in a daughter with her own marital problems and Miles' scheming business partner Jerry, and you have all the makings of a full-fledged struggle between the sexes, as Kate and Miles deal with what they each have lost and gained.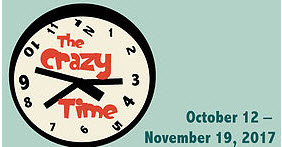 You have the choice to purchase Dinner Theatre or Theatre only tickets. The Newport Playhouse and Cabaret gives you a lot of bang for your buck, a full night (or afternoon) of entertainment.
Location: Newport Playhouse and Cabaret Restaurant, 102 Connell Highway,
Newport, RI 02840
Dates: Thurs, Oct 12 – Sun, Nov 19, 2017
Times: Matinee or Evening depending on the day
Tel: 401-848-7529
newportplayhouse.com
For Regional Accommodations, Restaurants & Attractions: goprovidence.com
Providence's 4th annual Fringe Festival, FRINGEPVD 2017 – will be held July 24-29, 2017 and it has grown rapidly since it started.
The Providence Fringe Festival (FRINGEPVD) is open to anyone who wants to produce their own show. For some artists, it's a once-a-year opportunity to create a show and for others it can be an opportunity to try something new.
This year more than three hundred individual theatre, music, dance, multi-media, and performing artists  will be brought together for five nights in traditional and non-traditional performance venues throughout the Providence area.
Founded in 2014 by The Wilbury Theatre Group, the festival offers affordable tickets for outside-the-box performances that run from 40-60 minutes. Some are Free, while other tickets are $5 or $10 and can be purchased at the door. Audiences are encouraged to take full advantage of the variety of performing and visual artists participating in the fringe and attend performances that you wouldn't normally attend, see things you wouldn't otherwise see. Keep an open mind, have fun and check out multiple shows each night.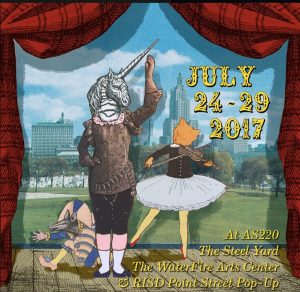 Downtown venues include AS220 Black Box Theater, Aurora, Big Nazo Satellite Space, The Dean Hotel, Mathewson Street Black Box Theater, and the RISD Museum and more. Eleven venues in total. fringepvd.org/venues.html
Location: The Wilbury Theatre Group, 393 Broad Street, Providence, RI 02907 and various other venues
Dates: July 24 – July 29, 2017
Times: 6pm – 11pm
Tel: 401-400-7100
fringepvd.org
For Regional Accommodations, Restaurants & Attractions: goprovidence.com