Tag Archive
activity
architecture
art
artist
building
Canada
children
city
CostSaver
downtown
drive i-95
entertainment
Europe
event
exhibit
family
festival
Florida
food
fun
historic
History
landmark
local
Museum
music
Nature
New Zealand
Ontario
roadtrip
sculpture
Seattle
show
sights
sightseeing
tour
tourist
Trafalgar
travel
travelblogger
view
Washington
Washington State
water
world
.
France is celebrating 160th anniversary of diplomatic ties between France and Japan. Japonismes 2018: Les Ames en Resonance, will run through February 2019 involving exhibitions and events promoting Japanese art and design. Visual artist Kohei Nawa's monumental sculpture "Throne" has one of the most prestigious spots in Paris: the Louvre. "I see the location as a connecting portal of modern lifestyles and the past, says Nawa, the Kyoto-based artist whose 10.4-meter-tall work is installed under I.M. Pei's 1989 glass pyramid in the Louvre's main courtyard.
The making of the throne itself involved both the past and the present. It was designed using state-of-the-art 3D modeling software and carved by robotic arms, however its gleaming gold leaf exterior was hand-applied by Japanese traditional craftspeople.
"The maximum capacity the pyramid can hold is 3 tons, so I told the museum I would ship a sculpture weighing exactly 3 tons," says Nawa about the work's creation. "I think they were bit worried, but after it went up, the Louvre's curator, Martin Kiefer, told me the sculpture looks like it's been at the pyramid all along."
It's not Nawa's first "Throne" and it is different in that in previous iterations there was usually a small child seated within Nawa's unique abstract shapes and geometric forms. For the Louvre, the seat is strikingly empty.
"Thrones are for kings. Here, the seat is for the authority that will eventually take over the control in the future. I left the seat empty to emphasize the invisibility," says Nawa.
It sounds ominous, but Nawa goes on to explain that he foresees the type of power we see controlling today's politics, economy and lifestyles as disappearing in the future, and in its place will be a very different form of authority. It could be artificial intelligence and advanced computer technology that will "take the throne," he suggests, while we blindly follow, something that history has shown us that humans have had the tendency to do.
To us it is interesting that he chose a throne to be placed in this, the Palace of the Louvre, where French Kings sat on their thrones. Francis I chose this edifice as the residence for French kings and where it remained thus until good old King Louis XIV decided to move to Versailles and this building was then used to store his pretty things.

Just as we have our beloved famous Disney princesses, the Austro-Hungarian Empire had theirs – but she was for real. They call her by her nickname Sisi, and she was their Empress for 44 years.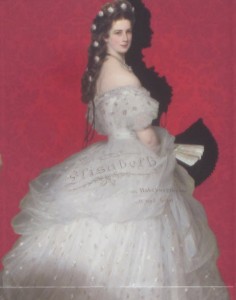 Their have been numerous movies, plays, operas, ballets, books and music about her in the German speaking world. It is probably the trilogy of romantic films about her life which starred a young Romy Schneider which made her a household name. She is so popular that  the 3 movies are shown every Christmas on Austrian, German, Dutch, and French television.
Though her husband Emperor Franz Josef  adored her, she felt stifled by Habsburg  court life and traveled extensively whenever and wherever she could. She loved learning and spoke English, French, modern Greek and Hungarian. Her domineering mother-in-law made her life miserable and even took away her children to raise. Her first daughter died as a toddler and her beloved son Crown Prince Rudolph, heir to the throne, committed suicide along with his lover, and she never fully recovered from that loss.
Empress Elisabeth was vain and did not sit for any portraits after she was 32  and would not allow any more photographs, so that her public image would always remain of her youthful self.  She was tall, and compulsively maintained the same low weight all through her life thru exercise (horsemanship, fencing, hiking) and fasting.
Her interest in politics had developed as she matured. She felt an intense emotional alliance with Hungary, and worked toward it gaining an equal footing with Austria. Elisabeth was an ideal mediator between the Magyars and the Emperor. She was a personal advocate for Hungarian Count Gyula Andrássy (he was a lifelong friend, and possibly her lover).
Finally, the Austro-Hungarian Compromise of 1867 created the double monarchy of Austro–Hungary. Andrássy was made the first Hungarian prime minister, and in return he saw that Franz Josef and Elisabeth were officially crowned King and Queen of Hungary.
Sisi was assassinated "by accident" in 1898 by Luigi Lucheni, who had planned to kill the Duke of Orleans, Pretender to France's throne, but the Duke had left town. Despite warnings of possible assassination attempts Elisabeth, now age 60, traveled incognito to Geneva. She eschewed the protection which the Swiss government had offered and only promenaded with her lady-in-waiting.
You can visit many of her residences: her apartments in the Hofburg and the Schönbrunn Palaces in Vienna, the imperial villa in Ischl, the Achilleion in Corfu, and her summer residence in Gödöllő, Hungary.
These plaques, mounted in Vienna, tell some of her story: