Westminster, MD Exit 64 Southbound or 49 Northbound: Join the Carroll County Farm Museum for a Chincoteague Pony-themed tea. Program includes: book signing, luncheon and meet a real Chincoteague pony.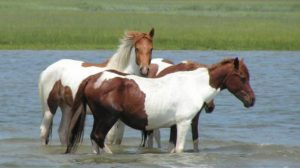 Tea features a boxed lunch with ice cream and lemonade. After tea, learn about the Chincoteague ponies and their wetlands with fun facts, colorful slides and inspirational stories with a presentation given by children's author Lois Syzmanski  on the wild ponies of Chincoteague.
Afterwards, visit with a real Chincoteague Pony and horse trainer, Summer Barrick.
Spots are limited. Reservations by September 15 –  800-654-4645.
Location: Carroll County Farm Museum, 500 S Center St, Westminster, MD 21157
Date: Sat,  Sept 30, 2017
Time: 11 – 1pm
Tel: 800-654-4645
carrollcountyfarmmuseum.org/event/pony-tea/?instance_id=438
For Regional Accommodations, Restaurants & Attractions: carrollcountytourism.org