Savannah, GA Exit 99 to I-16 East: Head over to the Jepson Center on August 4th for a FREE Family Day from 1-4 p.m. Explore the exhibition The Open Road, a tribute to the road trip, an enduring symbol in American culture.
The Open Road: Photography and the American Road Trip explores the photographic road trip as a genre. It traces the rise of road culture in America and looks at photographers on the move across the country and across the century, from the early 1900s to present day. Presented chronologically, the exhibition considers nineteen photographers for whom the American road was a muse.

Beginning with Robert Frank's seminal series The Americans (1958), and including such renowned work as Garry Winogrand's 1964, Joel Sternfeld's American Prospects, William Eggleston's Los Alamos, and Justine Kurland's Highway Kind, the featured artists and road trips represent the evolution of American car culture, the idea of the open road, and how photographers embraced the subject of America in order reflect on place, time, and self.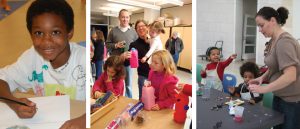 Free Family Day celebrates the end of summer with free family activities celebrating the great American road trip. Contribute to a map of summer travels, make an end-of-summer postcard, and talk to prominent local photographers about their work and travels. Family Days are fun, educational and FREE for everyone. Enjoy hands-on art projects, gallery exploration activities, story time and much more designed specifically for the entire family. Admission is free and open to the public.
Location: Jepson Center, 207 W York St, Savannah, GA 31401
Date: Sat, Aug 4, 2018
Time: 1–4pm
Tel: 912-790-8800
telfair.org/learn/free-family-days
For Regional Accommodations, Restaurants & Attractions: visitsavannah.com