Clinton, MD Exit 7A: Why not bring Christmas past to Christmas present at The Surratt House's Old Fashioned Holiday. Celebrate the Christmas of yesteryear amid period decorations, special exhibits and seasonal histories.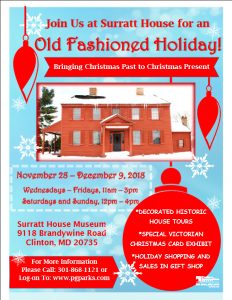 The Surratt House will be festively decorated in the style more appropriate for the mid-1800s with a tabletop tree, antique toys and dolls, and a special display of vintage  Victorian Christmas cards and ornaments.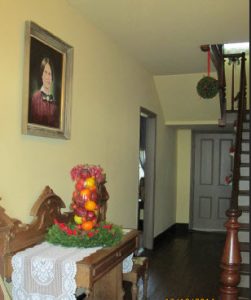 Enjoy a relaxing historic tour amidst the chaos of the modern holidays. The house will be full of dressed docents, in garb of the period, and enhancing the regular tour with anecdotes of what Christmas would have been like for our ancestors of that period in Southern Maryland.
A booklet on Christmas history and customs will be given to each visitor as well as a 15% discount in the museum's shop. This is the last time you can see the house decked with boughs of holly and other festive decorations before the museum closes for a month.
The museum will be closed to tours from December 10-January 15; however, the gift shop will remain open through December 22.
Location: Surratt House Museum, 9118 Brandywine Road, Clinton, MD 20735
Date: Nov 28 – Dec 9, 2018
Hours: Wed – Fri 11am – 3pm, Sat -Sun 12 – 4pm
The Surratt House Museum is closed from Dec 12th to Jan 17th.
Tel: 301-868-1121
surrattmuseum.org
For Regional Accommodations, Restaurants & Attractions: visitprincegeorgescounty.com