By glenda. Filed in
Art
,
Culture
,
Drive I-95
,
Exhibition
,
Family Fun
,
Georgia
,
Museum
,
Savannah
,
Special Event
,
United States
,
USA
|
William Wegman (American, b. 1943) is an internationally-renowned artist with a prolific career spanning five decades. He is well known for his photographs of his beloved Weimaraners, a collaboration that began with his dog, Man Ray, in Los Angeles in 1970.
The exhibition of William Wegman: Improved Photographs at Telfair Museums – Jepson Center for the Arts highlights his use of humor to find unexpected and surprising ideas within everyday objects and scenarios. So much fun to see the dogs all dressed up or in unusual poses all done with incredible artistry.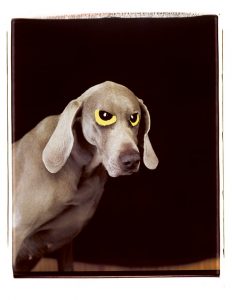 Included in the exhibition are drawings, paintings, altered photographs, 20 x 24 inch Polaroids and a selection of early videos from the 1970s to present day.  Across all these media, Wegman demonstrates a continual interest in working and reworking his imagery, thus "improving" it with his particular sense of logic and play.
On August 5th,  1 – 4pm,  is William Wegman Free Family Day at the gallery.  Say goodbye to the "dog days" of summer and kick off the start of the school year with a family day devoted to the art of William Wegman. Participate in gallery activities, make your own altered photos and postcards, and find out more about Savannah dogs available for adoption.
Photo Credit: William Wegman Eye-on, 1997 Color Polaroid 24 x 20 inches
Location: Jepson Center for the Arts, 207 West York St., Savannah, 31401
Date: Until Aug 13, 2017
Hours: Sun -Mon 12-5pm. Tues-Sat 10 – 5pm
Tel: 912-790-8800
telfair.org/wegman
For Regional Accommodations, Restaurants & Attractions: visitsavannah.com
Tags: activity, adoption, altered, art, artist, artistry, bucket list., career, day, decade, dog, drawing, dressed, Drivei-95, exhibit, exhibition, family, free, gallery, Georgia, humor, imagery, international, Jepson Center, logic, Los Angeles, media, object, painting, photo, photograph, play, polaroid, pose, postcard, Savannah, scenario, school, summer, video, Weimaraner, William Wegman, working, year