Tag Archive
activity
annual
art
artist
Canada
children
city
community
contest
country
craft
display
downtown
drive i-95
Drivei-95
drivei95
entertainment
event
family
festival
Florida
food
free
fun
game
historic
History
house
Island
live
local
Museum
music
national
North Carolina
prize
Restaurant
roadtrip
shop
show
tour
travel
travelblogger
USA
world
The word is out pig lovers won't want to miss this one: the  DeLand Bacon and Brew Fest. Who does not like Bacon or Beer, a match made in heaven. There will be approximately 125 food and beverage vendors, variety of live music, and the event will play homage to all things bacon with a wide variety of bacon dishes, along with bacon-related and bacon inspired contests.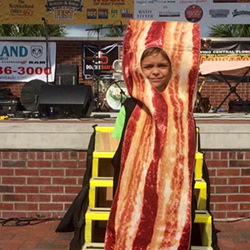 Imagine bacon, craft beer, wineries, and lots of vendors with their products. Indulge in mouth watering bacon-y deliciousness. You could buy bacon or beer jam, bacon-stuffed pretzels, sample bacon cupcakes, and purchase chocolate covered bacon—that's just for starters. Many of the regular market vendors spiked their production line to include bacon in some way, whether in fudge, a cheese dip, or a cinnamon roll—or in one of 14 different varieties of bacon itself. Bacon Eating Contest at 2pm.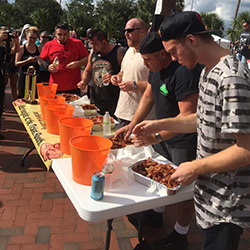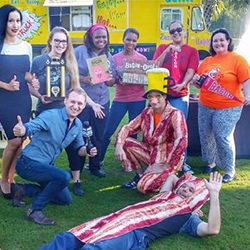 A portion of the proceeds will go to The Neighborhood Center of West Volusia, so bring on the bacon!
Location: Earl Brown Park, 750 S Alabama Ave, DeLand, FL 32724
Date: Sat, Sept 30
Time: 1 – 7pm
Tel: 386-316-2959
baconandbrewfestdeland.com
For Regional Accommodations, Restaurants & Attractions:daytonabeach.com
visitnsbfl.com
Walk into a medieval  fairytale and experience what a spring festival might have been like in 12th century Nottingham England. Fantasy takes flight when you step back to the past at Robin Hood's Faire. Witness singing, dancing and magic throughout the faire, listen to old world music performed live on stage and in the streets and watch Robin Hood and his Merry Men stop Prince John's villainy.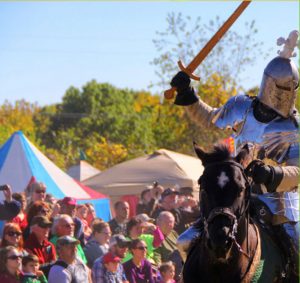 This amusing and colorful festival offers continuous themed entertainment throughout the day and some special events including:  The Mayor of Nottingham's Bingo Brunch, Princess Tea Time, Archery & Archery Tag, Opening Ceremony, Daily Tournaments, Paragon Jousting, parade, Prince John's Plot and join the Merry Men interactive show. For a complete schedule of events: robinhoodsfaire.com/shops-and-crafts/show-information/show-schedule/
The Faire has featured weekends, with activities geared to themes:
May 13, 14 – Pet Weekend– Open up a whole new world for your pet when you attend Robin Hood's Faire "Pet Weekend". Participate in daily contests with your pet to win prizes or just watch shows, shop, and enjoy the day. robinhoodsfaire.com/may-13-14-pet-weekend/
May 20-21 – Fantasy & Fairies Weekend- Anything is possible with fairy magic as visitors from a variety of places and times are pulled from the future and past to Robin Hood's Faire. Come as you are or consider dressing as a fairy or play someone from history or the future. robinhoodsfaire.com/fantasy-fairy-weekend-may-20-21/
May 27, 28, 29 – Bromance & Brew Weekend-What could be better than hanging out with your guy friends, competing against each other in manly contests, and sharing a cold craft brew? Guys will enjoy this weekend and  ladies, Sunday is a vow renewals with Friar Tuck.  robinhoodsfaire.com/bromance-brew-weekend-may-27-28-29/
Robin Hood's Faire runs every Saturday, Sunday, and Memorial Day from May 13-29, 2017 (11 am to 7pm). Tickets to the festival are available at the Faire on all days of the show. All food, drink, and games are cash only.
Location: North Haven Fairgrounds, 300 Washington Ave, North Haven, CT 06473
Dates: May 13 — 29, opened Sat, Sun & Memorial Day
Hours: 11– 7pm
Tel: 860-478-5954
robinhoodsfaire.com
For Regional Accommodations, Restaurants & Attractions: visitnewhaven.com

Budweiser beer was developed  in the Czech Republic. It was originally called Budvar (and still goes by that name in some countries). Beer has been brewed in Budweis since 1245. It tastes different here than the one in the US.
The two cities most associated with Czech beer are Pilsen and Budweis which both had breweries in the 13th century. The 2 most famously exported Czech beer brands are Pilsner Urquell, which was the world's first pilsner (pale lager) and Budweiser Budvar. Pilsners have a clear golden colour, a light flavor and lots of foam.
In 2012, for the 20th consecutive year, the Czech Republic had the highest beer consumption per capita in the world –  170 litres per person.