Tag Archive
activity
art
artist
Austria
Canada
children
city
CostSaver
display
Drivei-95
drive i-95
entertainment
Europe
event
exhibit
family
festival
Florida
food
France
free
fun
historic
History
landmark
live
local
London
Museum
music
performance
Restaurant
roadtrip
shop
show
sights
sightseeing
tour
tourist
Trafalgar
travel
travelblogger
USA
view
world
Start the year off right with Torpedo Factory Art Center's The Late Shift: Brand New Day, a spirited celebration of art, music, and dance.
Warm up with an indoor art market, live performances, and pop-up activities throughout the building. The evening will also feature artist demonstrations in the Grand Hall, DIY art making, a welcome reception for the winter Post-Graduate Resident, Lyric Prince, and a Brand New Day selfie station.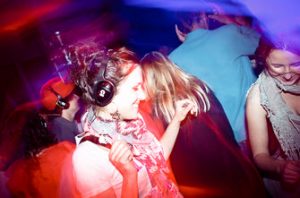 The main attraction is the Silent Disco. Dance into the night during the silent disco with the City of Alexandria's Mobile Art Lab.  All of the music is played through headphones, rather than a sound system. Dancers can swap back and forth between three DJs to choose which music they want to dance to. Their headphones change color based on which music they're listening to.  Join in the friendly competition and see how many people's headsets are set to the same color.
Location: Torpedo Factory Art Center, 105 N. Union St., Alexandria, VA 22314
Date: Fri, Jan 19, 2018
Time: 7pm – 10pm
Tel: 703-746-4570
torpedofactory.org/event/the-late-shift-brand-new-day
For Regional Accommodations, Restaurants & Attractions: visitalexandriava.com
Most people would not think of taking children to an art museum. However, The National Gallery of Canada in Ottawa offers Artissimo,  one of the best children's programs I have come across  – and at an amazingly reasonable price of only $24 for 2 adults and 3 children. They try to teach kids about the art through different senses.
– First up was the creation of Art Buddies, toys (like dolls or animals) which can be found in paintings. These exact reproductions are given to the kids to hold, and then they are pointed to galleries where they can try to find them in a painting. Our Marguerite Charlotte doll had golden curls intertwined with green ribbon, and was holding a little blue bird in her hand.
– Second fun activity was the touch box which the child wears around his neck. They can put their hands in the sides (like a muff) and feel textures inside. Each box relates to a painting which has these textures in it; they have to guess what they are feeling and what in the painting represents it: a feather, lace, fur, picture frame, etc.
– Thirdly, was a real hit for ages 4-10. In Sounds Like Art, they are given headphones which play sounds. In each gallery, they have to find a painting which would relate to that sound: water, a crying baby, horses' hooves, crackling fire.
For completing these games, the kids are rewarded with collectors' cards of the paintings.
– Lastly there is an arts and crafts area set up in the most beautiful setting possible – the Great Hall with its soaring windows. While they are creating their works of art, you (and they) can oogle the magnificent panoramic view of Parliament Hill, the Gatineau Hills and the Ottawa River.
The children also enjoyed finding the surprise garden (from above and at ground level), the ceiling water window in the lobby, the "sound sculpture" in the chapel and, of course, Maman, the giant spider outside.  And yes, there is also the fabulous collection of art. We spent 4 hours there easily.
Location: 380 promenade Sussex Drive, Ottawa ON K1N 9N4
Phone: 800-319-ARTS
Hours: Tues-Sun 10-5 (closed Mon Oct 1-Apr 30)
www.gallery.ca  www.beaux-arts.ca