By stan. Filed in
Art
,
celebration
,
Culture
,
Drive I-95
,
Entertainment
,
Exhibition
,
Special Event
,
United States
,
USA
,
Virginia
|
Start the year off right with Torpedo Factory Art Center's The Late Shift: Brand New Day, a spirited celebration of art, music, and dance.
Warm up with an indoor art market, live performances, and pop-up activities throughout the building. The evening will also feature artist demonstrations in the Grand Hall, DIY art making, a welcome reception for the winter Post-Graduate Resident, Lyric Prince, and a Brand New Day selfie station.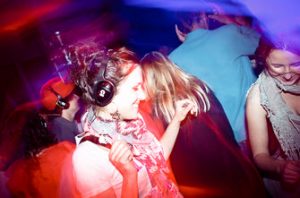 The main attraction is the Silent Disco. Dance into the night during the silent disco with the City of Alexandria's Mobile Art Lab.  All of the music is played through headphones, rather than a sound system. Dancers can swap back and forth between three DJs to choose which music they want to dance to. Their headphones change color based on which music they're listening to.  Join in the friendly competition and see how many people's headsets are set to the same color.
Location: Torpedo Factory Art Center, 105 N. Union St., Alexandria, VA 22314
Date: Fri, Jan 19, 2018
Time: 7pm – 10pm
Tel: 703-746-4570
torpedofactory.org/event/the-late-shift-brand-new-day
For Regional Accommodations, Restaurants & Attractions: visitalexandriava.com
Tags: activity, Alexandria, art, artist, attraction, building, celebration, center, city, color, colour, competition, dance, demonstration, disco, DIY, DJ, drive i-95, factory, feature, headphone, headset, indoor, lab, Late Shift: Brand New Day, listen, live, lyric, market, mobile, music, night, people, performance, pop-up, post-graduate, Prince, reception, resident, selfie, silent, sound, swap, system, torpedo, Torpedo Factory Art Center, Virginia, welcome, winter