Tag Archive
activity
architecture
art
artist
building
Canada
children
city
CostSaver
downtown
drive i-95
entertainment
Europe
event
exhibit
family
festival
Florida
food
fun
historic
History
landmark
local
Museum
music
Nature
New Zealand
Ontario
roadtrip
sculpture
Seattle
show
sights
sightseeing
tour
tourist
Trafalgar
travel
travelblogger
view
Washington
Washington State
water
world
Start the year off right with Torpedo Factory Art Center's The Late Shift: Brand New Day, a spirited celebration of art, music, and dance.
Warm up with an indoor art market, live performances, and pop-up activities throughout the building. The evening will also feature artist demonstrations in the Grand Hall, DIY art making, a welcome reception for the winter Post-Graduate Resident, Lyric Prince, and a Brand New Day selfie station.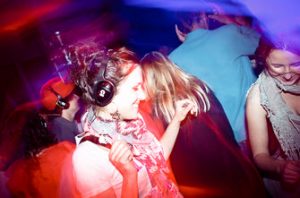 The main attraction is the Silent Disco. Dance into the night during the silent disco with the City of Alexandria's Mobile Art Lab.  All of the music is played through headphones, rather than a sound system. Dancers can swap back and forth between three DJs to choose which music they want to dance to. Their headphones change color based on which music they're listening to.  Join in the friendly competition and see how many people's headsets are set to the same color.
Location: Torpedo Factory Art Center, 105 N. Union St., Alexandria, VA 22314
Date: Fri, Jan 19, 2018
Time: 7pm – 10pm
Tel: 703-746-4570
torpedofactory.org/event/the-late-shift-brand-new-day
For Regional Accommodations, Restaurants & Attractions: visitalexandriava.com
This annual New Year's Eve bash takes over Old Town Alexandria with more than 150 performances at 23 indoor venues, with live music, dancing, children's face painting and games. First Night Alexandria is a celebration of the new year through the performing arts. Retail stores, hotels, museums and public buildings are turned into performance venues to showcase incredible local and regional talent.
For a small fee for adults (children 12 and under are free), you have access to all the entertainment, all evening. Everything is within easy walking distances. The afternoon's Ninth Annual Fun Hunt with all-new activities for families and pets. There's a venue at the Mount Vernon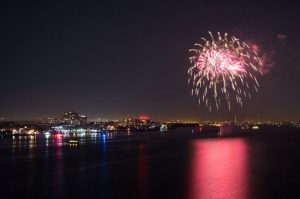 Recreation Center in Del Ray filled with fun activities for children 10 and younger, dancing in the street at the east end of King Street beginning at 10 pm and the piece de resistance is the First Night's fireworks finale with a spectacular display over the Potomac River at midnight. First Night Alexandria is so packed with entertainment, you will have a hard time deciding which performances to attend.
Event Schedule and Locations:
10:00am Noon Year's Eve – Alexandria Library – Kate Waller Barrett Branch, 717 Queen Street, Alexandria, VA 22314
12pm Watch Night at Alfred Street Baptist Church –301 South Alfred Street Alexandria
1pm George Washington Masonic Memorial Tour – George Washington Masonic Memorial, 101 Callahan Drive, Alexandria, VA, 22301
1pm Hooray For Books! – 1555 King Street, #101, Alexandria, VA 22314
1pm Olio – Oil & Vinegar Tasting – Olio Tasting Room. 1223 King Street, Alexandria, VA
1:30pm The Art League Gallery – 105 North Union Street, Alexandria, VA 22314
2pm 9th Annual Fun Hunt – Torpedo Factory Art Center, 105 North Union Street, Alexandria, VA 22314
2pm Kid's Art for Animal Adoptions – Torpedo Factory Art Center, 105 North Union Street, Alexandria, VA 22314
2pm Mobile Art Lab – Durant Arts Center, 1605 Cameron Street, Alexandria, VA 22314
2pm Pottery at the Alexandria Archaeology Museum – Torpedo Factory Art Center, 105 North Union Street, Alexandria, VA 22314
2pm TC Williams Jazz Band – Embassy Suites Hotel, 1900 Diagonal Road, Alexandria, VA
2pm Ten Thousand Villages –Ten Thousand Villages, 915 King Street, Alexandria, VA
2pm Thinkfun Family Game Room – Durant Arts Center, 1605 Cameron Street
2:30pm George Washington Masonic Memorial Tour – George Washington Masonic Memorial, 101 Callahan Drive, Alexandria, VA, 22301
4pm George Washington Masonic Memorial Tour –George Washington Masonic Memorial, 101 Callahan Drive, Alexandria, VA, 22301
5pm Amazing Clowns – George Washington Masonic Memorial, 101 Callahan Drive, Alexandria, VA, 22301
5pm Let's Make a Face – George Washington Masonic Memorial, 101 Callahan Drive, Alexandria, VA, 22301
5pm Seaworthy Small Ships –George Washington Masonic Memorial, 101 Callahan Drive, Alexandria, VA, 22301
6pm An Old Fashioned Carnival – Mount Vernon Recreation Center, 2701 Commonwealth Ave, Alexandria, VA 22305
6pm Becky's Balloon Animals – Mount Vernon Recreation Center, 2701 Commonwealth Ave, Alexandria, VA 22305
6pm Blue Sky Puppets – George Washington Masonic Memorial, 101 Callahan Drive, Alexandria, VA, 22301
6pm How-To Cowboy: Jokefest – Mount Vernon Recreation Center, 2701 Commonwealth Ave, Alexandria, VA 22305
6pm Kickoff and Drawing for Fun Hunt Prize Winners – Durant Arts Center, 1605 Cameron Street, Alexandria, VA 22314
6pm Rainbow Rock Band – Mount Vernon Recreation Center, 2701 Commonwealth Ave
6:15pm Mike Rose – Little Theatre of Alexandria, 600 Wolfe Street, Alexandria, VA 22314
6:45pm Mister Don – Mount Vernon Recreation Center, 2701 Commonwealth Avenue, Alexandria, VA 22305
6:45pm Virginia Bronze – George Washington Masonic Memorial, 101 Callahan Drive, Alexandria, VA, 22301
7pm Alexandria Singers – Washington Street United Methodist Church, 109 South Washington Street, Alexandria, VA 22314
7pm Amateur Facepainters – Washington Street United Methodist Church, 109 South Washington Street, Alexandria, VA 22314
7pm Billy & Bob Classic Country Show – George Washington Masonic Memorial, 101 Callahan Drive, Alexandria, VA, 22301
7pm Blue Moon Cowgirls –St. Paul's Episcopal Church, 228 South Pitt Street, Alexandria
7pm Blue Sky Puppets – George Washington Masonic Memorial, 101 Callahan Drive
7pm Cletus Kennelly – Alexandria's Union Station | 110 Callahan Drive, Alexandria
7pm Curtis Blues – Alexandria Library – Kate Waller Barrett Branch, 717 Queen Street
7pm Dr. Robert Band – Fraternal Order of the Eagles 871, 1015 Cameron Street
7pm Irish Breakfast Band
7pm Janna Audey & Rob Santos – Long & Foster, 400 King Street, Alexandria, VA 22314
7pm Lesson Zero – Christ Church Auditorium, 118 North Washington Street, Alexandria
7pm Mike Rose – Little Theatre of Alexandria, 600 Wolfe Street, Alexandria, VA 22314
7pm Pete Farnham – Alexandria City Hall – Vola Lawson Lobby, 301 King Street
7pm Primary Colors – Durant Arts Center, 1605 Cameron Street, Alexandria, VA 22314
7pm Ruthie & the Wranglers – American Legion Post 24, 400 Cameron Street, Alexandria,
7pm Stairwells –Old Presbyterian Meeting House, 321 South Fairfax Street, Alexandria
7pm The Glimpses – Lloyd House, 220 North Washington Street, Alexandria, VA 22314
7pm The Grandsons – Torpedo Factory Art Center, 105 North Union Street, Alexandria
7pm The Rogues – Alexandria Visitor Center, 221 King Street, Alexandria, VA 22314
7pm The Truehearts –George Washington Masonic Memorial, 101 Callahan Drive
7pm Vaughn Ambrose Trio – Principle Gallery, 208 King Street, Alexandria, VA 22314
7pm Watch Night at Alfred Street Baptist Church –301 South Alfred Street Alexandria, VA
7:30pm Battle of the Local Stars –Durant Arts Center, 1605 Cameron Street, Alexandria
7:30pm How-To Cowboy: Jokefest- Mount Vernon Recreation Center, 2701 Commonwealth Avenue, Alexandria, VA 22305
7:30pm Katherine Archer – Duchess M, 805 King Street, Alexandria, VA 22314
7:30pm Razor Hill – Refresh Yoga, 110 King Street, Alexandria, VA 22314
7:30pm Tom Teasley Duo –Imagine Artwear, 1124 King Street, Alexandria, VA 22314
7:30pm Virginia Bronze –George Washington Masonic Memorial,101 Callahan Drive
7:45pm Billy Coulter Band- Fraternal Order of the Eagles 871, 1015 Cameron Street
7:45pm Bill Kirchen –Torpedo Factory Art Center, 105 North Union Street, Alexandria
7:45pm Janine Wilson Band- American Legion Post 24, 400 Cameron Street, Alexandria
7:45pm King Teddy – George Washington Masonic Memorial, 101 Callahan Drive
7:45pm Mark Wesling –Alexandria's Union Station-110 Callahan Drive, Alexandria, VA
7:45pm Mike Rose- Little Theatre of Alexandria, 600 Wolfe Street, Alexandria, VA 22314
7:45pm Nicole Belanus –St. Paul's Episcopal Church, 228 South Pitt Street, Alexandria
7:45pm Nobody's Business –Christ Church Auditorium, 118 North Washington Street
7:45pm Not So Modern Jazz Quartet – Lyceum, 201 South Washington Street
7:45pm Sound of Sleat – George Washington Masonic Memorial, 101 Callahan Drive
7:45pmWashington Philharmonic's Woodwind Quintet –Washington Street United Methodist Church, 109 South Washington Street, Alexandria, VA 22314
8pm Al Petteway & Amy White – Old Presbyterian Meeting House, 321 South Fairfax St.
8pm Blue Sky Puppets-George Washington Masonic Memorial, 101 Callahan Drive
8pm Janna Audey & Rob Santos – Long & Foster, 400 King Street, Alexandria, VA 22314
8pm The Glimpses – Lloyd House, 220 North Washington Street, Alexandria, VA 22314
8pm The Rogues – Alexandria Visitor Center, 221 King Street, Alexandria, VA 22314
8pm Vaughn Ambrose Trio – Principle Gallery, 208 King Street, Alexandria, VA 22314
8:15pm Mister Don- Mount Vernon Recreation Center, 2701 Commonwealth Avenue
8:30pm Alexandria Singers – Washington Street United Methodist Church, 109 South Washington Street, Alexandria, VA 22314
8:30pm Billy & Bob Classic Country Show- George Washington Masonic Memorial, 101 Callahan Drive, Alexandria, VA, 22301
8:30pm Blue Moon Cowgirls –St. Paul's Episcopal Church, 228 South Pitt Street
8:30pm Cletus Kennelly – Alexandria's Union Station | 110 Callahan Drive, Alexandria
8:30pmCurtis Blues  –Alexandria Library – Kate Waller Barrett Branch,717 Queen Street
8:30pm Dr. Robert Band –Fraternal Order of the Eagles 871, 1015 Cameron Street
8:30pm Irish Breakfast Band –Lyceum, 201 South Washington Street, Alexandria, VA
8:30pm Katherine Archer- Duchess M, 805 King Street, Alexandria, VA 22314
8:30pm Lesson Zero –Christ Church Auditorium, 118 North Washington Street
8:30pm Mike Rose –Little Theatre of Alexandria, 600 Wolfe Street, Alexandria, VA 22314
8:30pm Pete Farnham- Alexandria City Hall – Vola Lawson Lobby, 301 King Street
8:30pm Razor Hill – Refresh Yoga, 110 King Street, Alexandria, VA 22314
8:30pm Ruthie & the Wranglers –American Legion Post 24, 400 Cameron Street
8:30pm The Grandsons – Torpedo Factory Art Center, 105 North Union Street
8:30pm The Truehearts  –George Washington Masonic Memorial,101 Callahan Drive
8:30pm Tom Teasley Duo- Imagine Artwear, 1124 King Street, Alexandria, VA 22314
8:45pmVirginia Bronze- George Washington Masonic Memorial, 101 Callahan Drive
9pm Janna Audey & Rob Santos- Long & Foster, 400 King Street, Alexandria, VA
9pm Stairwells – Old Presbyterian Meeting House, 321 South Fairfax Street
9pm The Glimpses  – Lloyd House, 220 North Washington Street, Alexandria, VA
9pm The Rogues – Alexandria Visitor Center, 221 King Street, Alexandria, VA 22314
9pm Vaughn Ambrose Trio –Principle Gallery, 208 King Street, Alexandria, VA 22314
9:15pm Bill Kirchen – Torpedo Factory Art Center, 105 North Union Street, Alexandria
9:15pm Billy Coulter Band – Fraternal Order of the Eagles 871, 1015 Cameron Street
9:15pm Janine Wilson Band – American Legion Post 24, 400 Cameron Street, Alexandria
9:15pm King Teddy – George Washington Masonic Memorial, 101 Callahan Drive
9:15pm Mark Wesling – Alexandria's Union Station, 110 Callahan Drive, Alexandria, VA
9:15pm Mike Rose – Little Theatre of Alexandria, 600 Wolfe Street, Alexandria, VA 22314
9:15pm Nicole Belanus –St. Paul's Episcopal Church, 228 South Pitt Street, Alexandria
9:15pm Nobody's Business – Christ Church Auditorium, 118 North Washington Street
9:15pm Not So Modern Jazz Quartet – Lyceum, 201 South Washington Street, Alexandria
9:15pm Sound of Sleat – George Washington Masonic Memorial, 101 Callahan Drive
9:15pm Washington Philharmonic's Woodwind Quintet – Washington Street United Methodist Church, 109 South Washington Street, Alexandria, VA 22314
9:30pm Curtis Blues – Alexandria Library – Kate Waller Barrett Branch, 717 Queen Street
9:30pm Katherine Archer – Duchess M, 805 King Street, Alexandria, VA 22314
9:30pm Keira Moran- Durant Arts Center, 1605 Cameron Street, Alexandria, VA 22314
9:30pm Pete Farnham – Alexandria City Hall – Vola Lawson Lobby, 301 King Street
9:30pm Razor Hill- Refresh Yoga, 110 King Street, Alexandria, VA 22314
9:30pm Tom Teasley Duo – Imagine Artwear, 1124 King Street, Alexandria, VA 22314
10pm Al Petteway & Amy White – Old Presbyterian Meeting House, 321 South Fairfax St.
10pm Alexandria Singers – Washington Street United Methodist Church, 109 South Washington Street, Alexandria, VA 22314
10pm Billy & Bob Classic Country Show- George Washington Masonic Memorial, 101 Callahan Drive, Alexandria, VA, 22301
10pm Blue Moon Cowgirls- St. Paul's Episcopal Church,228 South Pitt Street, Alexandria
10pm Christ Church Sanctuary- Christ Church Auditorium, 118 North Washington Street
10pm Cletus Kennelly – Alexandria's Union Station, 110 Callahan Drive, Alexandria, VA
10pm Dr. Robert Band – Fraternal Order of the Eagles 871, 1015 Cameron Street
10pm Irish Breakfast Band – Lyceum, 201 South Washington Street, Alexandria, VA
10pm Janna Audey & Rob Santos – Long & Foster, 400 King Street, Alexandria, VA 22314
10pm Lesson Zero – Christ Church Auditorium, 118 North Washington Street, Alexandria
10pm Mike Rose – Little Theatre of Alexandria, 600 Wolfe Street, Alexandria, VA 22314
10pm Ruthie & the Wranglers – American Legion Post 24, 400 Cameron Street
10pm Stairwells – Alexandria Waterfront, King Street, Alexandria, VA 22314
10pm The Glimpses – Lloyd House, 220 North Washington Street, Alexandria, VA 22314
10pm The Grandsons –Torpedo Factory Art Center, 105 North Union Street, Alexandria
10pm The Rogues – Alexandria Visitor Center, 221 King Street, Alexandria, VA 22314
10pmThe Truehearts –George Washington Masonic Memorial, 101 Callahan Drive
10pm Vaughn Ambrose Trio – Principle Gallery, 208 King Street, Alexandria, VA 22314
10pm Watch Night at Alfred Street Baptist Church, 301 South Alfred Street Alexandria
10:30pm Curtis Blues – Alexandria Library – Kate Waller Barrett Branch, 717 Queen St.
10:30pm Katherine Archer – Duchess M, 805 King Street, Alexandria, VA 22314
10:30pm Pete Farnham – Alexandria City Hall – Vola Lawson Lobby, 301 King Street
10:30pm  Tom Teasley Duo – Imagine Artwear, 1124 King Street, Alexandria, VA 22314
10:45pm Bill Kirchen – Torpedo Factory Art Center, 105 North Union Street, Alexandria
10:45pm Billy Coulter Band – Fraternal Order of the Eagles 871, 1015 Cameron Street
10:45pm Janine Wilson Band- American Legion Post 24,400 Cameron St., Alexandria
10:45pm King Teddy – George Washington Masonic Memorial, 101 Callahan Drive
10:45pm Mark Wesling- Alexandria's Union Station, 110 Callahan Drive, Alexandria, VA
10:45pm Nicole Belanus- St. Paul's Episcopal Church, 228 South Pitt Street, Alexandria
10:45pm Nobody's Business – Christ Church Auditorium, 118 North Washington Street
10:45pm Not So Modern Jazz Quartet – Lyceum, 201 South Washington St, Alexandria
10:45pm Sound of Sleat  – George Washington Masonic Memorial, 101 Callahan Drive
10:45pm Washington Philharmonic's Woodwind Quintet –Washington Street United Methodist Church, 109 South Washington Street, Alexandria, VA 22314
12am Fireworks on the River! – Alexandria Waterfront, King Street, Alexandria, VA 22314
Location: Old Town, Alexandria, VA
Date: Sun, Dec 31st, 2017
Times: 10am – midnight
Tel: 703-746-3299
firstnightalexandria.org
For Regional Accommodations, Restaurants & Attractions: visitalexandriava.com