Tag Archive
activity
art
artist
Canada
children
city
community
contest
country
craft
display
downtown
Drivei-95
drive i-95
drivei95
entertainment
event
family
festival
Florida
food
free
fun
game
historic
History
house
Island
live
local
Museum
music
national
North Carolina
performance
prize
Restaurant
roadtrip
shop
show
tour
travel
travelblogger
USA
world
Grab your spoons and mark your calendars for Scooper Bowl – all-you-can-eat Ice Cream Festival.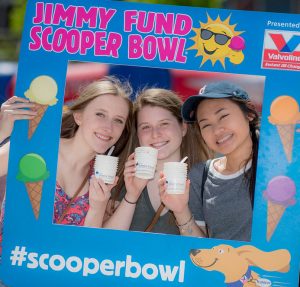 Celebrating its 36th year in 2018, the Scooper Bowl is now a three-day event that dishes out 20 tons of the summer's finest ice cream to more than 40,000 ice cream lovers from across the nation. Enjoy a lot of great entertainment and fun activities at this country's largest all-you-can-eat ice cream festival.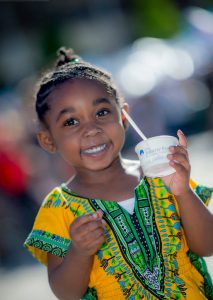 What is most impressive about the ice cream festival is that all ice cream companies donate all the ice cream, labor, scoopers, and products needed to make the event happen each year. Though they are competitors for 51 weeks of the year, during the first week of June they come together to create an event that is now known as the "unofficial start of summer" in New England.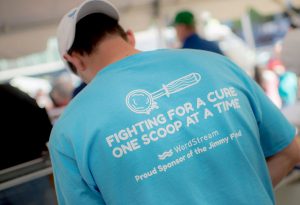 Made possible by the generous contributions of the industry's largest ice cream companies, the Scooper Bowl has raised more than $6.3 million in the past 35 years for cancer research and patient care at the world-renowned Dana-Farber Cancer Institute.
Get Your Tickets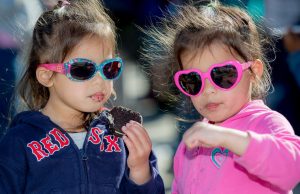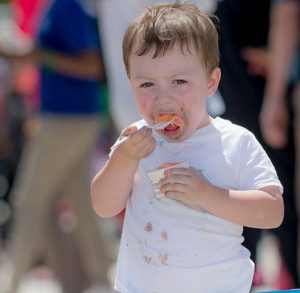 *Pricing will increase at the door – Kids under 3 are free
Whether you're a visitor to the area or professional ice-cream-eater, you play a huge part their our mission to conquer cancer.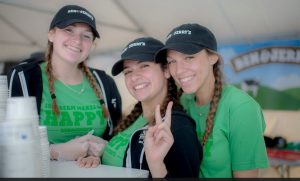 Ice Cream Flavors
Baskin-Robbins
Boston Cream Pie
Cannoli Be With You
OREO® 'n Caramel
Triple Grape Ice
Beckon Ice Cream (formerly Minus the Moo) – Thursday only, lactose-free
Vanilla
Chocolate
Espresso
Sea Salt Chocolate Chip
Mint Chip
Chocolate Candy Crunch
Strawberries & Sweet Cream
Black Raspberry
Confetti
Ben & Jerry's
Gimme Smore™
Caramel Almond Brittle non-dairy
AmeriCone Dream®
Chocolate Shake It™
Breyers
Nautral Vanilla
Oreo® Cookies & Cream
Mint Chip
Edy's
Birthday Cake
Dulce
Rainbow Sherbet
Friendly's
Triple Caramel Peanut Heaven
Hunka Chunka PB Fudge®
Rockin' Poppin'™ Cotton Candy
Cookies 'N Cream
Black Raspberry
Haagen-Dazs
Chocolate Salted Fudge Truffle Non-Dairy
Hood
Hood® New England Creamery Limited Edition Chocolate Churro
Hood® New England Creamery Limited Edition Purple Panda
Hood® Coffee Cookies 'n Cream
Hood® Chocolate Chip Cookie Dough
Lactaid – lactose-free
Lactaid® Cookies 'n Cream
Lactaid® Mint Chocolate Chip
Lactaid® Mocha Almond Chip
Lactaid® Salted Caramel
Rosev Dairy Foods
Coconut
Rum Raisin
Purple Cow
Twisted Sea Turtle
Vice Cream
Afternoon Delight
Bourbon Mash
L'Orange A Trois
Minted
Higher Grounds
Yasso

Stick Bars:

Pistachio Brittle
Fudge Brownie
Coconut Caramel
Chocolate Chip
Chocolate Peanut Butter Chip
Scoops:

Party Animal  Mint Championchip
Rolling in the Dough
Caramel Pretzelmania
Coffee Brownie Break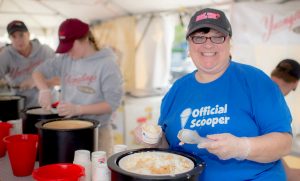 Location: City Hall Plaza, 1 City Hall Square, Boston, MA 02201
Date: June 5 – 7, 2018
Time: Noon – 8pm
scooperbowl.org
For Regional Accommodations, Restaurants & Attractions: bostonusa.com
Tiny houses have become a huge thing, checkout the Mid-Atlantic Tiny House Expo and see why. It's all about simpler living in a smaller, more efficient space.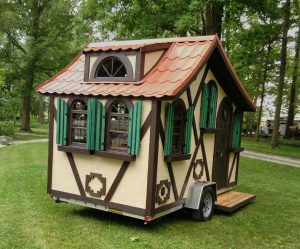 Tiny house living is a social movement in which people decide to downsize the space they live in. It's all about simpler living in a smaller, more efficient space. A typical tiny house is about 100 – 400 square feet, and come in all shapes and constructions. Building a tiny house costs significantly less than purchasing a traditional house, and are generally eco-friendly; reducing your impact on the environment and lowering energy costs.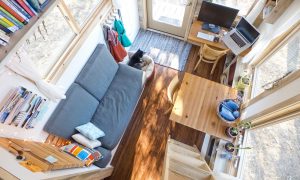 Whether your curious or serious, attendees will be able to see the latest trends in tiny living.  Two action packed days, learning from builders, project experts and lifestyle authors at the educational conferences or panel discussions and meet other tiny house enthusiasts. See the latest in finished THOWS and shells, trailer frames, building materials, plans, products, furnishings and  appliances, and anything else you could possibly need or want to know about tiny houses. Parking FREE.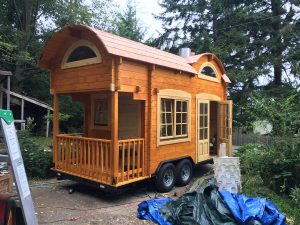 To buy tickets: tinyhouseexpos.com/tickets/#va-show-ticket-sales
If you can't make this exhibition, there will be another one at: Howard County Fairgrounds, West Friendship, MD on October 6-7, 2018
Location: Fredericksburg Expo and Conference Center, 2371 Carl D. Silver Parkway
Fredericksburg, Virginia 22401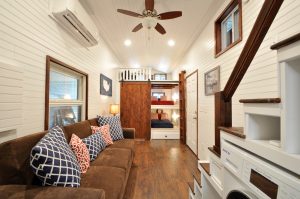 Date: May 12 – 13, 2018
Time: 10am – 5pm
Tel: 301-775-1363
tinyhouseexpos.com
For Regional Accommodations, Restaurants & Attractions: visitfred.com
Discover the beauty of sheep, the warmth of wool and the delicious taste of lamb during a fun-filled weekend at the Maryland Sheep & Wool Festival, 45 years of celebrating all things sheep, from hoof to handwoven.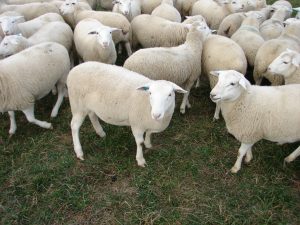 With over 275 vendors, more than 800 sheep, and workshops, food, and entertainment, there is something for everyone. Check out the working sheep dogs or sheep shearing demonstrations, learn how to prepare lamb, cheese making, take a spinning class, or shop for a variety of fleece, yarn and roving.
The Parade of Breeds will introduce you to a large variety of sheep breeds, and the Sheep to Shawl Contest will demonstrate shearing, carding, spinning, and weaving a final product in just a few hours.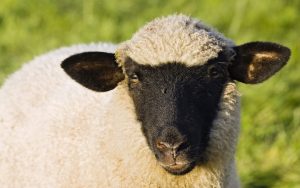 There are auctions and sales for sheep equipment, fiber equipment, and fleeces. You can get many new ideas from the beautiful products on display from the many competitions.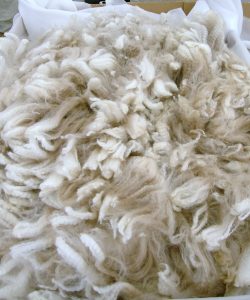 With workshops and seminars galore, special activities for kids, cooking demonstrations, food booths, musical entertainment, this festival is going to be a hit with the whole family.
Location: Howard County Fairgrounds, 2210 Fairgrounds Rd, West Friendship, MD 21794-9604
Date: May 5 & 6, 2018
Time: Sat 8:30am – 6pm, Sun 8:30am – 5pm
Tel: 410- 531-3647
sheepandwool.org
For Regional Accommodations, Restaurants & Attractions: visithowardcounty.com
The word is out pig lovers won't want to miss this one: the  DeLand Bacon and Brew Fest. Who does not like Bacon or Beer, a match made in heaven. There will be approximately 125 food and beverage vendors, variety of live music, and the event will play homage to all things bacon with a wide variety of bacon dishes, along with bacon-related and bacon inspired contests.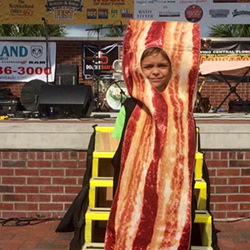 Imagine bacon, craft beer, wineries, and lots of vendors with their products. Indulge in mouth watering bacon-y deliciousness. You could buy bacon or beer jam, bacon-stuffed pretzels, sample bacon cupcakes, and purchase chocolate covered bacon—that's just for starters. Many of the regular market vendors spiked their production line to include bacon in some way, whether in fudge, a cheese dip, or a cinnamon roll—or in one of 14 different varieties of bacon itself. Bacon Eating Contest at 2pm.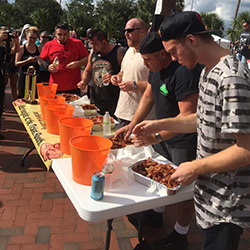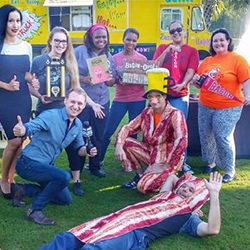 A portion of the proceeds will go to The Neighborhood Center of West Volusia, so bring on the bacon!
Location: Earl Brown Park, 750 S Alabama Ave, DeLand, FL 32724
Date: Sat, Sept 30
Time: 1 – 7pm
Tel: 386-316-2959
baconandbrewfestdeland.com
For Regional Accommodations, Restaurants & Attractions:daytonabeach.com
visitnsbfl.com
DeWayne's – Would you believe this amazing gift, clothes and garden decor shop started out as a pumpkin stand? DeWayne persevered with his produce stand after having to move it 3 times. What began as DeWayne's Country Garden in 1991 has transitioned through the years to become known as simply… DeWayne's.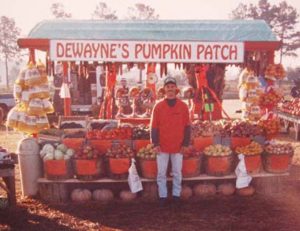 Nowadays it has grown and grown beyond the trolls, birdbaths, gargoyles, trellises, fountains, bears and benches outside. It is a destination for shoppers to experience the gift shop, garden center, ladies clothing boutique, menswear and Christmas Land.
DeWayne's is celebrating the completion of a two-year construction project, a 23,500 sq ft expansion and 9,000 sq ft renovation. The final phase is the redesign and expansion of existing space into a larger women's clothing Boutique along with a new customer service / checkout area.
The new space allows for the amplification of The Boutique to incorporate more complimenting brands and product trends to the existing lines, including ladies clothing, footwear, jewelry, handbags & accessories. With an outstanding knack of seeking out the hottest and most desired brands, shoppers will love their assortment, including: Alex and Ani, Brighton, Jack Rogers, Dansko, Hobo, Joseph Ribkoff, Hatley, Escapada and Clara Son Woo . You can also buy paper goods, soap, candles and flags.
DeWayne's family owned business provides customers with a unique shopping experience in over 40,000 sq ft of specialty retailing. Exceptional Customer Service, amazing selection and an unforgettable experience await you.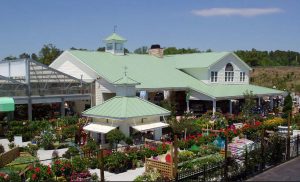 Location: DeWayne's – 1575 Outlet Center Dr, Selma, NC 27576
Hours: Mon – Fri 9:30– 7pm, Sat 9 – 7:30pm, Sun 10 – 6pm
Tel: 919-202-8471
dewaynes.com
For Regional Accommodations, Restaurants & Attractions: johnstoncountync.org
November is peak season for cotton farmers and downtown Dunn was once known as the largest wagon cotton yard in the country. During the festival, the local cotton gin, that until recent years was located in downtown, offers free tours through the gin so that everyone can see cotton production unfolding before them. Shuttles are offered from the festival site to the gin and back every half hour.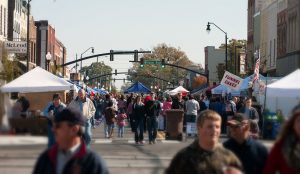 The Festival has two stages for entertainment: featured bands take the Main Stage throughout the day and festival goers also enjoy dancing and karaoke on the second stage. Highlights also include food and craft vendors, Kiddie Land, Petting Zoo and Antique Tractor Show . The event also coincides each year with the Dunn Shriner's Car Show, where over 100 antique and custom cars compete for best in show.
Location: Downtown Dunn , NC 28334
Date: Sat Nov 5, 2016
Time: 10 – 4 pm
Tel: 910-892-3282
nccottonfestival.com
For Regional Accommodations, Restaurants & Attractions:
dunntourism.org
Get ready, bacon lovers because it's the 3rd annual Savannah Bacon Fest, celebrating the awesomeness of bacon, returns to River Street from Sept. 2-3.
Local restaurants will be serving up some mouthwatering bacon creations at their booths all festival long.  Some of the items to look forward to are: candied bacon,  chocolate egg with bacon, bacon popcorn,  bacon brownies, pork belly lollypops, and smoked bacon wrapped jalapenos.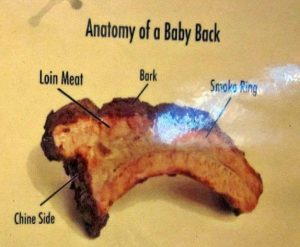 Bacon Lovers unite on Historic River Street. The fest starts on with First Friday fireworks at 9:30 pm.  The pork filled festivities will continue on Saturday with loads of bacon, bacon inspired art and bacon products of every kind, regional artist booths, entertainment and family fun. Admission is Free.
Location: Rousakis Riverfront Plaza, 115 East River Street, Savannah, GA 31401
Date: Sept 02 – 03, 2016
Time: Fri 4-10pm, Sat 10-10pm
Tel: 912-234-0295
riverstreetsavannah.com/event/bacon-fest-2
For Regional Accommodations, Restaurants & Attractions:
visitsavannah.com

Here's Pierre Deschamps letting me taste some fresh honey at his farm in St Eustache north of Montreal. The miellerie has been operating for more than 40 years, and it's the only honey we ever buy.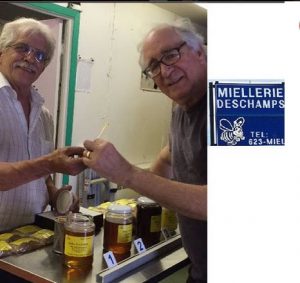 Why not have loads of belly laughs on your next trip? There are a few ways to cut costs and take in the hysterical Montreal Just for Laughs comedy festival inexpensively. Here's all the FREE events:
On July  21st, Weird Al Yankovic is doing a free outdoor concert as part of  "The Mandatory World Tour". The Scène Vidéotron will be presenting various free activites at 7pm every day and shows at 9pm.
The Street Arts Festival has acts performing for free in and around Place des Arts. Starting at 1 pm each day, the colorful Place de la famille le Lait will offer its load of shows and activities including a merry-go-round for kids and all the family
Also for your family entertainment, the Labyrinthe V8 will be open from 6pm during weekdays and from noon during weekends.
Every night from 4pm-3am, the Melting Pot, set on the Esplanade de la Place des Arts, invites party goers to enjoy great music presented by various international DJs.
From July 23rd to July 25th, the Zoofest Festival will take place on the Parterre des artistes. Nicknamed Le Spot, this 3-days outdoor celebration will feature the craziest, funniest and talented emerging artists.
At the Le Mondial des Jeux Loto-Québec set on Maisonneuve Blvd, you can get to play various table games and board games. In the center of the Complexe Desjardins, you are invited to discover and play the latest and the classic video games. Plus, you will have the opportunity to show off your skills in friendly competitions. Kids and grown-ups will also be able to show their talents at the Complexe Desjardins in a drawing contest.
www.hahaha.com
http://mondialdesjeux.com/en/

TICKET DEALS
The best deal by far is the OFF-JFL pass. It costs $49.50 and you get to choose 3 tickets to any of the 100 or so OFF-JFL shows. Also included is that each day from July 22-25, you get an additional free ticket for an OFF-JFL show.
OFF-JFL has a lineup of artists performing at smaller venues where the shows are much more intimate, The lineup this year is absolutely incredible. I really laughed at Ethnic Show headliners Alonzo Bodden, Ahmed Ahmed and Gina Yashere who are on this list.
There are a number of package deals for tickets. There are the tourism packages in which you can stay overnight in a hotel, be right downtown in the midst of all the action, and take in the Gala of your choice starting at only $200 (for 2). There are also multi-show passes available which cuts costs.
Last minute tickets can be purchased at the box office on the corner of Jeanne Mance and Sainte-Catherine.
FOOD

Bouffons! Mtl is a gourmet novelty set on Sainte-Catherine street so festival-goers have the chance to experience a full range of new flavors that will definitely live up to anyone taste buds. Meet chefs, enjoy local products and taste delish dishes from the best food-trucks in the city. The festivities will start at noon every day, inside and outside. For the inside action, look for the Bouffons sign near Clark.
At the Melting Pot on the Esplanade de la Place des Arts, there will be a DJ set every evening and look for the 2 for 1 deal on the burger trio. At Arthur,  during Happy Hour 5-7, you can find 2 for one liquid deals.