Tag Archive
activity
art
artist
Austria
Canada
children
city
CostSaver
display
drive i-95
Drivei-95
entertainment
Europe
event
exhibit
family
festival
Florida
food
France
free
fun
historic
History
landmark
live
local
London
Museum
music
performance
Restaurant
roadtrip
shop
show
sights
sightseeing
tour
tourist
Trafalgar
travel
travelblogger
USA
view
world
.
One of the things we love about travel is the unexpected sights. Walking to our hotel we came across this brave juggler. He is either very smart because he has a captured audience who get to watch him juggle on the crosswalk of a traffic light or he is very dumb because he could get run over.
Experience four days and nights of Latin dance lessons, meeting new people, enjoying dance performances and social dancing with world renown instructors at DC's 3rd Annual Fall Salsa and Bachata Dance Festival.
Four Days of Non-Stop Dancing with 5 Nights of Theme Parties, Over 50 Salsa, Bachata, Kizomba, and Zouk Workshops, amazing talent from around the world and dance performances and social dancing with world renown instructors.
Experience this Latin Dance Fest and hangout with new people, learn to dance and even ask one of the artists to dance with you.

Event Schedule: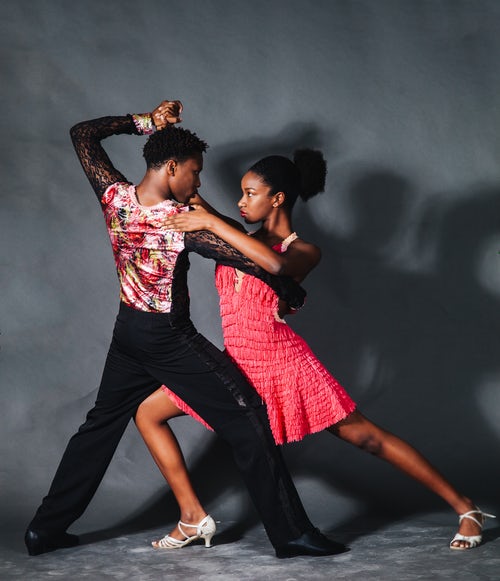 Workshops:
Thursday – 8pm until 10pm
Friday – 2pm until 9pm
Saturday – 10am – 9pm
Sunday – 11am – 9pm
Performances:
Friday – Sunday – Starting at 9pm
Social Dancing:
Thursday -starting at 10pm
Friday – 10:30pm – 6am
Saturday – 10:30pm – 6am
Sunday – 10:30pm – 6am
Location: Westin Alexandria Hotel, 400 Courthouse Square, Alexandria, VA 22314
Dates: Sept 27 – 30, 2018
Time: Various- See Schedule Above
Tel: 703-409-0443
dcsalsabachatafest.com
For Regional Accommodations, Restaurants & Attractions: visitalexandriava.com
Hippie Tribe Fest is where the Bohemians roam. Created to bring community together, and to bring out the fun and free spirit in all of us; to create an experience for attendees to enjoy nature, to see incredible works of art, natural products, hand-made, Bohemian and Fair-Trade, amazing creations from local artisans and to enjoy performances by talented musicians.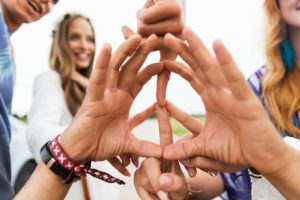 At the main stage, there will be six hours of top notch musical artists and performers. Gifted buskers/solo artists will be performing throughout the festival and at the Feeling Groovy tent. At the Flower Child tent you will find an array of children activities and fun for the whole family.
Throughout the Hippie Tribe festival you can discover some of the most talented body artists including  Henna, Face Painting. One of the highlights featured is a one hour Drum Circle, where drummers, dancers and hoopers are welcome and encouraged to participate, sharing the energy and heartbeat of Mother Earth.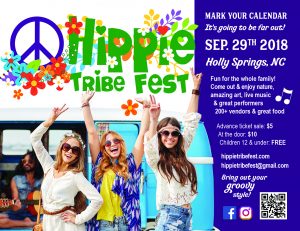 Delicious food available from local food vendors and food trucks. Attendees are encouraged to bring out their Hippie style, folding lawn chairs, blankets, drums and other instruments, as well as an umbrella; this is a rain or shine event. All parking will be on site and FREE.
Advance Entry Tickets $5 ($10 at the door); Children 12 and under – FREE. Tickets Here
Location: Sugg Farm Park at Bass Lake, 2401 Grigsby Ave, Holly Springs, NC 27540
Date: Sat, Sept. 29 2018
Time: Noon – 7pm (rain or shine)
Tel: 919-825-1122
hippietribefest.com
For Regional Accommodations, Restaurants & Attractions: rockymounttravel.com
The 11th Annual Mystic Garlic Festival features freshly harvested local garlic, garlic infused goodies, music, and activities scattered throughout Olde Mistick Village.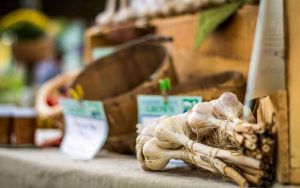 To celebrate the abundant fall harvest, farmers will present an amazing variety of Garlic for sale in addition to fresh produce. More farmers than ever will have honey, jams, preserves, ice cream, baked goods, and syrups.
Besides the proven health benefits of garlic,  there is just something irresistible about the aroma of roasted garlic. Throughout the day and evening, dozens of local restaurants and food service establishments will be serving, for purchase, delicious garlic related foods,  such as garlic fried dough and garlic fries, as well as non-garlic favorites.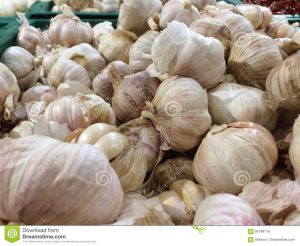 A host of merchants, artisans, authors and artists will line the pathways of Olde Mistick Village displaying their foods, crafts, gifts, and talents. Along with over 45 vendors, you will find Olde Mistick Village merchants offering garlic related activities or products at their stores.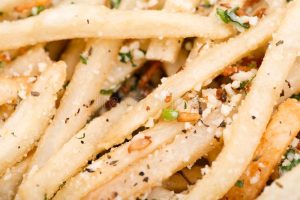 Don't miss the live birds of prey, reptile show, and martial arts demonstration.
So, you bring the mints and Olde Mistick Village will supply the flavor.  A great weekend of music, food, and family fun. Stroller friendly, Free entry and Free parking.
Location: Olde Mistick Village, 27 Coogan Blvd., Mystic, CT 06355
Date: Sept 15 – 16, 2018
Time: Sat 11am – 7pm, Sun 11am – 6pm
Tel: 860 -536-4941
oldemistickvillage.com
For Regional Accommodations, Restaurants & Attractions: thisismystic.com
There's only a few more weeks for the whole family to appreciate the delightful and amusing summer long exhibition at the Ormond Memorial Art Museum & Garden. The Four Footed & Fanciful Art Exhibit showcases the work of three artists who create whimsical animal creatures.
Take a walk though the imagination of artists Adonna Khare, Cindy Burkett and Don Nedobeck and enjoy the fanciful creatures they capture.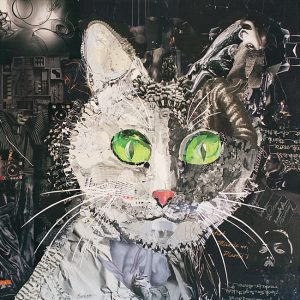 The exhibit features the artistic talents of California artist Adonna Khare, who creates large scale pieces using a carbon pencil. She was the winner of a $200,000 People's Choice prize at Art Prize.  Cindy Burkett, from New Smyrna Beach, creates intricate collages from recycled magazines and other materials for her collages that draw viewers in to find their surprising secrets and Don Nedobeck, a DeLand artist who creates fun animals, especially big fluffy cats, that he calls "caricatures in watercolor" and he has produced three children's books.                                  "Cats Eyes" collage by Cindy Burkett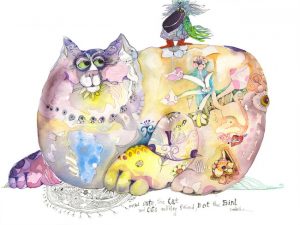 Hurry in because the exhibit only runs through Sept. 9.  Admission is free with a $2 per person suggested donation.
"Ornate Cat and Bert" Watercolor and ink by Don Nedobeck
Location: Ormond Memorial Art Museum & Garden, 78 East Granada Blvd, Ormond Beach, FL 32176
Date – until Sept 9, 2018
Time: Mon – Fri 10am – 4pm, Sat & Sun noon- 4pm
Tel: 386-676-3347
ormondartmuseum.org
For Regional Accommodations, Restaurants & Attractions: daytonabeach.com
The Going to the Dogs Band is hosting a Car Show  to benefit Friends of the Colleton County Animal Shelter (FoCCAS), an organization very close to the band's heart.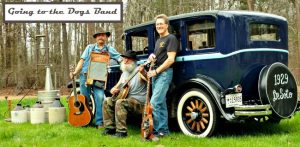 Going above and beyond with their commitment to animal groups and other deserving causes, Going to the Dogs Band is a 100-percent charity and benefit band. All members of the band refuse to accept any payment for their time and talent. They are dedicated to donating all money earned to Animal Shelters and Rescues, oxygen masks for animals for fire stations, bullet-proof vests for K-9 Police Units, as well as other charities including human, environmental, and other worthy causes.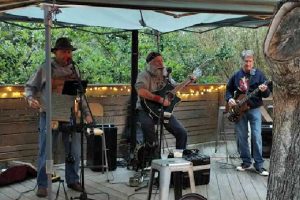 The Wheels for Paws Car and Bike Show will be fun for the whole family with trophies presented to the top ten vehicles, raffles and 50/50 drawing, balloon art, and of course Live entertainment by Going To The Dogs Band.
There will also be a featured Bike Ride to benefit the furry friends at FoCCAS, (Friends of Colleton County Animal Shelter), a volunteer-based organization that helps animals at the county's animal shelter. Kickstands up at 11am.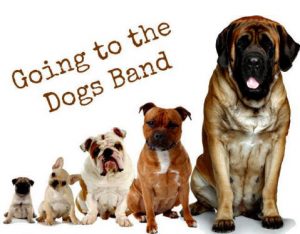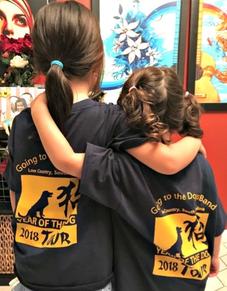 Get out and show your support of FoCCAS and The Going to the Dogs Band who keep paying it forward.
Location: 1013 S Jefferies Blvd Ste C, Walterboro, SC
Date: Sat, July 14, 2018
Time: 9am – 2pm
Tel: 843 – 300 – 0347
goingtothedogsmusic.com/wheels-4-paws.html
For Regional Accommodations, Restaurants & Attractions: walterborosc.org

Richmond International Film Festival (RIFF) brings more than 150 international cutting edge films to RVA, plus industry panels, Q&As, live musical performances, red carpet awards, and entertainment mixers that usher the spirit of Hollywood into Virginia's  Bowtie Cinemas, various music venues, and the historic Byrd Theater, a venue touted by USA Today as "one of the top 10 places to still see a movie in splendor in the United States."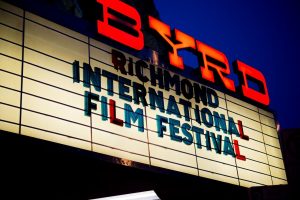 With more than 20 countries represented, the RIFF Official Selection consists of a diverse range of films (features and shorts), music videos, and screenplays across all genres.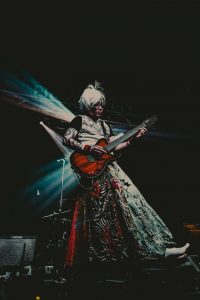 RIFF is known for placing a heavy focus on music each year. The 2018 Festival will again include more than 50 music performances, industry networking events, panels, music business roundtable discussions, industry mixers, and more. On top of providing great entertainment from some of the music industry's hottest talent, RIFF utilizes this area as a platform for filmmakers and musicians to forge new working relationships. Top awards will be given out across a variety of music categories during the annual red carpet awards.
2018 Special guests include: Kate Bosworth, Michael Polish, Danny Glover, Lee Aronsohn, Rene Balcer & Carolyn Hsu-Balcer.
It's a one-of-a-kind festival honoring some of the most singularly entertaining projects on the international film scene.
Location: Various
Date: Mon, Apr 23, 2018 – Sun, Apr 29, 2018
Tel: 804-219-0675
rvafilmfestival.com
For Regional Accommodations, Restaurants & Attractions: visitrichmondva.com
It is no coincidence that this unique event is being held in Fayetteville, close to Fort Bragg, one of the largest military bases in the free world.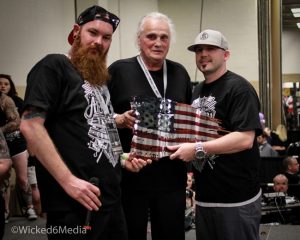 The goal of the All American Tattoo Convention is to give some of the best tattoo artists in the world the opportunity to showcase their talents to some of the bravest heroes in the world, all while raising money to assist soldiers with PTSD, and other combat related injuries, veterans and families of soldiers.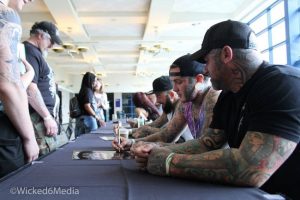 Tattoos and the US armed forces have a history dating back as far as the early 1900's. There are countless inked active duty and war veterans. Tattoos and body art can tell a story that words fail to provide, giving these veterans an outlet to express themselves and show the pride in being a part of something bigger than themselves.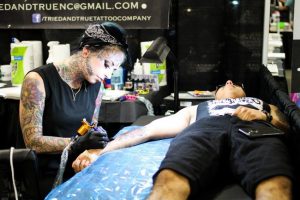 Just a few of the many special events being planned include: Tattoo Contest, All Veteran Parachute Team, Air Born Aerial Performers and Fitness, Emcee Johnny "Awesome" Ivey, Ms. All American Pin-Up Contest and Fayetteville Roller Derby Rogue Rollergirls.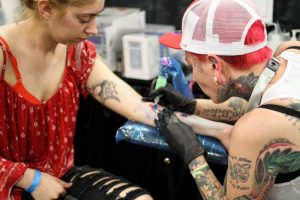 Refer to the website for all artist, vendor and event information.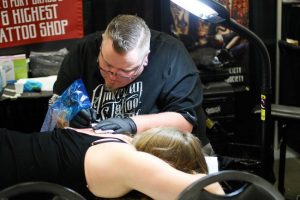 This is just not a Military event, everyone is invited so go out and support our troops while  experiencing all that this three-day convention has to offer. To buy- Tickets
Location: The Crown Complex Expo Center, 131 E. Mountain Dr., Fayetteville, NC 28306
Dates:  April 13-15th, 2018
Times: Fri, Apr 13th, 2pm – 11pm, Sat, Apr 14th, 12pm – 11pm, Sun, Apr 15th, 12pm -8pm
Tel: 910- 850-2566
allamericantattooconvention.com
For Regional Accommodations, Restaurants & Attractions: visitfayettevillenc.com
This annual New Year's Eve bash takes over Old Town Alexandria with more than 150 performances at 23 indoor venues, with live music, dancing, children's face painting and games. First Night Alexandria is a celebration of the new year through the performing arts. Retail stores, hotels, museums and public buildings are turned into performance venues to showcase incredible local and regional talent.
For a small fee for adults (children 12 and under are free), you have access to all the entertainment, all evening. Everything is within easy walking distances. The afternoon's Ninth Annual Fun Hunt with all-new activities for families and pets. There's a venue at the Mount Vernon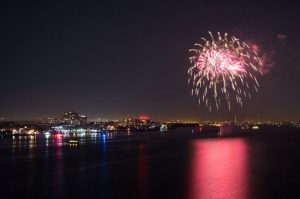 Recreation Center in Del Ray filled with fun activities for children 10 and younger, dancing in the street at the east end of King Street beginning at 10 pm and the piece de resistance is the First Night's fireworks finale with a spectacular display over the Potomac River at midnight. First Night Alexandria is so packed with entertainment, you will have a hard time deciding which performances to attend.
Event Schedule and Locations:
10:00am Noon Year's Eve – Alexandria Library – Kate Waller Barrett Branch, 717 Queen Street, Alexandria, VA 22314
12pm Watch Night at Alfred Street Baptist Church –301 South Alfred Street Alexandria
1pm George Washington Masonic Memorial Tour – George Washington Masonic Memorial, 101 Callahan Drive, Alexandria, VA, 22301
1pm Hooray For Books! – 1555 King Street, #101, Alexandria, VA 22314
1pm Olio – Oil & Vinegar Tasting – Olio Tasting Room. 1223 King Street, Alexandria, VA
1:30pm The Art League Gallery – 105 North Union Street, Alexandria, VA 22314
2pm 9th Annual Fun Hunt – Torpedo Factory Art Center, 105 North Union Street, Alexandria, VA 22314
2pm Kid's Art for Animal Adoptions – Torpedo Factory Art Center, 105 North Union Street, Alexandria, VA 22314
2pm Mobile Art Lab – Durant Arts Center, 1605 Cameron Street, Alexandria, VA 22314
2pm Pottery at the Alexandria Archaeology Museum – Torpedo Factory Art Center, 105 North Union Street, Alexandria, VA 22314
2pm TC Williams Jazz Band – Embassy Suites Hotel, 1900 Diagonal Road, Alexandria, VA
2pm Ten Thousand Villages –Ten Thousand Villages, 915 King Street, Alexandria, VA
2pm Thinkfun Family Game Room – Durant Arts Center, 1605 Cameron Street
2:30pm George Washington Masonic Memorial Tour – George Washington Masonic Memorial, 101 Callahan Drive, Alexandria, VA, 22301
4pm George Washington Masonic Memorial Tour –George Washington Masonic Memorial, 101 Callahan Drive, Alexandria, VA, 22301
5pm Amazing Clowns – George Washington Masonic Memorial, 101 Callahan Drive, Alexandria, VA, 22301
5pm Let's Make a Face – George Washington Masonic Memorial, 101 Callahan Drive, Alexandria, VA, 22301
5pm Seaworthy Small Ships –George Washington Masonic Memorial, 101 Callahan Drive, Alexandria, VA, 22301
6pm An Old Fashioned Carnival – Mount Vernon Recreation Center, 2701 Commonwealth Ave, Alexandria, VA 22305
6pm Becky's Balloon Animals – Mount Vernon Recreation Center, 2701 Commonwealth Ave, Alexandria, VA 22305
6pm Blue Sky Puppets – George Washington Masonic Memorial, 101 Callahan Drive, Alexandria, VA, 22301
6pm How-To Cowboy: Jokefest – Mount Vernon Recreation Center, 2701 Commonwealth Ave, Alexandria, VA 22305
6pm Kickoff and Drawing for Fun Hunt Prize Winners – Durant Arts Center, 1605 Cameron Street, Alexandria, VA 22314
6pm Rainbow Rock Band – Mount Vernon Recreation Center, 2701 Commonwealth Ave
6:15pm Mike Rose – Little Theatre of Alexandria, 600 Wolfe Street, Alexandria, VA 22314
6:45pm Mister Don – Mount Vernon Recreation Center, 2701 Commonwealth Avenue, Alexandria, VA 22305
6:45pm Virginia Bronze – George Washington Masonic Memorial, 101 Callahan Drive, Alexandria, VA, 22301
7pm Alexandria Singers – Washington Street United Methodist Church, 109 South Washington Street, Alexandria, VA 22314
7pm Amateur Facepainters – Washington Street United Methodist Church, 109 South Washington Street, Alexandria, VA 22314
7pm Billy & Bob Classic Country Show – George Washington Masonic Memorial, 101 Callahan Drive, Alexandria, VA, 22301
7pm Blue Moon Cowgirls –St. Paul's Episcopal Church, 228 South Pitt Street, Alexandria
7pm Blue Sky Puppets – George Washington Masonic Memorial, 101 Callahan Drive
7pm Cletus Kennelly – Alexandria's Union Station | 110 Callahan Drive, Alexandria
7pm Curtis Blues – Alexandria Library – Kate Waller Barrett Branch, 717 Queen Street
7pm Dr. Robert Band – Fraternal Order of the Eagles 871, 1015 Cameron Street
7pm Irish Breakfast Band
7pm Janna Audey & Rob Santos – Long & Foster, 400 King Street, Alexandria, VA 22314
7pm Lesson Zero – Christ Church Auditorium, 118 North Washington Street, Alexandria
7pm Mike Rose – Little Theatre of Alexandria, 600 Wolfe Street, Alexandria, VA 22314
7pm Pete Farnham – Alexandria City Hall – Vola Lawson Lobby, 301 King Street
7pm Primary Colors – Durant Arts Center, 1605 Cameron Street, Alexandria, VA 22314
7pm Ruthie & the Wranglers – American Legion Post 24, 400 Cameron Street, Alexandria,
7pm Stairwells –Old Presbyterian Meeting House, 321 South Fairfax Street, Alexandria
7pm The Glimpses – Lloyd House, 220 North Washington Street, Alexandria, VA 22314
7pm The Grandsons – Torpedo Factory Art Center, 105 North Union Street, Alexandria
7pm The Rogues – Alexandria Visitor Center, 221 King Street, Alexandria, VA 22314
7pm The Truehearts –George Washington Masonic Memorial, 101 Callahan Drive
7pm Vaughn Ambrose Trio – Principle Gallery, 208 King Street, Alexandria, VA 22314
7pm Watch Night at Alfred Street Baptist Church –301 South Alfred Street Alexandria, VA
7:30pm Battle of the Local Stars –Durant Arts Center, 1605 Cameron Street, Alexandria
7:30pm How-To Cowboy: Jokefest- Mount Vernon Recreation Center, 2701 Commonwealth Avenue, Alexandria, VA 22305
7:30pm Katherine Archer – Duchess M, 805 King Street, Alexandria, VA 22314
7:30pm Razor Hill – Refresh Yoga, 110 King Street, Alexandria, VA 22314
7:30pm Tom Teasley Duo –Imagine Artwear, 1124 King Street, Alexandria, VA 22314
7:30pm Virginia Bronze –George Washington Masonic Memorial,101 Callahan Drive
7:45pm Billy Coulter Band- Fraternal Order of the Eagles 871, 1015 Cameron Street
7:45pm Bill Kirchen –Torpedo Factory Art Center, 105 North Union Street, Alexandria
7:45pm Janine Wilson Band- American Legion Post 24, 400 Cameron Street, Alexandria
7:45pm King Teddy – George Washington Masonic Memorial, 101 Callahan Drive
7:45pm Mark Wesling –Alexandria's Union Station-110 Callahan Drive, Alexandria, VA
7:45pm Mike Rose- Little Theatre of Alexandria, 600 Wolfe Street, Alexandria, VA 22314
7:45pm Nicole Belanus –St. Paul's Episcopal Church, 228 South Pitt Street, Alexandria
7:45pm Nobody's Business –Christ Church Auditorium, 118 North Washington Street
7:45pm Not So Modern Jazz Quartet – Lyceum, 201 South Washington Street
7:45pm Sound of Sleat – George Washington Masonic Memorial, 101 Callahan Drive
7:45pmWashington Philharmonic's Woodwind Quintet –Washington Street United Methodist Church, 109 South Washington Street, Alexandria, VA 22314
8pm Al Petteway & Amy White – Old Presbyterian Meeting House, 321 South Fairfax St.
8pm Blue Sky Puppets-George Washington Masonic Memorial, 101 Callahan Drive
8pm Janna Audey & Rob Santos – Long & Foster, 400 King Street, Alexandria, VA 22314
8pm The Glimpses – Lloyd House, 220 North Washington Street, Alexandria, VA 22314
8pm The Rogues – Alexandria Visitor Center, 221 King Street, Alexandria, VA 22314
8pm Vaughn Ambrose Trio – Principle Gallery, 208 King Street, Alexandria, VA 22314
8:15pm Mister Don- Mount Vernon Recreation Center, 2701 Commonwealth Avenue
8:30pm Alexandria Singers – Washington Street United Methodist Church, 109 South Washington Street, Alexandria, VA 22314
8:30pm Billy & Bob Classic Country Show- George Washington Masonic Memorial, 101 Callahan Drive, Alexandria, VA, 22301
8:30pm Blue Moon Cowgirls –St. Paul's Episcopal Church, 228 South Pitt Street
8:30pm Cletus Kennelly – Alexandria's Union Station | 110 Callahan Drive, Alexandria
8:30pmCurtis Blues  –Alexandria Library – Kate Waller Barrett Branch,717 Queen Street
8:30pm Dr. Robert Band –Fraternal Order of the Eagles 871, 1015 Cameron Street
8:30pm Irish Breakfast Band –Lyceum, 201 South Washington Street, Alexandria, VA
8:30pm Katherine Archer- Duchess M, 805 King Street, Alexandria, VA 22314
8:30pm Lesson Zero –Christ Church Auditorium, 118 North Washington Street
8:30pm Mike Rose –Little Theatre of Alexandria, 600 Wolfe Street, Alexandria, VA 22314
8:30pm Pete Farnham- Alexandria City Hall – Vola Lawson Lobby, 301 King Street
8:30pm Razor Hill – Refresh Yoga, 110 King Street, Alexandria, VA 22314
8:30pm Ruthie & the Wranglers –American Legion Post 24, 400 Cameron Street
8:30pm The Grandsons – Torpedo Factory Art Center, 105 North Union Street
8:30pm The Truehearts  –George Washington Masonic Memorial,101 Callahan Drive
8:30pm Tom Teasley Duo- Imagine Artwear, 1124 King Street, Alexandria, VA 22314
8:45pmVirginia Bronze- George Washington Masonic Memorial, 101 Callahan Drive
9pm Janna Audey & Rob Santos- Long & Foster, 400 King Street, Alexandria, VA
9pm Stairwells – Old Presbyterian Meeting House, 321 South Fairfax Street
9pm The Glimpses  – Lloyd House, 220 North Washington Street, Alexandria, VA
9pm The Rogues – Alexandria Visitor Center, 221 King Street, Alexandria, VA 22314
9pm Vaughn Ambrose Trio –Principle Gallery, 208 King Street, Alexandria, VA 22314
9:15pm Bill Kirchen – Torpedo Factory Art Center, 105 North Union Street, Alexandria
9:15pm Billy Coulter Band – Fraternal Order of the Eagles 871, 1015 Cameron Street
9:15pm Janine Wilson Band – American Legion Post 24, 400 Cameron Street, Alexandria
9:15pm King Teddy – George Washington Masonic Memorial, 101 Callahan Drive
9:15pm Mark Wesling – Alexandria's Union Station, 110 Callahan Drive, Alexandria, VA
9:15pm Mike Rose – Little Theatre of Alexandria, 600 Wolfe Street, Alexandria, VA 22314
9:15pm Nicole Belanus –St. Paul's Episcopal Church, 228 South Pitt Street, Alexandria
9:15pm Nobody's Business – Christ Church Auditorium, 118 North Washington Street
9:15pm Not So Modern Jazz Quartet – Lyceum, 201 South Washington Street, Alexandria
9:15pm Sound of Sleat – George Washington Masonic Memorial, 101 Callahan Drive
9:15pm Washington Philharmonic's Woodwind Quintet – Washington Street United Methodist Church, 109 South Washington Street, Alexandria, VA 22314
9:30pm Curtis Blues – Alexandria Library – Kate Waller Barrett Branch, 717 Queen Street
9:30pm Katherine Archer – Duchess M, 805 King Street, Alexandria, VA 22314
9:30pm Keira Moran- Durant Arts Center, 1605 Cameron Street, Alexandria, VA 22314
9:30pm Pete Farnham – Alexandria City Hall – Vola Lawson Lobby, 301 King Street
9:30pm Razor Hill- Refresh Yoga, 110 King Street, Alexandria, VA 22314
9:30pm Tom Teasley Duo – Imagine Artwear, 1124 King Street, Alexandria, VA 22314
10pm Al Petteway & Amy White – Old Presbyterian Meeting House, 321 South Fairfax St.
10pm Alexandria Singers – Washington Street United Methodist Church, 109 South Washington Street, Alexandria, VA 22314
10pm Billy & Bob Classic Country Show- George Washington Masonic Memorial, 101 Callahan Drive, Alexandria, VA, 22301
10pm Blue Moon Cowgirls- St. Paul's Episcopal Church,228 South Pitt Street, Alexandria
10pm Christ Church Sanctuary- Christ Church Auditorium, 118 North Washington Street
10pm Cletus Kennelly – Alexandria's Union Station, 110 Callahan Drive, Alexandria, VA
10pm Dr. Robert Band – Fraternal Order of the Eagles 871, 1015 Cameron Street
10pm Irish Breakfast Band – Lyceum, 201 South Washington Street, Alexandria, VA
10pm Janna Audey & Rob Santos – Long & Foster, 400 King Street, Alexandria, VA 22314
10pm Lesson Zero – Christ Church Auditorium, 118 North Washington Street, Alexandria
10pm Mike Rose – Little Theatre of Alexandria, 600 Wolfe Street, Alexandria, VA 22314
10pm Ruthie & the Wranglers – American Legion Post 24, 400 Cameron Street
10pm Stairwells – Alexandria Waterfront, King Street, Alexandria, VA 22314
10pm The Glimpses – Lloyd House, 220 North Washington Street, Alexandria, VA 22314
10pm The Grandsons –Torpedo Factory Art Center, 105 North Union Street, Alexandria
10pm The Rogues – Alexandria Visitor Center, 221 King Street, Alexandria, VA 22314
10pmThe Truehearts –George Washington Masonic Memorial, 101 Callahan Drive
10pm Vaughn Ambrose Trio – Principle Gallery, 208 King Street, Alexandria, VA 22314
10pm Watch Night at Alfred Street Baptist Church, 301 South Alfred Street Alexandria
10:30pm Curtis Blues – Alexandria Library – Kate Waller Barrett Branch, 717 Queen St.
10:30pm Katherine Archer – Duchess M, 805 King Street, Alexandria, VA 22314
10:30pm Pete Farnham – Alexandria City Hall – Vola Lawson Lobby, 301 King Street
10:30pm  Tom Teasley Duo – Imagine Artwear, 1124 King Street, Alexandria, VA 22314
10:45pm Bill Kirchen – Torpedo Factory Art Center, 105 North Union Street, Alexandria
10:45pm Billy Coulter Band – Fraternal Order of the Eagles 871, 1015 Cameron Street
10:45pm Janine Wilson Band- American Legion Post 24,400 Cameron St., Alexandria
10:45pm King Teddy – George Washington Masonic Memorial, 101 Callahan Drive
10:45pm Mark Wesling- Alexandria's Union Station, 110 Callahan Drive, Alexandria, VA
10:45pm Nicole Belanus- St. Paul's Episcopal Church, 228 South Pitt Street, Alexandria
10:45pm Nobody's Business – Christ Church Auditorium, 118 North Washington Street
10:45pm Not So Modern Jazz Quartet – Lyceum, 201 South Washington St, Alexandria
10:45pm Sound of Sleat  – George Washington Masonic Memorial, 101 Callahan Drive
10:45pm Washington Philharmonic's Woodwind Quintet –Washington Street United Methodist Church, 109 South Washington Street, Alexandria, VA 22314
12am Fireworks on the River! – Alexandria Waterfront, King Street, Alexandria, VA 22314
Location: Old Town, Alexandria, VA
Date: Sun, Dec 31st, 2017
Times: 10am – midnight
Tel: 703-746-3299
firstnightalexandria.org
For Regional Accommodations, Restaurants & Attractions: visitalexandriava.com