By stan. Filed in
Architecture
,
Connecticut
,
Drive I-95
,
Entertainment
,
History
,
literary
,
Museum
,
Special Event
,
United States
,
USA
|
For some Halloween ghouly delight check out the popular Graveyard Shift Ghost Tours at the Mark Twain House. eerie enough to have been featured on SyFy Channel's acclaimed paranormal series Ghost Hunters and the Biography Channel's My Ghost Story, bringing their investigative teams to the house.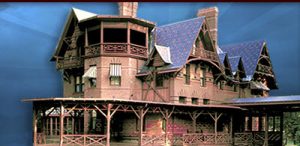 Prior to the tour, a short film will be shown: Ghost Tour, which was filmed in The Mark Twain House. On the tour participants will hear creepy tales and stories of spirits that surround The Mark Twain House and learn about Twain's own interest in the supernatural.
Filled with haunted history, dark tales and Victorian traditions encompassing seances and spiritualism, these nighttime tours are as educational as they are goosebump-inducing.
The tours sell out fast and are only offered seasonally, so be sure to make your reservations.
Location: The Mark Twain House and Museum, 351 Farmington Ave, Hartford, CT 06105
Dates: Thurs, Fri & Sat, Oct 20th, 21st, 22nd, 27th, 28th and 29th, 2016
Hours: 6 pm – 10 pm (Tours leave at 6pm, 7pm, 8pm, 9pm, 10pm)
Tel: 860-247-0998
marktwainhouse.org/visitor/events_programs.php#
For Regional Accommodations, Restaurants and Attractions: ctvisit.com
Tags: biography, channel, Connecticut, creepy, dark, drivei95, educational, eerie, film, filmed, ghost, Ghost Hunters, ghoul, goosebump, graveyard, Halloween, Hartford, haunted, historic, History, house, hunter, i95, interstate95, investigative, Mark Twain, Mark Twain House, Museum, My Ghost Story, nighttime, paranormal, Participant, popular, reservation, roadtrip, seance, seasonally, series, shift, site, spirit, spirits, spiritualism, story, supernatural, surround, SyFy, tale, team, tour, tradition, travel, travelblogger, USA, Victorian