By glenda. Filed in
Art
,
celebration
,
Children
,
Culture
,
Drink
,
Drive I-95
,
Entertainment
,
Family Fun
,
Food
,
History
,
Nature
,
New Hampshire
,
Special Event
,
Sports
,
United States
,
USA
|
Don't miss the annual Market Square Day, this year celebrating it's 40th anniversary. Created to commemorate the renovation and beautification of downtown Portsmouth – and, in particular, Market Square. Most of Downtown Portsmouth will be vehicle-free and pedestrian-friendly from 9am 'til 5pm, with an estimated crowd of 60,000-80,000 people walking through downtown Portsmouth.
It's an all day street festival with vendors cooking delicious food, artisan booths selling handcrafted jewelry, accessories, art and  pottery by artists, craftspeople and merchants – many from the Seacoast area. Two performance stages feature local and regional musicians, where you can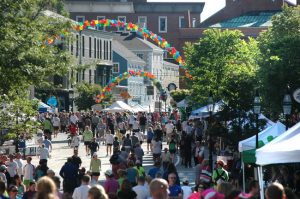 enjoy live bands and other great entertainment.
The day 'kicks off' with the Market Square Day 10K Road Race at 9am. The Start Line is in Market Square – from that point, 2,000 runners and competitive walkers make their way around town finishing at Historic Strawbery Banke.
Take this opportunity to enjoy everything that Portsmouth has to offer.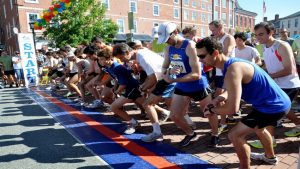 Remote Festival Parking
Pro Portsmouth runs a Free Shuttle Bus Service from 8:00am – 4:30pm on Market Square day.
To Remote Festival Parking – Fox Run Mall:
95 North, Exit 4 – To 4 & 16 – Take Exit 2 and follow the Festival Parking signs to the overflow lot (across lot and Mall Road)
95 South, Exit 5 – To 4 & 16 – Take Exit 2
Free shuttle service (Yellow school buses) transport you to the Festival area –
8:00am – 4:30pm.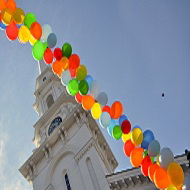 Location: Market Square, Portsmouth, NH 03801
Date: Sat, June 10th, 2017
Hours: 9am – 4pm
Tel: 603-433-4398
proportsmouth.org/MarketSquareDay.cfm
For Regional Accommodations, Restaurants & Attractions: portsmouthchamber.org
Tags: 10K, accessories, anniversary, art, artisan, artist, band, beautification, booth, competitive, cooking, craft, craftspeople, crowd, day, downtown, drive i-95, entertainment, festival, food, handcrafted, historic, jewelry, local, Market Square, merchant, musician, New Hamphire, pedestrian, performance, Portsmouth, pottery, race, regional, renovation, road, runner, seacoast, stage, start, Strawbery Banke, street, town, vehicle, vendor, walker