Tag Archive
activity
architecture
art
artist
building
Canada
children
city
CostSaver
downtown
drive i-95
entertainment
Europe
event
exhibit
family
festival
Florida
food
fun
historic
History
landmark
local
Museum
music
Nature
New Zealand
Ontario
roadtrip
sculpture
Seattle
show
sights
sightseeing
tour
tourist
Trafalgar
travel
travelblogger
view
Washington
Washington State
water
world
Don't miss the annual Market Square Day, this year celebrating it's 40th anniversary. Created to commemorate the renovation and beautification of downtown Portsmouth – and, in particular, Market Square. Most of Downtown Portsmouth will be vehicle-free and pedestrian-friendly from 9am 'til 5pm, with an estimated crowd of 60,000-80,000 people walking through downtown Portsmouth.
It's an all day street festival with vendors cooking delicious food, artisan booths selling handcrafted jewelry, accessories, art and  pottery by artists, craftspeople and merchants – many from the Seacoast area. Two performance stages feature local and regional musicians, where you can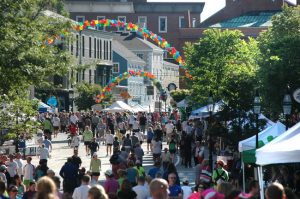 enjoy live bands and other great entertainment.
The day 'kicks off' with the Market Square Day 10K Road Race at 9am. The Start Line is in Market Square – from that point, 2,000 runners and competitive walkers make their way around town finishing at Historic Strawbery Banke.
Take this opportunity to enjoy everything that Portsmouth has to offer.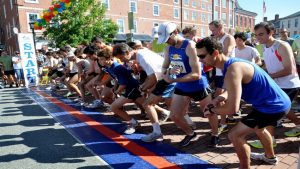 Remote Festival Parking
Pro Portsmouth runs a Free Shuttle Bus Service from 8:00am – 4:30pm on Market Square day.
To Remote Festival Parking – Fox Run Mall:
95 North, Exit 4 – To 4 & 16 – Take Exit 2 and follow the Festival Parking signs to the overflow lot (across lot and Mall Road)
95 South, Exit 5 – To 4 & 16 – Take Exit 2
Free shuttle service (Yellow school buses) transport you to the Festival area –
8:00am – 4:30pm.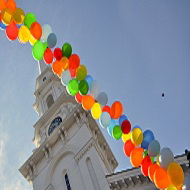 Location: Market Square, Portsmouth, NH 03801
Date: Sat, June 10th, 2017
Hours: 9am – 4pm
Tel: 603-433-4398
proportsmouth.org/MarketSquareDay.cfm
For Regional Accommodations, Restaurants & Attractions: portsmouthchamber.org
The Lewis Ginter Botanical Garden is an oasis on a driving trip – 82 magnificent acres which started life as Powhatanhuntinggrounds and was at one time owned by patriot Patrick Henry.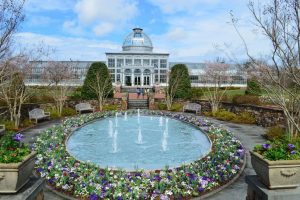 In 1884, Lewis Ginter, who was orphaned at 17 and later became a millionaire from tobacco and real estate, developed a Wheel Club House here for Richmond bicyclists (now Bloemendaal House). His niece, Grace Arents, developed the gardens, and her original design is still here.
There are more kinds of gardens than we ever knew existed: four seasons, healing, Asian, rose, wetland, azalea and a community kitchen one where they grow food for the hungry. The children's garden offers up a tree house and an activity center; there's sidewalk chalk, hula hooping, digging and watering opportunities.  They love the Kids Quest treasure hunt. For walkers, there's a "walk on the wild side" and a bird trail, and as if all that wasn't enough, there's a lush indoor conservatory with exotic plants from around the world.
Featured Events:
Location: Lewis Ginter Botanical Garden, 1800 Lakeside Ave, Richmond, VA 23228
Hours: Daily 9am – 5pm
Tel: 804-262-9887
lewisginter.org
For Regional Accommodations, Restaurants & Attractions: visitrichmondva.com
Don't miss the mid-Atlantic's premier celebration of the literary arts, The Baltimore Book Festival, featuring more than 200 celebrity and local authors appearances and book signings, non-stop readings on multiple stages, cooking demos by celebrity chefs, poetry readings and workshops, panel discussions, more than 100 exhibitors and booksellers, walking tours, storytellers and hands-on projects for kids, street theater, live music, and a delicious variety of food, beer and wine.
For the kids, or the kids at heart there's a Pop Culture Parade where superheroes, storybook characters, BmoreFit Dancewalkers,  and special guests dress up in costume and march down the promenade, starting at Pratt & Light streets traveling down to the Geppi's Entertainment Museum Comic Pavilion.
Some of the feature presentations include: Terry McMillan, author of "How Stella Got Her Groove Back"; NPR correspondent Glen Weldon, talking about his "The Caped Crusade: Batman and the Rise of Nerd Culture"; and local pundit D. Watkins, who has an essay collection called "The Beast Side: Living (and Dying) While Black in America" and his memoir 'The Cook Up,' takes us deeper into his former life, and Comic writer Carl Hiaasen will read from his newest novel, "Razor Girl" to mention but a few.
Whether it's Health & Wellness , Cooking (The Food for Thought), Science Fiction & Fantasy or Children's with a Stage featuring interactive programs for the whole family, this FREE event highlights 13 stages offering something for everyone.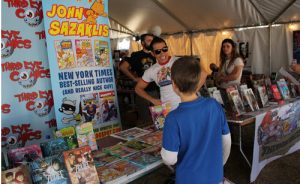 Location: Baltimore Inner Harbor, 201 E. Pratt Street,Baltimore, MD 21202
Date: Fri – Sun Sept 23-25, 2016
Hours: 11 – 7pm
Tel: 410-752-8632
baltimorebookfestival.org
For Regional Accommodations, Restaurants & Attractions: baltimore.org
Phot0 Courtesy of The Baltimore Office of Promotion & The Arts