By glenda. Filed in
Austria
,
Europe
,
History
,
Monument
,
Salzburg
,
Theatre
,
Trafalgar Costsaver European Delight
,
Travel
|
.
The Residence Square, where you can find this baroque fountain, is the heart of the old city center of Salzburg, Austria. In the film, "The Sound of Music", Maria (played by Julie Andrews) walked across the square singing "I Have Confidence" while on her way to the Trapp family home for the first time.
Residence Fountain at 15 metres high is the largest baroque fountain outside of Italy. It was built between 1658 and 1661, and enjoyed its 15 minutes of fame when Maria stopped there to splash water at the horses while singing "I Have Confidence". The song was not from the original Broadway show but added for the film version. I would remember this as I saw the Broadway show 13 times as my Dad worked there.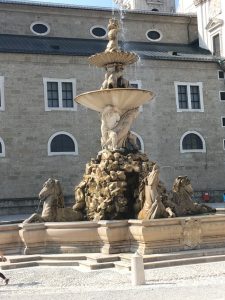 Tags: Austria, Baroque, Broadway, built, city, city center, CostSaver, Europe, fame, family, film, fountain, home, horse, Italy, Julie Andrews, landmark, old city, original, residence, Residence Square, Salzburg, show, sights, sightseeing, singing, song, splash, square, The Sound of Music, tour, tourist, Trafalgar, Trapp family, travel, travelblogger, version, walk, water