By stan. Filed in
Children
,
Drive I-95
,
Entertainment
,
Family Fun
,
Theatre
,
United States
,
USA
|
Bring Your Own Improv's Family Friendly Comedy Show is a rarity – a comedy club that you can bring your kids to.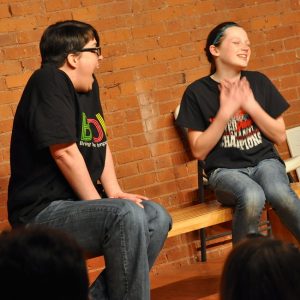 Bring Your Own Improv (BYOI) is now in its 10th season and family-friendly comedy shows are Fridays at 7pm. This interactive improv show welcomes voluntary audience participation, of all ages.
The format is similar to "Who's Line is it Anyways" where different games and scenes are set up. The troupe asks for audience input, the actors put their own spin on scenes, and the action changes constantly,  so no two performances are ever the same. They encourage you to participate in one of three ways: Applaud at a scene you like, yell out fantastic suggestions, or if you feel you're ready,  jump up and get involved with the performers on stage.
So if anyone in your family wants to flex their comic muscles or would just like partake and play along, the clever and creative cast will support you.  No worries, they only choose volunteers with hands up .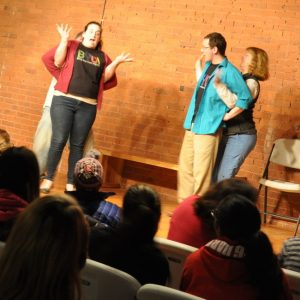 Why not start your weekend off with some laughs, the players are pros and know how to keep the audience entertained.  Sit back and chuckle your cares away with this fun, inexpensive night out with the family. This is a hidden gem if you're looking for something to do while on a family vacation in the Providence or Newport area. There's also a Late Night Comedy Show (PG-13) Fridays at 9pm.
For a list of all shows: bringyourownimprov.com/Shows.htm
Location: Warwick Center for the Arts, 3259 Post Rd., Warwick, RI 02886
Dates:  March Family-Friendly Shows –  Fri, Mar 3, 10, 17, 24, 31, 2017
Time: 7 – 8:30pm
Tel: 401-261-7678
bringyourownimprov.com
goprovidence.com/event/bring-your-own-improvs-family-friendly-comedy-show/29118/
For Regional Accommodations, Restaurants & Attractions: goprovidence.com
Tags: acting, action, actor, age, applaud, audience, cast, club, comedy, Drivei-95, entertained, family, family-friendly, format, fun, game, improv, improvisation, inexpensive, input, interactive, jump, kids, late, laugh, muscle, Newport, night, participate, participation, performance, PG-13, play, playerr, pro, Providence, Rhode Island, scene, season, show, spin, stage, suggestion, support, troupe, vacation, voluntary, volunteer, Warwick, weekend, Who's Line is it Anyways