By stan. Filed in
Art
,
celebration
,
Culture
,
Drink
,
Drive I-95
,
Entertainment
,
Family Fun
,
Festival
,
Florida
,
Food
,
Museum
,
Nature
,
Pets
,
Special Event
,
United States
,
USA
|
Treat your dog to Dogapalooza, a very popular, dog-friendly afternoon at the Ormond Memorial Art Museum. Revel in the joyful family-friendly celebration of the human-animal bond throughout the museum, the gardens and parking lot, giving dogs trees, shade and lots grass to roll around on.
This festival features tons of fun dog activities including FREE puppy photo experience, doggie art project -where your dog creates the art,  FREE dog nail clipping, obedience demonstrations and some fun music mixed by DJ.
There will be a canine costume contest which includes categories: best in Show, Best Pop Culture Reference, Best Duo (Dog + his human),  and Best Ensemble (more than 1 Dog). Don't forget to take advantage of doggie babysitting that will be offered for short-term visits to check out the art in the museum.
Enjoy delicious food, drinks and a great casual dog-themed afternoon with dogs and dog lovers alike that will have you begging for more.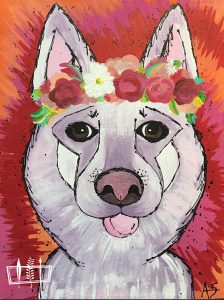 Well-behaved dogs on leashes are welcome as are their human companions.  All proceeds benefit  Sophie's Circle pet food pantry. Admission is a $2 donation.
Painted by Daytona Beach Artist Amy Holzer
Location: Ormond Memorial Art Museum & Gardens, 78 East Granada Blvd, Ormond Beach, FL 32176
Date: Sat, Jan 7, 2017
Hours:  2  – 4 PM
Tel: 386-676-3347
ormondartmuseum.org/event/dogapalooza/2016-10-22_200pm
For Regional Accommodations, Restaurants & Attractions: daytonabeach.com
Tags: advantage, afternoon, animal, art, babysitting, beach, beg, benefit, bond, canine, casual, category, celebration, companion, contest, costume, create, culture, demonstration, DJ, dog, dogapalooza, drink, drivei95, duo, ensemble, experience, family, feature, festival, Florida, food, friendly, fun, garden, grass, human, i95, iamtb, interstate95, lot, lover, memorial, Museum, music, nail clipping, obedience, Ormond, Ormond Beach, Ormond Memorial Art Museum, parking, photo, pop, popular, proceed, project, puppy, reference, roadtrip, roll, sctivity, shade, show, theme, travel, travelblogger, tree, well- behaved