By stan. Filed in
Children
,
Delaware
,
Drink
,
Drive I-95
,
Food
,
Hotel
,
Pets
,
Restaurant
,
United States
,
USA
|
This is a special Courtyard, located on the grounds of the University of Delaware, so you can take advantage of University fun. Check to see if you can catch a game or something exciting going on on the campus. The hotel works closely with the University Hospitality Program, helping to teach future hoteliers, and has always employed hearing-impaired staff. It's not only disability friendly, it is pet friendly too – including small pet yard outside.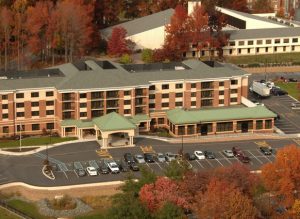 There is good reason why this hotel is the winner of numerous Trip Advisor and Marriott awards for excellence in guest service, as evaluated by direct guest feedback. With over 250 years of hospitality experience on the management team, Bill Sullivan and his award winning crew do an amazing job exceeding your expectations.
Enjoy modern accommodations, state-of-the-art technology, and impeccable service at the  four-story, 126-room Courtyard Newark-University of Delaware. The hotel offers all of the comforts of home for your visit – whether you're in the area for business, or to visit the campus of the University of Delaware. Make yourself at home in the spacious, pleasingly designed rooms and suites, equipped with a well-lit work desk and ergonomic chair, free high-speed Wi-Fi, flat-screen HDTVs, mini-fridges, and comfy pillowtop mattresses.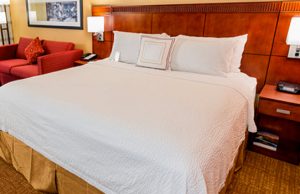 For an interesting dining experience, ask them about the unique student restaurant on the campus – and the student ice cream parlor too. It is truly farm-to-table, since other students learning about the dairy industry care for the cows, milk them and prepare the cream for the ice cream.  Sample healthy American fare and award-winning crab cakes at The Bistro, which also serves Starbucks® coffee. Squeeze in a workout in the fully-equipped fitness center, or take a swim in the indoor pool. Book today, this hotel won't disappoint!
Location: Courtyard Newark: 400 David Hollowell Dr., Newark, DE 19711 (GPS use 200 New London Rd)
Tel: 302-737-0900
udel.edu/hotel
For Regional Restaurants & Accommodations: go-delaware.com/Newark-Delaware
Tags: accommodations, American, award, award winning, bistro, business, cake, campus, care, center, chair, comfort, courtyard, Courtyard Newark, cow, crab, cream, crew, dairy, Delaware, design, desk, disability, employed, equipped, ergonomic, excellence, expectation, experience, fare, farm-to-table, feedback, fitness, flat-screen, free, fridge, friendly, fun, future, game, grounds, guest, HDTV, healthy, hearing-impaired, high-speed, home, hospitality, hotel, hotelier, ice cream, indoor, industry, learn, located, management, Marriott, mattress, milk, mini, modern, Newark, parlor, pet, pillowtop, pool, Restaurant, room, service, staff, Starbucks, state-of-the-art, student, suite, swim, teach, team, technology, Trip Advisor, TV, university, University of Delaware, visit, Wi-Fi, winner, winning, work, workout, yard