By stan. Filed in
Architecture
,
Art
,
celebration
,
Children
,
Culture
,
Drive I-95
,
Entertainment
,
Family Fun
,
Florida
,
History
,
Museum
,
Nature
,
Special Event
,
United States
,
USA
|
Imagine an Easter Egg Hunt on the grounds of the glorious Flagler Museum…The Gilded Age estate was a 55-room winter retreat built in 1907 as a wedding present for Henry Flagler's 3rd wife Mary Lily Kenan Flagler. Today, Whitehall is a National Historic Landmark and is open to the public as the Flagler Museum, featuring guided tours, changing exhibits, and special programs.
Children are invited to hunt for more than 8,000 eggs on the Museum's Lawn and in the Cocoanut Grove. The Museum grounds will be sectioned off into age-appropriate areas so everyone, including toddlers, will have an opportunity to participate.
When the Museum gates open at 9am  children  will be visited by the Easter Bunny. Don't forget your camera as this is a great photo-op with the Bunny and the grandeur of the museum as a backdrop. There will be an Easter Craft Activity Table, where children can engage in Easter-themed art projects, face painting, balloon sculptures, and play a game of Bean Bag Toss.
The egg hunt begins promptly at 10am. The Easter Egg Hunt for children age four and under will be held on the Southeast Lawn with 3,500 hidden eggs. For kids ages five and older the Hunt is in the Cocoanut Grove with 4,500 hidden eggs.  Look for the golden egg to win a special prize.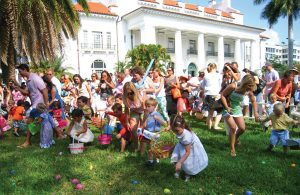 To purchase tickets: flaglermuseum.us/programs/easter-egg-hunt
Photo Courtesy of: © Flagler Museum
Location: Flagler Museum, One Whitehall Way, Palm Beach, FL 33480
Date: Sat, April 15, 2017
Time: Gates open at 9am.The egg hunt begins at 10am
Tel: 561-655-2833
flaglermuseum.us
For Regional Accommodations, Restaurants & Attractions: thepalmbeaches.com
Tags: activity, age, art, backdrop, bag, balloon, basket, bean, bunny., camera, children, Cocoanut, commemorative, craft, Drivei-95, Easter, Easter Bunny, egg, engage, estate, face painting, flagler, Flagler egg, flagler museum, Florida, game, games, gilded, golden, grounds, group, Grove, Henry Flagler, hidden, historic, home, hunt, kids, landmark, lawn, Museum, national, palm beach, photo, present, President, President Rutherford B. Hayes, prize, prizes, project, retreat, rolling, room, sculpture, South Lawn, Southeast, special, spoon, table, theme, themed, toss, tradition, visit, wedding, welcome, White House, whitehall, win, winner, winter, wooden